Jyothi Robertson, DVM, DABVP (Shelter Medicine)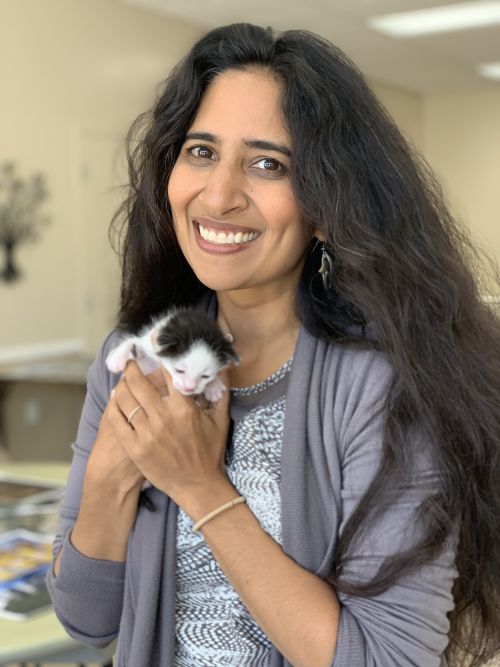 Keynote Speaker, Animal Care Expo 2023
Dr. Jyothi Robertson is a highly accomplished veterinarian with a specialization in shelter medicine. She has been working in the animal sector since 1998, holding various roles such as groomer, kennel assistant, veterinary assistant, veterinarian, and medical director of a municipal animal control facility. In 2008, Dr. Robertson returned to UC-Davis, where she had previously earned her veterinary degree, to complete a residency in shelter medicine with the Koret Shelter Medicine Program. During her residency, she conducted research on feline upper respiratory disease, an area that remains a research interest of hers.
After completing her residency, Dr. Robertson established her own consulting business, JVR Shelter Strategies, through which she provides consulting services to animal welfare organizations both nationally and internationally. She also founded the nonprofit project, the Journey You Own, to raise awareness about the interdependent nature of the animal sector and other fields.
Throughout her career, Dr. Robertson has been actively involved in various boards and committees such as the Association of Shelter Veterinarians, Human Animal Support Services, the American Veterinary Medical Association, Shelter Animals Count, Fear-Free Advisory Board, and the California Veterinary Medical Association. In her spare time, she teaches and creates curricula for middle and high school students about animal-related fields, and is a certified elementary school educator.
Dr. Robertson's professional areas of interest include shelter medicine, access to veterinary care, organizational design, and the emotional and mental well-being of animal welfare professionals. She recently wrote a book titled "Touching the Tiger: A Blueprint for Compassionate Healing" that will be published later this year. She has also been creating communities of practice to bring meditation and mindfulness to the nonprofit mission-driven sectors. Dr. Robertson currently resides on Ramaytush Ohlone lands in California with her husband, three children, two dogs, three cats, and one tortoise.