Shelter Mentorship program
Partnering for success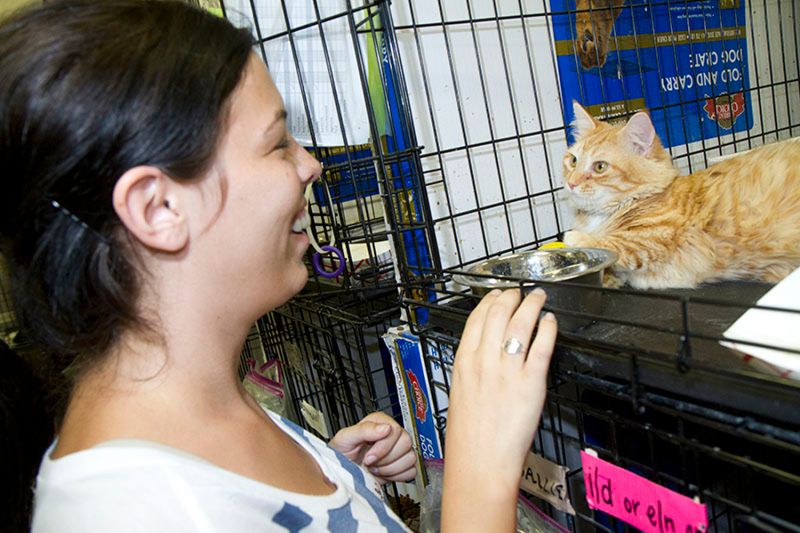 This is a remarkable time for our field! Over the past 20 years, we've made incredible strides in reducing euthanasia of adoptable pets, increasing adoptions by the public, implementing programs to humanely manage community cats, and launching innovative programs to better serve our communities and keep pets with their families.
However, even as we celebrate these successes, there are communities that have struggled to reach these milestones due to a lack of funding, availability of affordable veterinary medicine and systemic poverty in underserved communities. 
The goal of the Shelter Mentorship program is to provide resources and expertise to shelters that are committed to addressing the most common challenges in animal welfare.
The Shelter Mentorship program provides grant funding and mentorship to animal shelters that seek to improve their operations within three programmatic and policy issues, including community cats, pet-inclusive housing and regional capacity building to forge local relationships with under-resourced shelters.
Mentorships run approximately 12 months but vary based on organizational goals and capacity. Each mentorship is supported by a $15,000 grant. The application deadline for the 2024 mentorship cohort is September 10, 2023. Applicants will be notified by October 13, 2023.
Applications for the 2024 mentorship cohort are now closed.
Community cats
Take cat management up a notch by developing comprehensive programming for community cats both in and out of the shelter. A focus on tactical trap-neuter-return, practical pathway planning for cats entering the shelter and coordination of programs across your organization provides a holistic approach to managing dynamic populations of cats in your community. Together we'll review relevant local laws, standard operating procedures and other policies, then develop a roadmap for navigating obstacles, clearing bottlenecks and changing policies.
Pet-inclusive housing
Safe, stable and secure housing is a foundational building block in creating equity for pet ownership and keeping families together. Shelters participating in the mentorship will begin by researching and collecting data on the current landscape of affordable housing in the communities they serve to identify the challenges families face. Training will include ways to advocate for pet-inclusive housing and how to respond to the eviction crisis in your community.
Capacity building
Creating relationships with organizations struggling to provide care for homeless and owned animals is one of the best ways to increase lifesaving beyond your own facility. This mentorship is a hands-on, cooperative venture between animal welfare organizations designed not only to help individual animals, but also to weave a stronger safety net for the community at large. You'll serve as both a mentee and mentor—learning how to boost the work of animal welfare organizations in your region by sharing information on best practices, effective policies, and programs that will, over time, reduce the number of animals flowing into their facilities and keep more pets in their homes.
---
Individual peer-to-peer mentorship
Not able to participate in a formal shelter mentorship? Consider mentoring a shelter independently! The collaboration between mentor and mentee groups allows for opportunities to share knowledge and information to increase lifesaving. While this mentorship is not eligible for grant funding, the HSUS can help strategically identify and set up these connections between organizations. We can also help determine achievable goals between the two organizations. Peer-to-peer relationship building may require helping your organization's supporters and community understand the importance of equity in animal welfare, diverting some staff time and resources to elevating another group. In the end, however, it is a unique opportunity for groups that are leading the way in humane care and lifesaving to share their expertise outside their backyard, and truly help create a more humane nation. If you are interested in mentoring a shelter in need, please review our mentorship guide and reach out to us.
Looking for more information? Find additional resources here.
Documents