Bigger in Texas: Dallas Animal Services wins $200K innovation grant
High-intake municipal shelter will roll out data-driven shelter app to improve customer service, drive adoptions
Over the three years since the kick-off of the annual Innovation Showdown launched by Petco Foundation and the Jackson Galaxy Project, shelters from New York to Sacramento have won high-value funding for their tech-savvy ideas. Each year, shelters and rescues pitch lifesaving ideas via video, with three finalist organizations presenting their ideas live to investing organizations on stage at the Humane Society of the United States' Animal Care Expo.
In May, Dallas Animal Services in Texas presented the top-funded idea, winning $200,000 in front of 2,500 peers. The winning idea, a shelter customer service app, was based on feedback from the approximately 69,340 groups of people (e.g., parents and children are a "group") each year that visit the shelter's 55,000-square-foot facility and PetSmart satellite adoption location.
The free, bilingual app will offer real-time availability updates on adoptable animals; searchable pet physical and behavioral characteristics across the shelter's facilities and foster homes; a map of and directions to matching animals' kennels; and a "MEET ME!" radio button on each animal's online profile that alerts kennel staff when an adopter is interested in meeting a pet. Potential adopters will be able to fill out forms, enter a virtual adoption queue via phone with a text alert directing them to a specific adoption counselor when available, and connect with customer service representatives via Facebook messenger.
For a shelter that serves the ninth-largest city in the country and takes in 40,000 pets a year, facilitating adoptions is obviously crucial, says business manager Whitney Hanson, who adds that the app will be adaptable for use at shelters of all sizes. "The problems we were trying to solve are problems that all shelters face."
In this edited interview, Hanson shares the secrets behind a winning pitch and how they decided on the app's critical functions. (Check out our interview with last year's winners here.)
How did it feel to win?
It was such a thrill, and we were so honored and so grateful for not only the opportunity to be considered and to share this idea that we had been kicking around here at the shelter, but to be funded at such a high level that we could actually make it happen. It was really kind of a dream come true. We were all kind of in shock for a while after we got that award.
Some of us were actually at Expo and were able to be there in person, but we also had staff watching from the Chameleon conference in Las Vegas at the same time and a watch party with staff here in Dallas. It was just a really exciting evening for all of our team.
Did you all expect to win?
All of us that worked on that project, we're all the kind of people that when we do something we go in to win, so we really dedicated a lot of time and effort to it. Not only were we getting the opportunity to try and get funding, but we were getting the ears of many of the largest animal welfare funders in the country and thousands of our peers. So we wanted to make sure we gave it our best effort and gave a good presentation.
But, no, we did not have an expectation that we would win, because the other groups that were presenting, their ideas were amazing, as well, and we said we would love to use both of those products for ourselves, too. So it's not quite a standard competition in that way. You're rooting for the people who are, quote, "competing" against you, as well.
"It's not quite a standard competition … You're rooting for the people who are, quote, 'competing' against you."

—Whitney Hanson
The app will offer features like real-time pet availability updates via shelter software Chameleon. Did you have any outside help developing your idea?
We work closely with Chameleon, so we were able to just pick up the phone and ask them what was and was not feasible in terms of interfacing with their database.
We did reach out to contacts that had apps at different shelters. We had conversations with three different app developers that had experience with animal welfare organizations to find out: "Is this feasible? What would it take to make this possible?" We wanted to make sure that whatever we presented was feasible within the price point we pitched. The last thing we wanted was to come up with these great, exciting ideas and then be told "you can't do that." It was very important to us that we had done the research.
It hasn't been too long since you won. Have you been able to make any progress toward getting the app up and running?
As we were developing the submission for the grant, we were also developing the specifications for the app and how it was going to work, so that by the time we won the showdown, we had a request for proposal completed.
As soon as we won, we came back from New Orleans and posted the RFP. We are in the final stages of the vendor selection and award process. But we've talked to all of the vendors about rolling the app out in phases so we can have some of the features available quickly, and it looks like we'll hopefully have the app completed within six to nine months of that vendor selection. [Editor's note: Since this interview, a vendor was selected.]
"The last thing we wanted was to come up with these great, exciting ideas and then be told 'you can't do that.' It was very important to us that we had done the research."

—Whitney Hanson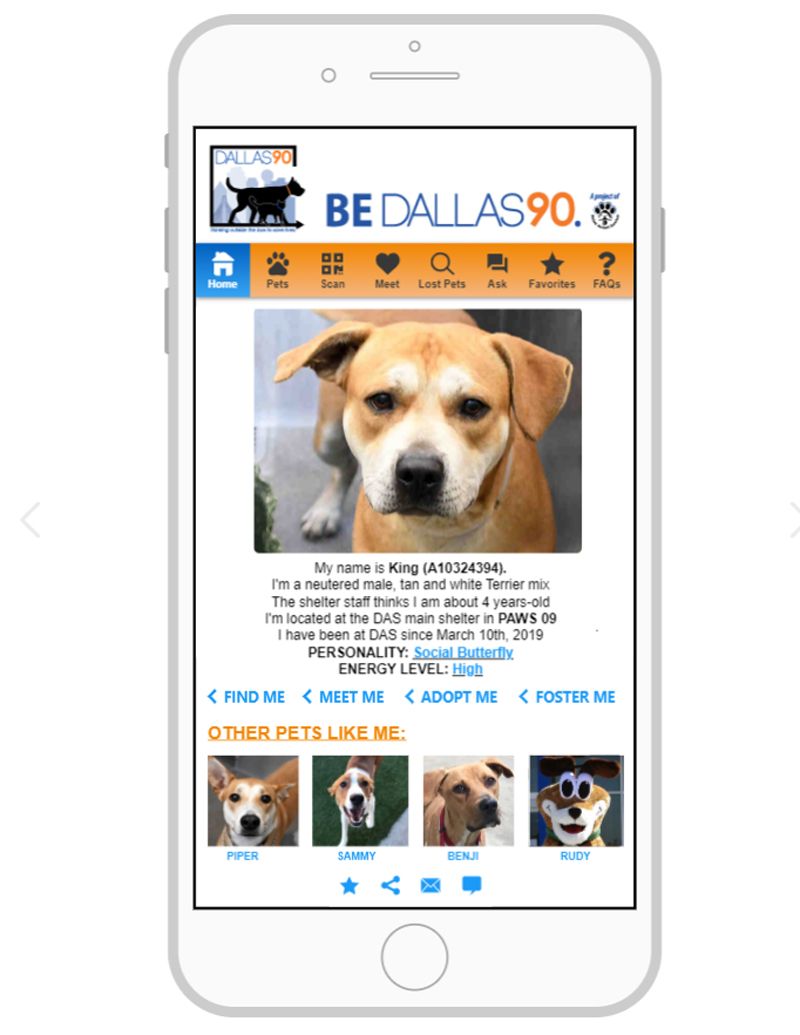 The app's real-time pet availability feature was a result of surveying shelter visitors and finding that the No. 1 reason people don't adopt is that the pet they were looking at had already been adopted. What kinds of feedback or data drove the app's other features?
Our director has a big emphasis on data-driven decision making, so we try to avoid making assumptions on why something is or is not working. So when anyone enters our facility, they sign in at an electronic kiosk using three different forms, depending on where they're coming in—lost and found, intake or adoptions. Then we have a PetSmart everyday adoption center, and we have a similar form there. We ask for first name, number of people in their party—so we can look at visitors versus groups of visitors, and look at groups who adopted, not individuals who adopted—how they heard about us, reason for visiting and optional contact information. We cross-reference that data with a follow-up adopter survey 30 days after adoption and occasional surveys of people who entered the building and didn't adopt.
It was also based on conversations we had with our customer service staff—what questions are people asking you? What are you hearing from the customers as they come in?—and talking to our communications staff and seeing what comments and reviews come in via social media.
So with feedback from all those sources, we identified the key things that we wanted to address, and a lot of it was stuff we were not surprised by: Our building is massive, and people get overwhelmed and confused. There's a big emphasis on customer service, but there's just no way for us to be every place at once, when we see so many people coming into our building every year. So it was trying to figure out "how can we be every place at once?"
How have you used data to improve the shelter in other ways?
Wednesday is one of our biggest intake days and one of our slowest adoption days. In the summer we take in 100 to 150 animals a day, so having space issues before the Saturday rush can lead to some really difficult decisions. So we used that information to do a "dollar dog" Wednesday promotion throughout the summer, and as that started to gain traction, we started to see Wednesday become one of our busiest adoption days.
Do you have advice for other organizations entering the Innovation Showdown?
All of the shelters that have been finalists, all of their ideas are designed not just to help their organizations, but organizations across the country and across the world. Making that the big central tenet of your plan from the first day you start discussing your ideas is really important.
We wanted to make sure that whatever we put together was going to be scalable and would help make a shelter with 2,000 animals a year, make their lives easier, improve their customer service and their live-release rate just like it would for us at a big shelter.
It would have been much easier to create something that did not take into consideration other organizations, but it was very important to us, and we knew it was going to be important to the funders.
"We wanted to make sure that whatever we put together … would help make a shelter with 2,000 animals a year, make their lives easier, improve their customer service and their live-release rate just like it would for us at a big shelter."

—Whitney Hanson