Birdies, eagles, cats and dogs
Golfer and animal lover Cindy LaCrosse gives shelters her best shot
As a professional golfer, Cindy LaCrosse aims to land her tee shots on the green. As an animal lover, she'd like to land more shelter pets in new homes and make their time in the shelter happier and more comfortable.
Florida native LaCrosse, 31, has found a way to combine her passions: Hanging out with her 4-year-old nephew about a year ago, she stocked up on shelter supplies at a local store and delivered them to the Humane Society of Tampa Bay. The good feeling she got from that prompted her to make it a regular practice as she tours the country. She started perusing the online wish lists of shelters and rescue groups near upcoming golf tournaments.
Now, on each stop of the Ladies Professional Golf Association Tour, she picks a local shelter or rescue group and gifts it with toys, food and supplies—often paid for out of her own pocket—and promotes their adoptable dogs and cats on her Twitter feed.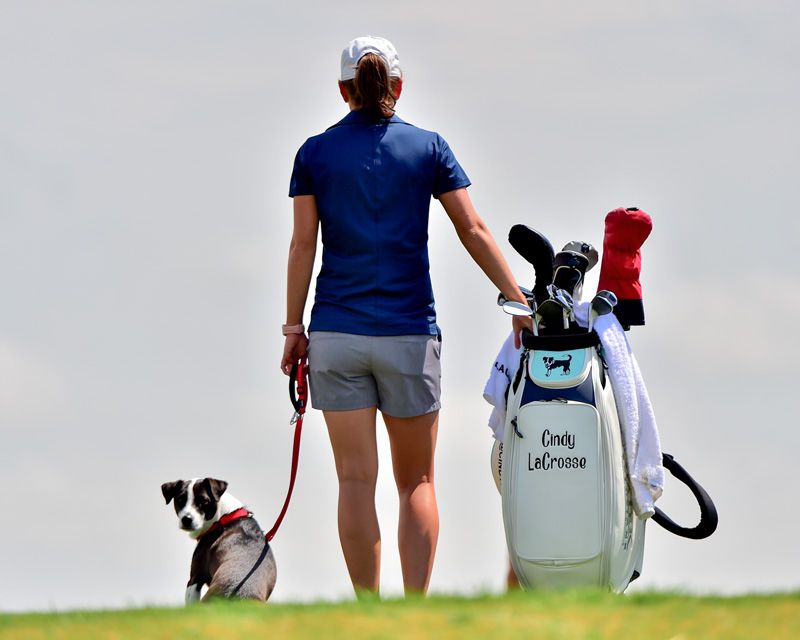 "We've got puppies!! 4 months old, there's 8 of them! 5 of them here 3 in another cage. They were so nice! All they wanted was pets and love! They're at Orphans of the Storm. Come get one. Or two. Or eight," she tweeted after visiting the Orphans of the Storm Animal Shelter near Chicago.
And after a stop in Arkansas, she tweeted: "We had a great time today with pups from the Humane Society in Rogers. One of the puppies was put on hold and we've got some people going to the shelter this weekend to look again!! It's happening! Doggos are going home!!"
From March through July, LaCrosse visited more than a dozen shelters, from the San Francisco SPCA in California to the Heritage Humane Society in Williamsburg, Virginia. "I thought it would be a cool thing to give back to every place we go on tour," she explains.
"I thought it would be a cool thing to give back to every place we go on tour."

—Cindy LaCrosse
LaCrosse found her own dog, Fitz, in 2014 through Pet Haven Rescue in West Palm Beach, Florida, which had placed him in a foster home and posted him on Petfinder. When she met him, she recalls, "That was it. I was done." A professional drawing of Fitz adorns her golf bag.
Her charitable activities have attracted the attention of sports media (she's been profiled on ESPN.com and the LPGA website), as well as her fellow golfers, who'll ask her on the putting green if she's gone to the shelter yet.
All the shelters have "been super grateful for the stuff we've brought," LaCrosse says—and the extra attention can help raise a shelter's profile.
When LaCrosse arrived in Toledo, Ohio, in mid-July, "she had her whole car loaded with donations" and was accompanied by other golfers and a crew from the Golf Channel, says Laura Simmons-Wark, community outreach coordinator for Lucas County Canine Care & Control.
The supplies, plus the golfers meeting some adoptable dogs, made for "a pretty cool afternoon," Simmons-Wark says, and the visit produced an uptick in the shelter's news and social media buzz. One of the dogs LaCrosse highlighted on Twitter— aptly named "Mulligan," golf-speak for a second chance—found a new home.
Mulligan also visited the golf course and rode in a golf cart with LaCrosse and Simmons-Wark, who says, "That was so much fun, driving around on a cart, telling people, 'Adopt this dog!'"
Simmons-Wark describes the combination of shelter animals and golf as "outside- the-box thinking," adding that golf fans young and old lit up when they saw a dog on the course. "Marrying the two ideas that wouldn't necessarily be put together was something pretty special in itself."