Cracking down on cruelty
New state law takes effect in Arizona, toughening penalties for animal abuse
When I walked into the Arizona Humane Society's trauma hospital that morning, I wasn't prepared for what I was about to see.
Lying there, surrounded by veterinarians and veterinary technicians, was a gravely injured bloodhound. His body was bloated, and large portions of his torso and neck were bandaged in gauze as blood seeped through.
What I learned next was shocking. Copper had been stabbed multiple times by his owner.
Despite my nine years at AHS, I found myself trying to hold back tears. It wasn't just Copper's case, but the case of Benny, a dog shot in the face during a homicide, and the case of puppies Blanche, Dorothy and Rose, who were found in a dumpster—alongside an already deceased sibling—that began flashing through my head. It was in that moment that I also started counting down the days until strengthened animal cruelty laws would go into effect in Arizona.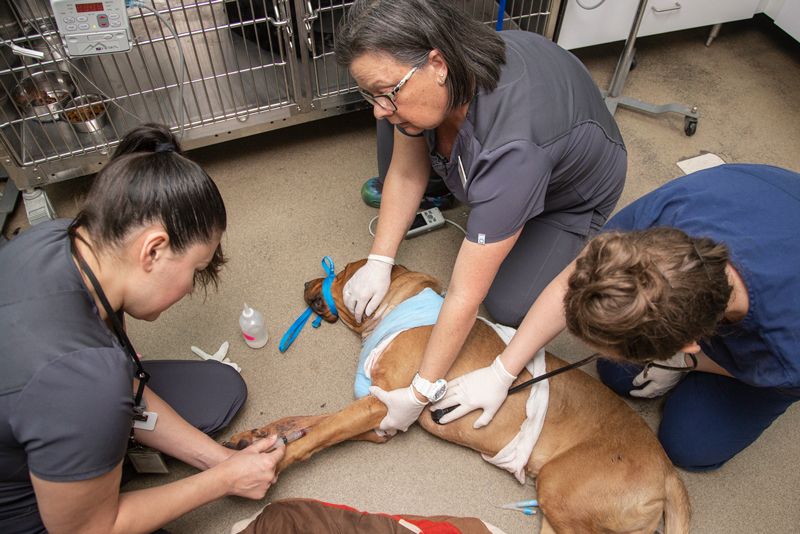 That countdown was four years in the making as AHS, with the leadership of state Rep. John Kavanagh and alongside our partners in the Humane Legislative Coalition of Arizona, fought tirelessly to strengthen Arizona's animal cruelty law to ensure that the punishment for the most heinous acts of animal cruelty fits the crime.
Finally, in May, the state legislature passed H.B. 2671, and the governor quickly signed it into law. By increasing animal cruelty charges from a Class 6 felony to a Class 5 felony, egregious acts of cruelty against pets can no longer be dropped to a misdemeanor. Penalties include the possibility of jail time and supervised probation and treatment.
Just about a month after the new law took effect, an AHS animal cruelty investigator was on the scene of another case of suspected animal cruelty, this time involving a pug named Miso. Despite his outgoing personality and wiggly nature, X-rays in AHS's trauma hospital revealed two broken ribs, a broken pelvis and broken tooth, while bloodwork also revealed elevated liver counts consistent with acute injuries.
Two days later, Miso's abuser was booked on Arizona's first Class 5 felony under the new law. Miso was one of more than 7,700 suspected animal cruelty cases AHS responded to in 2019, yet his story set a new precedent for Arizona's animals.
While Miso's case remains ongoing, he is now living the life he always deserved. As for Copper, Blanche, Dorothy and Rose, not only did they, and thousands of others before them, pave the way for strengthened laws, they too are living the lives they so deserve.
- Bretta Nelson
Spokeswoman,
Arizona Humane Society
Phoenix, Arizona