A Hardy soul
Injured cat's resilient spirit captures the hearts of rescue staff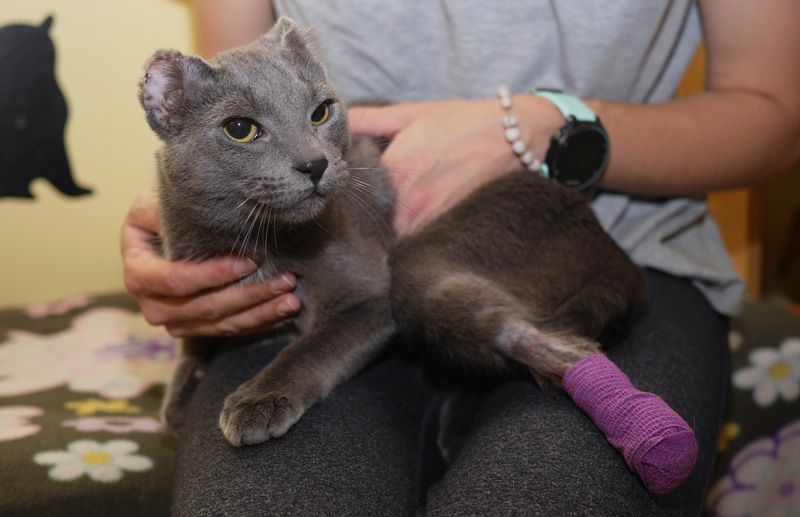 When an animal control officer brought the young cat to the Prince George's County Animal Services Facility in Maryland, he had severe wounds to his ears, toes, limbs and tail that left him limping and weak. He had been found wandering around an apartment building, disoriented and confused. His ears were gashed open, and his toes were hanging on by threads. Because of the severity of his injuries and the fact that he would need extensive treatment, Alley Cat Rescue stepped up to handle the care of this traumatized cat.
It was immediately clear that these injuries were the result of intentional cruelty. Based on his wounds, our veterinarian estimated that the 8-month-old cat had been tortured for several weeks. The abuser had tied his tail and limbs tightly and had cut his ears. His tail and two of his toes required surgical removal.
He may have started out as an unknown victim of animal cruelty, but he has since become Hardy, our affectionate and trusting little boy. We named him Hardy because he's courageous and, according to the dictionary definition, "capable of enduring difficult conditions."
When a staffer first met Hardy, he immediately thrust his head forward for petting. In seconds, he was purring. Soon after that, Hardy went to foster care. Although shy at first, he quickly warmed up and became the most affectionate cat the foster mom has ever had. When scared, he would nuzzle into his foster mom's chest for comfort. She spoiled him with toys and treats. Hardy received love and compassion, likely for the first time in his life.
Hardy continues to receive veterinary care, but our veterinarian says his outlook is promising. He will likely live his life with many of the same issues as a declawed cat because of the injuries to his feet. He continues to awe and inspire us every day. Shortly before Valentine's Day, he caught the eyes of a couple in the veterinary field, who were ecstatic to adopt him. For a cat who had endured so much trauma and pain, he is an amazingly trusting and loving boy.
—Brianna Grant
Communications associate
Alley Cat Rescue
Brentwood, Maryland