How to: Partner with cat cafés and find shelter cats homes
Louisville cat cafés and animal shelters share logistics behind booming adoption numbers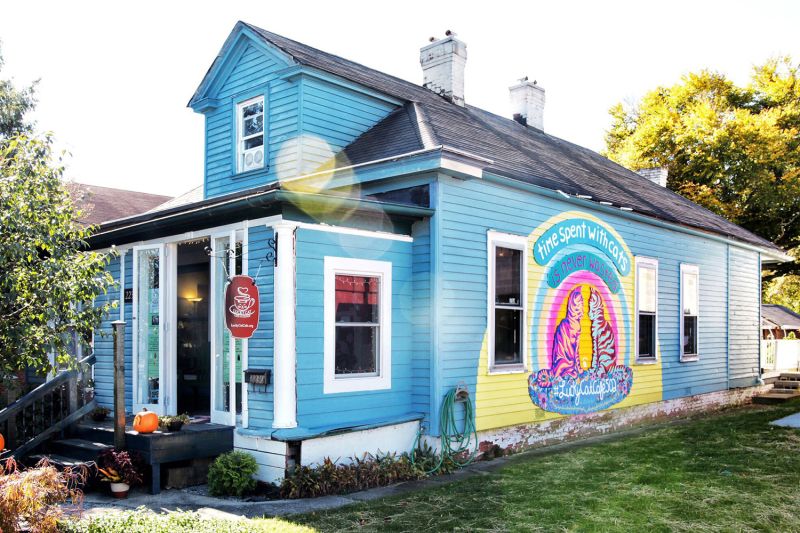 When cat cafés exploded across Japan in the early 2000s, Karla Spencer read about the craze in a magazine. A lifelong animal lover, Spencer looked wistfully at the photos of people lounging with tea, coffee and cats. She thought to herself, "That will never happen in the U.S."
It took until 2014 for Americans to prove her wrong—the country's first cat café opened in California that year. Four years later, Spencer opened one of her own.
Spencer's café was one of dozens that debuted in the U.S. as the trend snowballed in the mid-2010s. Hers was in Louisville, Kentucky, and she called it Lucky Cat Café & Lounge.
As luck would have it, a fellow Louisvillian had opened another cat café in the same town a few weeks earlier. Just a 15-minute walk away, Purrfect Day Café was the brainchild of local entrepreneur Chuck Patton. It was August 2018, and Patton and Spencer were both after the same mission: Create a comfy space where shelter cats could find homes and people could find furry companions.
Today, each café has made good on that promise in its own way—and together, they offer a look at how two different cat café models can spark wild success.
One mission, two methods
American cat cafés are a different breed from the original Japanese variety. Most cafés in Tokyo sprang up because residents couldn't have their own pets—many lived in tiny apartments or condos with pet bans. The cafés gave people a place to find feline comfort, no strings attached.
In the U.S., however, cat cafés focus on adoptions: The cats who live there come from local shelters or rescue groups, and visitors can choose to adopt any of the cats. The cafés free up space at the shelters, help socialize cats and speed adoption placements. Plus, they create a unique space for the community to enjoy.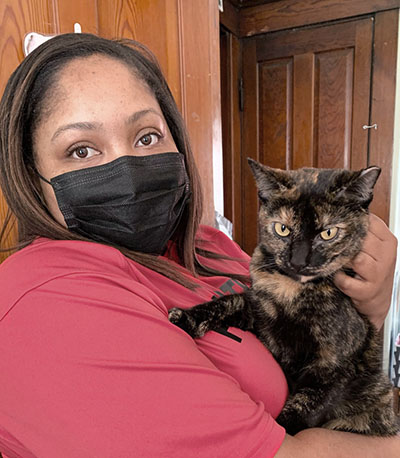 With that goal in mind, Spencer and Patton charted their own paths. Spencer had always worked in nonprofits and knew she wanted her café to be one, too. Patton was a business owner and marketing veteran; he opened his café as a for-profit, socially conscious business.
Patton focuses more on the volume of adoptions than Spencer—and has the numbers to show for it. As of October 2022, the Purrfect Day Café has adopted out more than 7,000 cats at the Louisville café, and about 1,700 at a second location he opened in a nearby city in late 2020. Adult cats stay about six days at his cafés on average, and kittens usually get adopted within two days.
He remembers when he first spoke with the Kentucky Humane Society—Purrfect Day's main shelter partner—about his initial goals. At the time, he says the shelter had nine adoption centers. "I said, 'What's the largest number of adoptions that one of your locations does?' They said their record was 300 adoptions in a year. Our goal was to beat that—we wanted to do 350 in a year. So we opened up. Opening day: Eleven adoptions. Ten the next day. Eleven the next. Nine the next.
"After that happened, the humane society started calling other shelters throughout the state of Kentucky: 'Do you have any cats? We would like as many as you have.' They thought they were getting pranked. They were like, 'Are you serious?' It was kitten season. We just went absolutely crazy and ended up doing 131 adoptions in the first month.
"It's continued and continued and hasn't stopped," Patton says. "Here we are four years later."
Spencer says her adoption numbers aren't as high as her neighboring café, and she's OK with that. Lucky Cat Café focuses mostly on helping adult cats, cats with special needs, cats who have been surrendered, cats in shelters with low adoption rates and cats pulled from hoarding situations. "It takes a little bit longer to find a home for these cats," Spencer says.
She recalls one cat, Cecily, who had one blind eye and six kittens. "The kittens got adopted pretty quick," Spencer remembers. "So we just took the mom cat. The mom cats need help. It took us three weeks to find her the right home." It was worth the wait: Cecily is still happy at home with her new family.
"I've been in animal welfare for 14 years, and I think this is the most innovative and one of the neatest things I've been a part of."

—Alisa Gray, Kentucky Humane Society
Essential partnerships
Cats find their way to cat cafés through the oversight of local shelters or rescue groups. They arrange health care, including vaccines, defleaing, deworming, microchipping and spaying/neutering, then place the cats at the café. When the café finds a prospective adopter, the shelter or rescue processes and reviews the application.
Of course, these are partnerships that must be built and fine-tuned. "If you're adopting out 250 cats a month, you need a lot of collaboration," Patton says.
Patton says he had three meetings with the Kentucky Humane Society before starting the work. Together, they crafted protocols for the café—including thorough, routine cleaning—and he asks the humane society to audit his café every year. The shelter's vet techs also come by to check on and care for the cats as needed.
"It's very collaborative in an extremely positive way," says Alisa Gray, president and CEO designate at the Kentucky Humane Society, who has worked with Patton and his crew from the beginning. "They are 100 percent a part of our family and our team."
It's a lot of logistics to juggle, Gray admits. Over the years, she hired new team members to support the café operations. She says her staff transports cats to the café at least three days a week—sometimes daily—and talks with the café staff every day.
The work pays off in lives saved, she says. In the past three years, the shelter has adopted out more cats than dogs for the first time in its history.
"I've been in animal welfare for 14 years," Gray says, "and I think this is the most innovative and one of the neatest things I've been a part of."
Purrfect Day Café also donates directly to the Kentucky Humane Society and other partners. Patton posted a notice that half of all café tips would go to local shelters, and people responded: "Yes, here's $5. Here's $10. That added up," he says. The café has now donated more than $85,000 to local groups, mostly from those tips. (Both cafes charge an entry fee, with discounts and family packages available, which go toward running costs.)
Spencer's café works with six different partners in the area, including Louisville Metro Animal Services, the Humane Society of Oldham County and four local rescue groups.
Her partners are equally enthusiastic. "It's been a godsend to have Karla and her cat café," says Karen Ryan Harris of the Shamrock Foundation, an all-volunteer rescue.
Spencer relies on her partners to tell her about each cat they bring her, so she can help the cats feel at home and inform visitors about the cats' personalities. (A board at her café displays each cat's name, age, photo, background and temperament.) In turn, the rescue partners learn about potential adopters from Spencer's team.
"The people who work at the café are very much cat lovers and very interested in proper care of the cats, and they get to know the people who come in there," Harris says. "They are there to see that person interact with the cats, and see who came with them, and you pick up a lot of information that way. It's just been an ideal situation. We've made a lot of good matches."
Uncharted territory
Before opening, both Spencer and Patton struggled to find the right location for their cafés.
"I looked at a couple of commercial spaces, and they were like, 'Ew, cats, litter boxes, no way,'" Spencer remembers. Then one day, on a walk near her home, she noticed a little blue house with a for-rent sign. She called the owner, and luck was on her side. The space was perfect, the owner amenable. Spencer set up shop, adding a 12-foot cat mural to the side of the 100-year-old home.
"People love that we're in a house," Spencer says. "We are proud that we look cozy and homey. We have old floors and tall ceilings and windows."
Patton had a similarly frustrating journey to find his space. "I found four or five locations that could work and was turned down four separate times," he says. "It was such a new concept. And in some situations, if you're in a strip mall-type area, they have strict rules against shelters being there. They don't want barking dogs or a smelly situation."
At last, he met the right landlord. "Not only did he like [the idea], he was like, 'This is great. I really want to do it.' It was really important to have that partnership."
Patton chose a storefront in a trendy area of Louisville—the same area Spencer was drawn to—and made it his own. The same winking cat face from his café logo hangs on the wall behind the coffee bar.
Both spaces have separate areas for the café and the cat lounge, per local health codes. Visitors can bring drinks into the cat lounges once they're purchased.
Welcoming the cats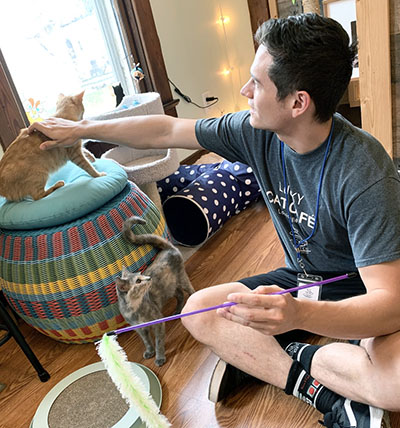 Some cats don't need much introduction to the café, Spencer says, but many are scared when they arrive. "We have what we call a condo," she says. "It's a large cage, and we make it homey inside there. We can even cover it if we need to. They can be in there and see what's going on and feel safe. When the cat feels ready, we'll open the door, and they can decide to come out."
Patton has also designed his café with cats' natural behaviors in mind. "It's really important to build out the space correctly so they can get under things and on top of things, and they can get away if they need to," he says.
Purrfect Day Café focuses on kittens for at least half the year—kitten season never ends, it seems—and most of the kittens are happy to explore their new space.
"With kittens, it's really pretty seamless," Patton says. "They don't have territory. They might hiss when they come into room, but within a couple of hours they're sleeping with a whole cuddle puddle of different litters."
Drawing a crowd
The best way to keep the cats de-stressed and healthy, Patton says, is to get them adopted as soon as possible.
"I think why our success has been so high," he says, "is that we focus on what we need to do within the [cat adoption] equation: Pack that café with people."
A lot of non-cat elements come into play here. Both cafés offer a wide variety of drinks, food, swag, events and other enticing goodies. Naturally, it's all cat themed.
Alongside the usual coffee and tea, Purrfect Day Café offers "meow-cohol," including "meowmosas," Fat Cat Pinot Noir and White Claw seltzer, plus cat-shaped cookies, cat-shaped cake-pops, "pawmpkin spice" scones, "paw-pcorn" and hot "purr-etzels."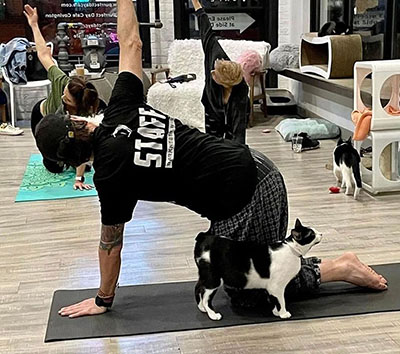 Lucky Cat Café also serves plenty of treats, boasts "more cat-themed merchandise than anywhere else in Louisville" and curates events with special themes. There's a Valentine's date night, with dimmed lights, music, cheese and sweets. There's a family-friendly "how to make a cat mat" class, where kids cut and tie fleece blankets in the space. (Sounds easy, but try finishing your blanket before a cat lies on it.) There's a free "Meow Meditation" led by a volunteer, with hot tea for all.
The extras add to the experience, Spencer and Patton say, but the cats are still the biggest draw.
"What ends up happening is people walk in and say, 'Well, I'm just a dog lover,' or 'I already have two kitties, I'm fine,'" Patton says, "and then they fall in love with one. And that's where the adoption numbers go out the roof."
Spreading the word
Spencer and Patton both find time to help others do what they do—sharing advice with fellow cafés across the country and speaking with hopeful café owners-to-be. Patton recently met with the owners of the Cattyshack Cat Café in Fort Myers, Florida, to trade ideas, and Spencer just hosted two couples who want to open nonprofit cafés in Boston and St. Louis.
Facebook is a helpful outlet for making connections, Spencer says. There's a private Facebook group called Cat Café Owners and another called Future Cat Café Owners, where "cat-repreneurs" ask and answer questions. ("What's the age limit at your café?" "What's your favorite litter box cleaner?" "What do you charge for entry?")
And for the shelters and rescue groups out there who are café curious: Gray says the Kentucky Humane Society is willing to speak with any organization that wants to start this type of partnership.
"We'd love to see it everywhere," Gray says. "If we can share any ideas or benefits of this program, we are more than happy to."