Making a change for the better
Pet store program helps boost adoptions and fight puppy mills
"Whether the economy is good or bad," says Randy Housley, the general manager of Polly's Pet Shop in Universal City, Texas, "people seem to want puppies." And San Antonio Animal Care Services draws from such a wide area that his store is rarely without them.
Since August 2013, the shelter has been the store's sole source for puppies. In fact, the store now adopts out about 150 puppies a year, more than it used to sell.
More than 3,000 pet stores across the nation have signed the Humane Society of the United States pledge not to sell puppies from puppy mills, large commercial breeding operations that show little regard for the health or well-being of the puppies or their parents.
Through the HSUS Puppy Friendly Pet Store program, pet stores get expert advice on how to switch to an adoptions-only model. The program matches the stores with local shelters, rescues and resources. This spring, Super Pet in Tampa, Florida, became one of the most recent stores to join the program.
"Our rescue partners' hard work and support from the communities around our locations make it all possible."

—Dawn Bateman of Pets Plus Natural, which has adopted out over 12,000 pets
John Moyer, program manager for the HSUS Stop Puppy Mills campaign, helped Super Pet's owners, Matt and Molly Nall, forge a tie with the Humane Society of Tampa Bay. All dogs adopted through the store come from the shelter. Super Pet's grand reopening was a huge success—all nine dogs were adopted within the first two hours, and the event even made the local news.
The Nalls stopped selling puppies in 2016 for both ethical and commercial reasons. Matt says the most heartbreaking aspect of puppy mills is the ongoing suffering of the puppies' parents, who often spend their entire lives in filthy, cramped cages.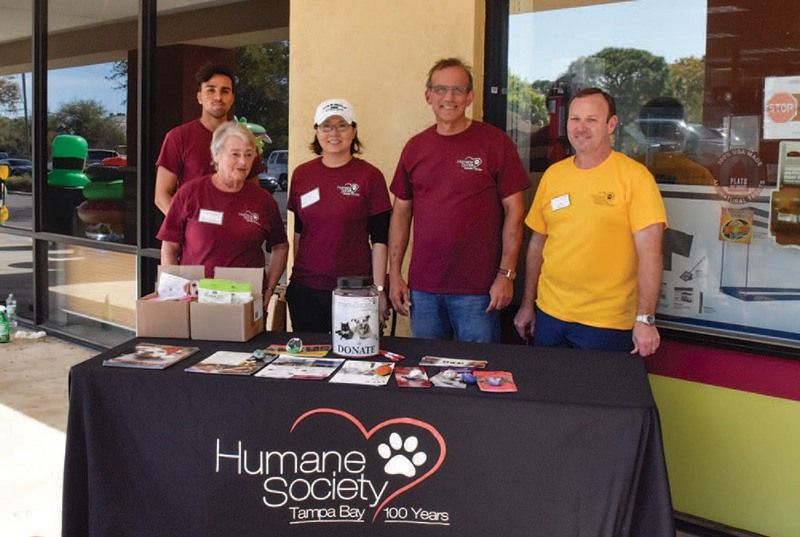 Although animal welfare experts know that these living conditions and a lack of veterinary care mean that puppies from mills are often sick, Moyer says, the general public can still be deceived by increasingly sophisticated puppy mill operations, which often claim to be "small family breeders" while shipping hundreds of puppies to pet stores around the country. When the mother and father dogs can no longer breed, they are often discarded or killed.
Retailer conversions to an adoptions-only model have become ever more common since 2006. In fact, Petland is the only one of the top 25 pet store chains that still sells puppies. While the HSUS continues to urge Petland to stop selling animals, its campaign to persuade smaller, independent stores like the Nalls' to join the HSUS Puppy Friendly Pet Store program is making headway.
"To date, we have enlisted 22 stores that formerly sold puppies," Moyer says. Those stores, working in conjunction with shelters and rescues, have found homes for more than 18,000 animals. The program's largest participant, Pets Plus Natural, has adopted out more than 12,000 animals through its six locations in Pennsylvania and New Jersey.
Chris and Alisha Ladowski, co-owners of Fish and More in Jackson County, North Carolina, also worked with Moyer and the HSUS program. In 2017, Advocates for Animals in Jackson County approached the Ladowskis about offering rescued animals for adoption. "We thought that was a great idea," Chris says, "but we didn't know how to go about it."
Moyer and his team helped the couple sort out the logistics. Now, says Alisha, "I feel very humbled knowing all the animals in just a couple of years that we've helped save." The Ladowskis even have a network of volunteers to foster very young puppies.
Housley is also proud to be in step with growing public opposition to the sale of puppy mill dogs, noting the positive feedback the store got when it started the program. "It's been a really good thing."
"Pet stores no longer need to rely on selling animals. Large chains like PetSmart and Petco do not sell rabbits, cats or dogs, and instead focus on the lucrative market of pet supplies. ... Stores like Petland are bucking the tide toward a humane marketplace."

—Kitty Block, President and CEO of The HSUS. After an HSUS undercover investigator revealed dead animals in a Petland freezer, the store's location shuttered its doors.
Take action: Sign a petition urging Petland to stop selling puppies, kittens and rabbits at humanesociety.org/petland.