Out of the ashes
Is your organization at risk of a fire tragedy?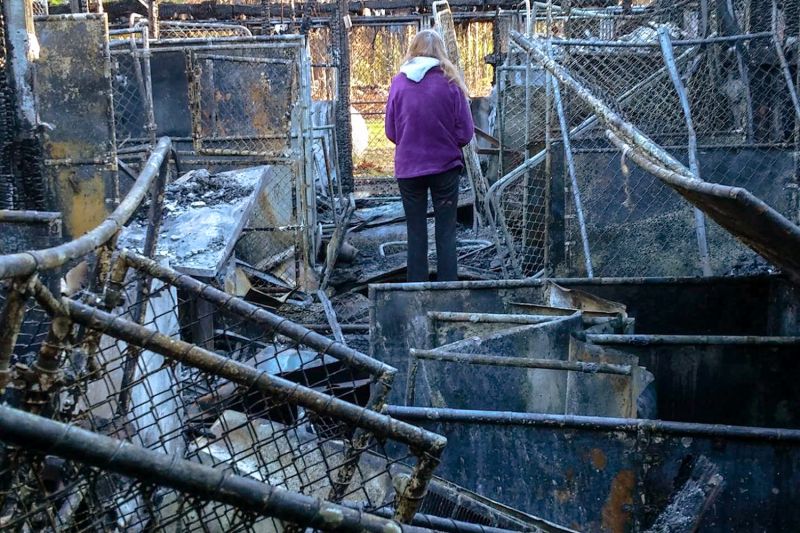 A lightning strike. An electrical malfunction. A heat wave, resulting in a rampant brush fire and a "wall of flame" too high to overcome, describes Dave Schroeder, owner of Rescue Oasis in Palmdale, California, where several dogs died in July after a blaze hit the rescue's temporary boarding facility.
And on and on: Last year in March, 74 animals died in a Beaumont, Texas, shelter after an electrical fire. In April, 32 cats died at an Oldtown, Maryland, rescue due to a fire of unknown cause. Needless to say—in a densely populated building with caged residents, a fire can be devastating.
Why are fires at animal facilities often so destructive? Michael Barnard, president of Shelter Planners of America, explains that under city and state building codes, buildings are classified by occupancy, usage and size, and classifications dictate construction requirements.
For example, based on the commonly used International Building Code (IBC), hospitals and prisons—large buildings with residents who stay overnight and may not be capable of "self-preservation" (i.e., because they are confined to beds or cells)—are classified as "institutional."
Institutional buildings are constructed to "preserve life" in the event of an emergency, says Barnard. Construction must include fire-resistance-rated materials, highly accessible exits, fire sprinkler systems, comprehensive fire detection systems and separate building compartments to prevent the spread of fire and smoke, among other requirements.
But shelters—buildings with residents who also stay overnight and are equally vulnerable—are often classified as businesses, like an office building, and are subject to less stringent construction standards. This means shelter animals are often housed in buildings that lack these life-preserving safeguards.
Along with state building code and state fire safety code requirements, shelter planners should adhere to the nonprofit National Fire Protection Association's NFPA 150, a safety standard for animal housing, says Rick Bacon of Rick Bacon Architects, whose firm is rebuilding the Jacksonville Humane Society (Jax Humane) in Florida after a 2007 fire in which 86 cats, puppies and adult dogs lost their lives. Only two years old, NFPA 150 is a recent addition to NFPA guidelines and is not required by law unless a state government formally enacts the standard.
According to the NFPA, the standard recognizes that "animals are sentient beings with a value greater than that of simple property"—essentially, that a building housing animals is more than a business. It should be designed and constructed to preserve life.
Preparing for the worst
"That day aged me 10 years," says Liz Bibber-Morgan, acting director at Montclair Township Animal Shelter (MTAS) in New Jersey, a roughly 20-year-old building that went up in flames in April. She remembers thinking, "this is our worst fear come to pass."
The disaster left 70 animals fortunately alive but "homeless homeless," she says wryly. The fire started at noon on a Sunday, says Bibber-Morgan, and her young but "well-seasoned" staff passed animals out of the building "like an old fire brigade movie."
Coincidentally, the shelter was in the process of getting its emergency operation plans approved by the fire department—which is advisable, but not what made the difference. "It was luck," says Bibber-Morgan: The shelter happened to have 15 volunteers on-site at the time of the fire, so when the fire alarm went off, staffers sprang into action.
If you're going to have a shelter fire, there had better be someone on-site who can start evacuation procedures, says Barnard. That means having as much coverage as possible at all times, even if it's just one person. "A lot of times, by the time the fire department is notified, it's too late," he says.
He suggests having staffers take turns staying until 10 p.m. one night a week and coming in at 6 a.m. one day a week so the shelter is left unmanned as little as possible. That way, when a fire alarm sounds, it's more likely that a person will be there to hear it.
Ann Korczyk, associate executive director at Jax Humane, says a call went to the fire department at about 2 a.m. on April 7, 2007, but neighbors had smelled smoke—not realizing its source—as early as 10 p.m. After the fire, an employee spent the night, every night, with the surviving animals.
"If you don't have sprinklers, have someone on-site 24 hours a day," says Korczyk. "That's the only thing that would have saved us."
The fire gained national attention—people sent donations from across the country, and Jax Humane was able to open a community animal hospital in 2012 using the funds. Jax Humane's new shelter, scheduled to open this year, includes fire sprinkler systems throughout. Even the society's temporary modular units include sprinklers.
Both Bacon and Barnard strongly recommend sprinkler systems—literal lifesavers, if you can afford them—but acknowledge they can be cost-prohibitive or impractical. "The more rural [a shelter] is, the more difficult it is," explains Bacon, because fire sprinklers must pull water from fire lines or water tanks. "It's very expensive," says Barnard, but "it's probably the most effective [fire suppression] solution."
Cheaper solutions focus on prevention, he says: scheduling an annual fire safety inspection, planning animal evacuation procedures with your local fire department, regularly cleaning out dryer filters, not running dryers at night, keeping your building tidy and not piling up highly combustible materials (like blankets or newspapers) near heaters or blocking fire exits.
"[We've] been very well trained over the last 100 years to believe that sprinklers are the most effective way to control a fire—and actually that is the truth. The problem is that in an animal shelter, I don't want a problem to even become a fire," says Scott Learned, president of Design Learned and a member of the NFPA technical committee on animal housing facilities. "You want to create a building that's preventative in the first place."
Barnard suggests installing fire alarms and smoke detectors that automatically dial an emergency contact list when fire or smoke is detected. Such systems are "pennies compared to sprinklers," he says. Learned agrees, advising shelters to go "way beyond any code requirements" and place "harsh environment" fire detectors intended for damp or dirty environments in "every single room and every single crawl space and every single piece of mechanical equipment."
"Really thoroughly cover the building in every imaginable area so that you have an early warning," Learned says. "I would rather put in that level of comprehensive smoke detection than anything else."
If possible, Bacon also recommends designing or retrofitting your shelter in compartments divided by smoke barriers and fire-resistance-rated walls, ceiling and floor assemblies, with a specific number of animals in each compartment. After the fire, the only parts of Jax Humane left untouched—save for a few scorch marks, says Korczyk—were newly built dog kennels that had been added to the side of the shelter behind a firewall, creating an unintentional compartment. Firefighters used bolt cutters to release the dogs.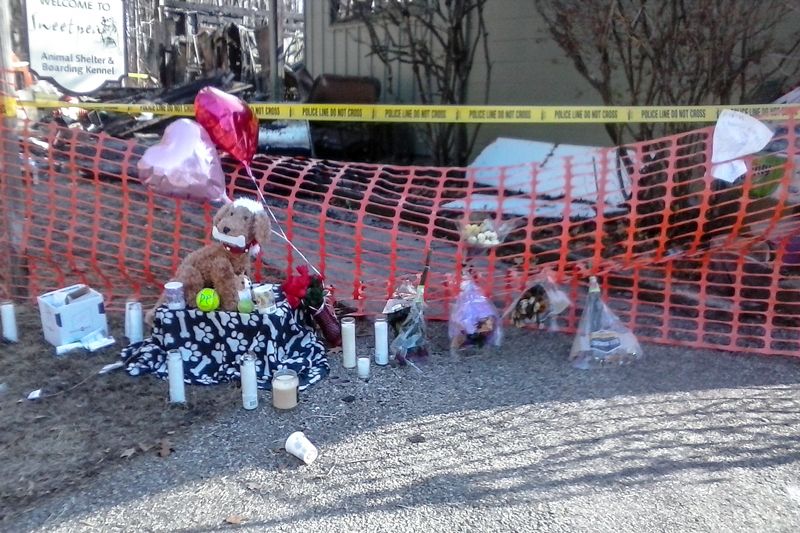 Firing up the community
Classified as an industrial-commercial building, the Montclair shelter had no sprinklers, but staffers were able to save all animals thanks to the fire's timing, says Bibber-Morgan.
"Somebody starts yelling, 'Fire, fire, fire!'" she says, and once the alarm went off, everyone's first instinct was to run out of the building. "[We] turn to each other, and we're like 'Oh!'" she says. "And we start running back in."
Bibber-Morgan first called 911 and accounted for all the people, but the second thing she did was post, "Emergency! Montclair Township Animal Shelter is on fire. Animal handlers needed NOW," on the shelter's Facebook page. "The world came running," she says. "It was really amazing."
As the smoke worsened, volunteers and community members placed cats in carriers and even pillowcases to get them out of the building. "We had a free-roaming cat room, so that was a blast, getting some of those scared animals contained," quips Bibber-Morgan. Everyone went with a philosophy of "whatever works"—a cat carried out in a pillowcase or wrapped in a towel might not be dignified, but he is alive.
A nearby restaurant/jazz club allowed staffers to use a vacant second-floor apartment for cats in carriers and as a triage space, and a line of community members formed, waiting to foster the homeless animals. Under the circumstances, the shelter shortened its usual foster application, with a surprising result—eventually, almost 90 percent of fosters "wound up adopting their foster animal," says Bibber-Morgan.
The shelter is currently reconstructing the original building using its fire insurance money and donations raised by Friends of the Montclair Township Animal Shelter. Thanks to the new fosters and the now-necessary off-site adoption events, all but one of the animals who were in the building at the time of the fire had been adopted by December.
"All the horror stories we hear day in and day out," Bibber-Morgan says. "It was so healing and so refreshing to watch this community come together."