'Portalmania 2020' gives shelter cats some space
Coalition awards thousands of cat cage portals to shelters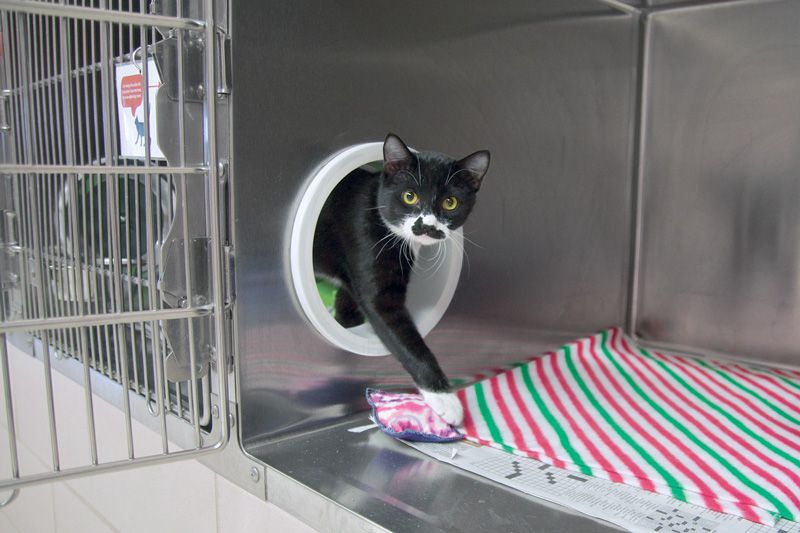 The last thing we need during our big human pandemic is little feline pandemics happening inside our shelters. Studies show that stressed-out cats are more likely to break with upper-respiratory infections, says Million Cat Challenge co-founder and veterinarian Dr. Julie Levy.
That's one of the reasons why a coalition headed by the Million Cat Challenge recently awarded around 2,500 portals to almost 70 shelters, and is now raising money for the nearly 5,000 remaining applicants. The portals are installed between cages, allowing cats separate eating, sleeping and litter box areas. With their living space doubled, cats are happier and healthier, less likely to fall ill and more likely to be adopted in less time, says Levy.
Dubbed "Portalmania 2020," the effort is funded by the Joanie Bernard Foundation, Banfield Foundation, ASPCA Northern Tier Shelter Initiative, Petfinder, Virox Technologies, Royal Canin, The Dave and Cheryl Duffield Foundation, GreaterGood.org, Team Shelter USA, the Ontario Shelter Medicine Association, and individual donors whose contributions will be matched by cage manufacturing company Shor-Line.
After Washoe County Regional Animal Services in Reno, Nevada, responded to a hoarding case in 2019 and had to hold cats from the case long-term, the shelter installed a roomful of portalized cages on its own dime, says assistant director Tammy Wines-Jennings. Although the portals were intended to mitigate the stress of long-term stays in small cages, staffers soon discovered other benefits to the double-compartment housing: They could clean cages more easily, coaxing cats through the portals and cleaning one cage, then coaxing them back and cleaning the other. (Wines-Jennings says this is especially helpful with hard-to-handle cats and makes sanitation less stressful for cats and humans alike.) And they could choose to give fat cats and very small dogs a little more space, house litters together with room to play during kitten season, or temporarily close the portals to double cage capacity.
Thankfully, Wines-Jennings says Washoe County has had only a few intakes directly related to the pandemic, despite partnering with a local human services agency to temporarily house the pets of people who test positive for COVID-19. But the crisis has crunched municipal budgets, and Washoe County wouldn't have been able to portalize more cages without Portalmania 2020. Now, they'll receive almost 200 portals, enough to portalize the entire shelter. (Field and kennel supervisors installed the original portals, and Wines-Jennings may ask local Boy Scout troops to help install the rest.)
"We couldn't be happier that we don't have to put this off like we thought," she says. "… It makes a huge difference not only for our shelter staff 's sanity, but for the cats."