Raising rates in Indiana
Shelter's philosophical overhaul opens floodgates of community support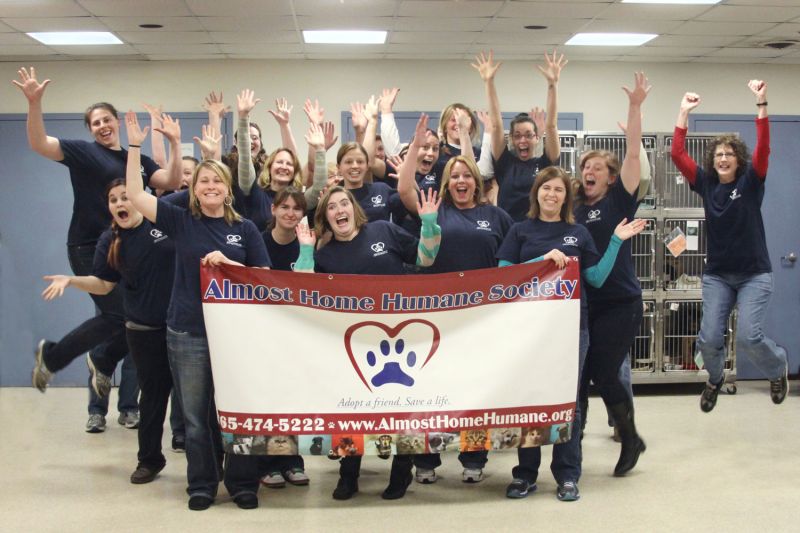 In 2012, Stacy Rogers, then-outreach manager of Almost Home Humane Society (AHHS) in Lafayette, Indiana, had just attended Best Friends Animal Society's No More Homeless Pets Conference in Las Vegas.
On the flight home, she thought about how AHHS typically euthanized feral cats and how potential adopters weren't allowed to see stray animals until after the legal hold period. She thought about the society's restrictive pit bull-type adoption policies and how dogs who failed the food bowl guarding test wouldn't go up for adoption.
And finally, Rogers turned to AHHS's then-executive director, Michelle Warren, sitting next to her on the plane.
"I really think we need to look at everything that we do," she recalls saying, "because I think we've been doing it wrong."
Warren agreed, and the two planned an overhaul of AHHS's programs and services all the way home to Indiana.
The shelter's live-release rate was 68 percent in 2011. Rogers, now AHHS's executive director, can boast a 92-percent live-release rate in 2015, a doubled medical budget and a network of foster homes that has tripled in size. The shelter has gone from serving 2,000 animals a year to 3,000, including owner surrenders and transfers from other rescues, and donations generated from its yearly fundraising event, Strike Out Suffering, have increased by over 200 percent.
Five years ago, "we had a couple of [pit bull-types] on the floor that had been with us a year and a half," says Rogers. Now, the organization's average length of stay for dogs is 17 days.
Facing fears
Many of Almost Home's issues were fear-based, says operations manager Molly Baker. Board members were hesitant to place cats who couldn't be handled, dogs who didn't pass the SAFER aggression test and pit bull-types, fearing that the organization would be held liable for negative outcomes. The board had also been afraid to ask the community for help with stray or sick animals, worrying that people would falsely claim strays or blame AHHS if an animal didn't recover, says Rogers.
"It showed the public that we were hiding things," says Baker.
Cats, especially, suffered from the fear-based policies—in Lafayette, it was illegal to feed cat colonies, and animal control officers were required to trap community cats and treat them as stray pets. The shelter had a steady flow of lifelong outdoor cats that it couldn't release back into the community or adopt out.
"If any cat were to even show signs of being aggressive … we couldn't do anything with them, couldn't put them up on the floor," says Baker. "They just sat in a cage for [the required] five days, waiting for an owner [who] we knew would never show up to come claim them." With few fosters and a crowded shelter, staffers were also at a loss when it came to litters of kittens who were too young to eat on their own.
The roughly 18 staff members were emotionally drained and knew something had to give. Namely, the board had to consider finding best-fit homes for imperfect (or unfairly maligned) animals; the city had to change its community cat laws, agreeing to a trap-neuter-return (TNR) program and allowing community cat caretakers; the shelter had to be forthcoming with the community about its need for donations and fosters; and people in the community had to become those caretakers and fosters equipped to handle young kittens.
Out with the old
When Rogers and Warren returned from the conference, "it was like the spark had returned and they had tons of ideas—they wanted to change everything. And they convinced everyone that it was the best idea ever. And it was. It was great. They just stopped worrying about what people would say and they just did it," says Baker.
They started by opening up the stray room, sharing animals who needed expensive medical care "as soon as possible" on Facebook and treating the SAFER aggression test as a guide to the best home, not a pass/fail test, says Rogers.
"In the past we would've said, 'Oh, a $4,000 surgery just isn't doable.' Now we've found if we just reach out to the public and say we want to try to save this pet … usually we can raise the funds within a couple days," she says. Even when AHHS ultimately can't save an animal, "people are just thankful that we're putting in the effort."
The shelter also implemented a barn cat program—fixing, eartipping and vaccinating community cats and placing them in barn homes for a $10 adoption fee.
"We were like, let's just do it. … Let's just start sending [community cats] out into barn homes and see what happens," says Baker. "And lo and behold, no one actually cared and the animals were still getting saved."
Changing ordinances took a little more work—a few years—but by presenting TNR statistics to the city council and even having TNR advocate Lisa Tudor present at a council meeting, AHHS slowly changed minds and hearts. It didn't hurt that city animal control officials were fully on board—they were sick of having to catch the cats and reprimand the people feeding them, says Baker.
As of 2015, the city allows registered community cat caretakers to feed and care for cat colonies and even funds some TNR surgeries. AHHS staffers, volunteers and animal control officers now go out into the community to identify existing cat caretakers and encourage them to register, as well as drum up new caretakers by passing out caretaker paperwork and door hangers explaining TNR. Lafayette now has roughly 40 registered caretakers whom Almost Home assists with a food bank and spay/neuter surgeries.
Staffers went a little vigilante in the name of the tamer cats, too. When a board member was against a free-roaming cat room, staffers converted a stray room into a space for the cats while she was on vacation.
"A week later, no one was hurt, the animals weren't sick, they were getting adopted faster, and she just stopped putting up a fight," says Baker.
Once people in the community saw that the shelter was making big changes—and, most importantly, was talking about the changes openly on Facebook and the local TV station—they stepped up to become volunteers and fosters. At the height of kitten season in both years, AHHS went from 22 animals in foster homes in 2011 to 132 in 2014, says Rogers—many of them kittens.
"With the image that people had of the shelter, it made it very hard for them to want to help," says Baker. "Now they're seeing that we want to change. We need the community to help us. We need foster parents to make everything successful. We need volunteers."
Medical (budget) miracles
"When I first became [part of the medical staff] I was a helper. We did—oh my gosh, it was a day I will never forget—we did 70 euthanasias," says medical coordinator Nichole Runkle. "I'm like, this should be stopped. There's no reason that we can't try, and try, and try."
"If our sick room got full, we would have to decide who was worse off, who had been in there too long and [was] not getting better," says Baker.
These days, Runkle attends animal welfare conferences and expos, watches sheltering webinars and researches the best medicine for the most reasonable price so she can do "anything and everything" she can "to keep an animal going," she says—even if that means bringing back "numerous animals with pneumonia" with time-consuming steaming treatments. AHHS also works with other animal welfare organizations, local vets and Purdue University's vet school to receive surgery assistance and share resources and references.
With the help of several grants, Runkle was able to upgrade her surgery suite with "little things that people don't realize are huge," like a better scale. Almost Home also added portals between kennels to give cats more space, a row of dog kennels and noise barriers that "reduce stress tremendously." With many more experienced fosters, AHHS can also send out sick animals to recuperate in a home before going up for adoption.
The biggest help is social media, says Runkle. When a collie was hit by a car, AHHS shared "the sweetest, sweetest girl" on Facebook with a link to fundraising site Razoo.
"Everybody that came in and met her, staff, volunteers, were all able to put their stories underneath hers [on Facebook] and share it. It just became this huge deal, we want to save this animal, and we did. We got her all fixed," she says.
In AHHS's Facebook photos, new adopters gleefully pose with cats and dogs under a running tally of "LIVES SAVED." As of early September, the total was 1,544 animals in 2016.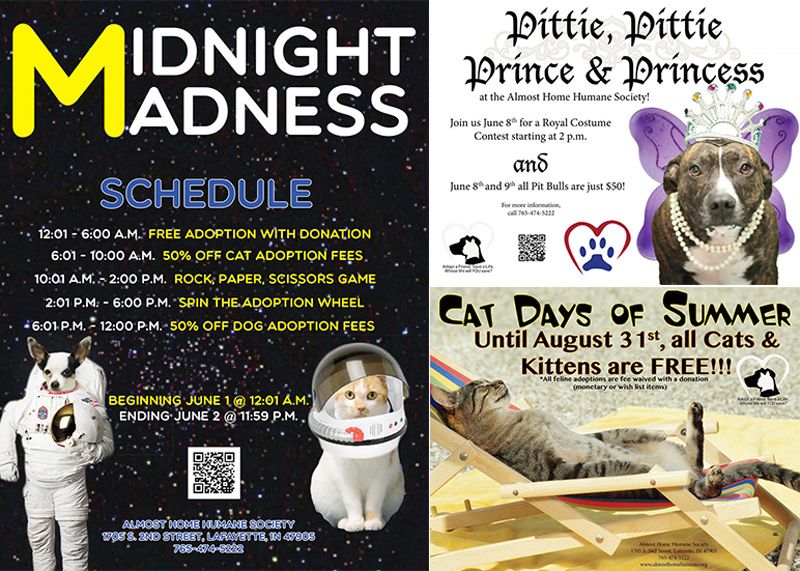 Getting silly with it
With a new philosophy of relaxed adoption requirements and best-fit adoptions for as many animals as possible, staffers got "as silly as we basically could" to get people in the door and animals adopted, says Rogers—from a Pittie Pittie Prince & Princess costume contest, to Free Cat Fridays, to a Valentine's Day Spayghetti and No Meatballs dinner, which Rogers plugged during an appearance on local TV news. During some weeks, adopters can "spin the adoption wheel" to win an adoption discount.
In 2013, staffers competed in the ASPCA Rachael Ray $100K challenge—a friendly competition in which shelters compete to save lives and win grant money. AHHS stayed open and adopted out animals for a full 48 hours.
"I think, after that, [staff was] pretty much on board with just about anything that we wanted to do," says Rogers with a chuckle. Once staffers saw "how quickly [animals] were going home, and they were getting good homes and they were staying in those homes after the adoption," it wasn't difficult for them to get excited about the changes.
Last Christmas, when AHHS announced it had surpassed its 90-percent live-release-rate goal, the shelter received double its usual donations. "It really worked out that what increased our live-release rate at the same time really improved staff morale and community morale," says Rogers. She oversees a small organization with an old building and a low budget, she says, but it has still "managed to do great things."
People in the community used to be afraid to bring animals to the shelter, but now they stop by to bring cookies for staffers or just to pet animals, says Baker. "I do not necessarily encourage it, but I welcome it. Come on in, see our animals—see how happy they are."