Saving bunny lives in South Jersey
Rabbit rescue relies on caring volunteers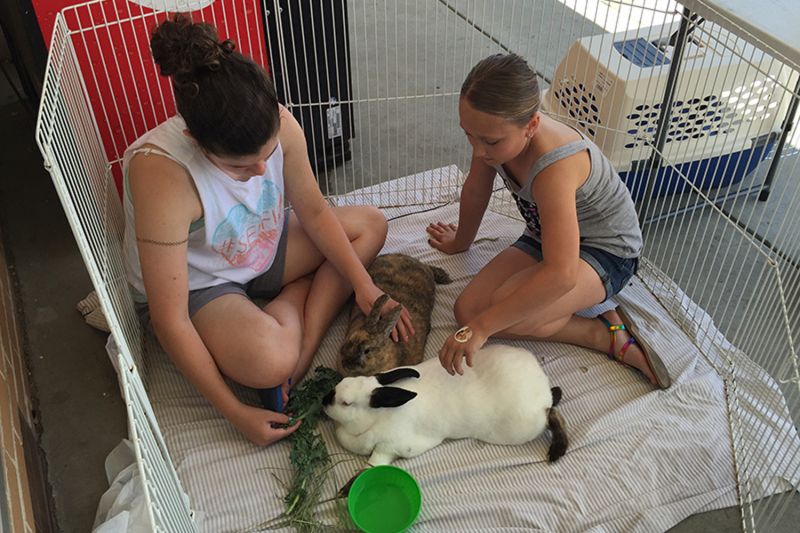 When our Dutch-mix bunny, Bridget, died in 2014 from several medical conditions, my husband, Steve, took her death hard. He told me, "Don't bring another rabbit home."
"OK," I responded, but less than three months later, I brought home Benny and Nibbles, a bonded Netherland dwarf pair.
Steve agreed that the brothers could stay with us until For Bunny Sake, the rabbit rescue that we volunteer with in southern New Jersey, could find them a permanent home.
It didn't take long for Benny and Nibbles to learn how to beg for treats and to train Steve to give them some. One night after the boys were balancing on their hind legs waiting for him to dole out banana slices, he muttered, "I guess you're staying."
So, yet again, we failed at fostering.
Like many people, we fell into the foster parent role by chance. In 2009, we bought our first rabbit, a Holland Lop named Patches, as a pet for our daughter, Cara. When Patches became seriously ill a year later, I was desperate for advice. Internet research led me to Yvonne McCalla, For Bunny Sake's president and co-founder, who guided me on changes to Patches' diet and urged me to seek a second opinion from another veterinarian.
Patches recovered, and I was so grateful to McCalla that I immediately began volunteering with the rescue. Steve and I are now among a core group of about 10 longtime volunteers working to find homes for unwanted and abandoned domesticated rabbits.
Rabbit realities
Rabbits are the third most common pet found at shelters, but many shelters aren't equipped to handle them. Most shelters are primarily designed for cats and dogs, and the smell and sounds of these larger predators can be stressful for bunnies to bear.
For Bunny Sake, an all-volunteer organization based in Maple Shade, N.J., works primarily with the Bergen County Animal Shelter. The rescue also takes in rabbits who were surrendered by their owners when it has foster space available. By spaying and neutering rabbits and placing them with knowledgeable foster parents, the rescue makes them more adoptable and alleviates the burden on these shelters.
Since its founding in 2004, the rescue has placed nearly 400 rabbits. McCalla attributes the achievement to the group's dedicated volunteers, who go the extra mile to set up adopters for success and provide ongoing post-adoption support.
Kristina and Marianne Hovgaard saw that commitment when they adopted Coco as a companion for their other bunny, Charlie. "For Bunny Sake worked with us through the bonding process, which was new to us," Kristina says. "The volunteers are rabbit-savvy, visited our home and told us about Coco's likes (carrots), and they also told us about his quirks—that he eats his food from a Frisbee."
As for Coco and Charlie, Kristina says, "It was love at first sight."
Before he came into the rescue, Coco was found abandoned in a cage in a foreclosed home. These days, he lives in a cage-free home that includes his own bedroom with a queen-size bed for naps.
"Coco craves attention," Kristina says. "He scratches at the door when he knows we are coming in, and he charges at us like a little dog with a look that says, 'Pay attention to me!'"
Some bunny loves you
These are the kinds of happy endings that keep me and other volunteers going. I also find myself constantly inspired and charmed by my own pets' personalities and antics.
JoJo, a Dutch mix, was the first of the four rabbits who came to live with us under the pretense of being a temporary resident. Her days are consumed with keeping a watchful eye on the happenings of our living room, and she spends her nights sleeping on the floor on Steve's side of the bed.
She's another failed foster—but also another successful adoption.