Sheltering in the time of coronavirus
How a Massachusetts shelter is caring for pets from COVID-19 households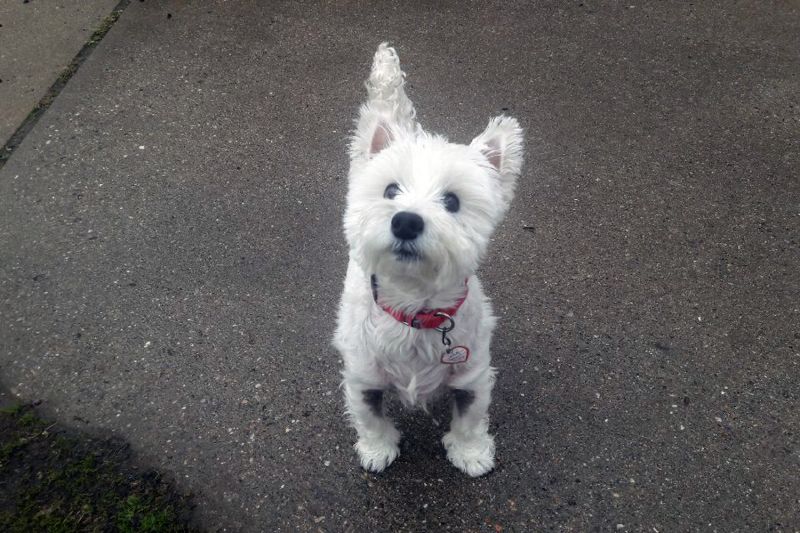 By the time the elderly man arrived at the hospital, he was too ill to speak. Three days later, when he was finally able to communicate, the first thing he said was that he was worried about his little white terrier mix Sampa, who'd been left alone in his home.
It took multiple phone calls between his daughter (who lives several hours away), the police department in the small town where the man lived, and staff at the Dakin Humane Society to get Sampa out of the house and into the shelter's care, says director of shelter operations Karina King. The cairn terrier mix now lives in an isolation ward, along with two cats and three dogs from other COVID-19-infected households.
Dakin Humane, a private shelter with facilities in Springfield and Leverett, Massachusetts, has long operated a temporary foster care program for pets whose owners are hospitalized and have no one else to look after their animals. But caring for animals during a human pandemic has brought unprecedented challenges.
Sampa came to the shelter on March 28, in the midst of swirling uncertainties over whether pets could carry the virus on their fur. While there's no evidence that pets can spread the virus to people, shelters have been advised to act under what the American Veterinary Medical Association and the Centers for Disease Control describe as an "abundance of caution" model.
For Dakin, that meant drafting protocols to protect shelter staff and their families. And it meant figuring out the best housing and care options for the animals just days after the shelter temporarily shuttered its veterinary services, changed its adoption centers to emergency services only, and temporarily laid off a third of its staff.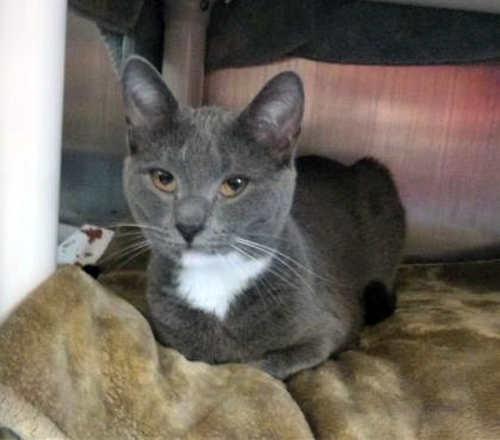 But perhaps the biggest challenge for shelter staff has been on the emotional front. In the past, pets entering the shelter's crisis foster care program were nearly always reunited with their people. But the week after his pet arrived at the shelter, Sampa's owner died. So did the owner of dog Melanie and cats Silver and Oreo, three of the other pets in isolation.
"We were psychologically unprepared for the changes this has brought our way," King says. "Both people passed away; there's no happy reunion."
Around the country, animal shelters and rescue groups are hoping for the best and preparing for the worst as a virus that has killed tens of thousands of people around the globe nears predicted peak levels in the U.S.
In this edited interview, King describes the "new normal" at Dakin Humane and provides tips for how shelters can prepare for receiving pets who have been exposed to the virus and have no one else to care for them.
What steps did you take to prepare for the pandemic?
We reached out to our existing volunteer corps ahead of time for commitments to foster. After the governor issued a stay-at-home order, we put out the call to come in and get your [foster] animals. Right now, we only have about 30 animals in the shelter; most of those are on rabies quarantine and so aren't eligible to go to foster. We have a little over 100 animals in foster right now. Typically, the numbers would be the reverse of that.
When our state went into shelter-in-place mode, that closed some sections of what we normally do. We're focusing on core emergency services right now. The rest of our staff split into separate shifts that never overlap in case someone gets sick.
Can you describe the challenges of developing safety protocols?
There's so much that's unknown about this disease. The information changes pretty much every day; you just have to work with what's available. When [Samba, Melanie, Oreo and Silver] came in, it was before the 14-day separation recommendations came out. The recommendations at that point were to bathe on intake and use [personal protective equipment], so we were following that, and then the recommendations changed.
The updated recommendations [published on March 30] said not to bathe them but increased the quarantine period at shelters from three days to 14 days out of an abundance of caution. So we had to rethink where we were going to house them. We've given the best housing space we have in the building to them, which includes an outdoor dog space.
The lesson here is to make a written plan for where they will go in your building and how you will take care of them, following current recommendations. With most of your animals out in foster care, the best space for them may not be where you would normally put an isolated animal.
Any problem keeping stocked on medical supplies?
We had already given away our disposable gowns and booties and caps and most of our exam gloves to the local hospital because we knew their need is much higher than our need. So we had to switch and figure out alternate PPE for our staff.
The most challenging part of that was getting something to use in lieu of disposable gowns. We added long lab coats to our Amazon wish list, and our community is sending them. We're using dishwashing gloves in other places in the building but still using disposable gloves for handling the COVID pets. So we're using cloth gowns and rubber boots instead of bootie covers and that kind of thing. You just have to be flexible and deal with the hand that you've got.
My advice to other shelters is to assemble all the supplies you will need ahead of time. When the animal is in the building is not the time to be doing that, especially if, like us, you need to make alternate plans for what you'll use because you sent most of your normal PPE to keep human health care workers safe.
What were your staff's biggest concerns about the virus?
People were initially worried because we didn't have a lot of information about what was recommended. We had to make sure we were sharing information frequently and not just telling them the new processes but explaining the reason behind them, like why the bathing recommendation changed.
So you need to keep up to date with the recommendations. You need to make sure you have written protocols that are ready to go, because when it happens, it happens quickly. And you need to communicate frequently with your staff about what they need to be doing so that they understand the risks, which are very, very minimal.
How did you address the emotional needs of your staff after the pets' owners died?
Going into it expecting reunions has been very difficult. We had to adjust our expectations.
I reminded everyone that taking care of the animals is the only part of it we can control. The pets could have been left alone in the homes with nobody knowing they were there for a very long time. At least the pets made it—that's all we can hang on to in these very, very sad situations.
How is your shelter working with other local agencies to address animal welfare needs in the community?
Sampa was from a small town, and we worked with the police department in that town because we don't have the legal authority to bust into someone's house and take their animals out even if they ask us to. And frankly we don't have the PPE that's recommended for that kind of situation. We partnered with the local police department, and they were very kind and generous and they did have that kind of PPE, so they went into the home and retrieved the dog for us.
Shelters should be figuring out whether they can remove animals from homes if that's needed. If not, you'll need to work with an official. That may be animal control, police, fire or another agency depending on your area.
We're checking in routinely with municipal animal control agencies to see what everyone's doing and how we can work together. We have pet food to give out to people in need, so we contacted every ACO in the area. They're coming by to get food and distribute it in their communities.
Preparedness is a big message for both shelters and pet owners right now.
I hope that people are getting the messaging that you need backup plans. I have agreements with friends of mine; we all have keys, so if I need to go away in ambulance, someone can come in to care for my pets.
We recently created an agreement with a smaller animal control agency that reached out to us. They wanted to have a backup plan so that if several of them got sick at the same time, we could care for the animals currently in their shelter.
How are the COVID pets doing?
They're doing OK. Sampa has chronic skin and other health issues. Luckily, we were able to get her vet records. We're doing a lot of enrichment and training with them and keeping them busy.
My advice for shelters is to make sure you're allocating staff time, supplies and part of your planning to enrichment for these guys. They've been through a lot before they get to you, and 14 days in separation is a lot on top of that.