Weathering the storms
Facing a string of hurricanes, animal welfare groups leap into action
For many, life has returned to normal, but for others, the impact of the terrible storms that struck late last summer will be felt for years to come.
Every new disaster brings something unexpected. Even those who weathered Hurricane Katrina (and thought nothing could surprise them after that storm and the response that followed) still could not have imagined a situation like Puerto Rico's, where the power would remain off for months and months, compounding the devastating impact on people and animals.
The sheltering and rescue field stepped up bravely to help on countless fronts in 2017; we're highlighting just a small component of that response here.
As we take stock, we remember: Disaster preparedness is one of those things that always seems like it can wait until another time, another day—until suddenly, that day is upon you, and everything you have done (or haven't done) comes starkly into focus.
We'd love to hear what you experienced and what you learned from the hurricanes and other disasters of 2017. Are there subjects you think Animal Sheltering should cover before the next disaster hits? Training that would be useful for people in our field? Other systems that the animal welfare field should be examining and trying to put in place? Talk to us at asm@humanesociety.org. And thank you for all the work you did—and continue to do—for animals and people in need of help.
A wing and a prayer, and many helping hands
Every day animal shelters work to save lives, and every day there's a huge amount of work to be done for their furry guests. Taking in more animals exponentially increases that work, yet when disaster struck—and kept striking—during last year's hurricane season, hundreds of shelters and agencies stepped up. Organizations across the country took in animals from organizations in hard-hit regions so that local shelters could, in turn, provide space for pets impacted by the storms.
"The thing about our partners is they don't shy away from a little extra work," says Kim Alboum, who manages The HSUS Emergency Placement Partners program, a network of shelters and rescues that assist with the placement of animals from major cruelty cases and disaster situations. At least 70 partners assisted in the HSUS's transport efforts alone, picking up planeloads of nervous animals at all hours of the night and then transferring them to their own facilities and slathering them with TLC.
Their work and can-do spirit was embodied by the team at Mohawk Hudson Humane Society. "We try to work with a sense of urgency," says Todd Cramer, president and CEO of the shelter in Menands, New York. "… We don't say, 'No, we can't,' we say, 'How can we?'"
The organization took in around 70 dogs in total, first from the Houston area in the wake of Hurricane Harvey and then from Florida when Irma threatened the state. Cramer was inspired by how his staff came together in the effort. "I went to my VP of operations and said … 'How can we do this?' And I watched them gather the team, and in less than an hour they had figured out how we were going to make the space to take them in," Cramer says. "They were calling foster parents and volunteers to action, planning an adoption special, and they had it. They had it all nailed down."
Many disaster-impacted animals were flown to their destinations by Wings of Rescue, which regularly provides air transport for animals from overcrowded, high-intake shelters to shelters in communities where the demand for pets is higher and cages aren't as packed. Puerto Rico's main airport in San Juan had barely reopened when volunteer pilots from Berry Aviation, funded by The HSUS, took to the air in hired cargo planes to evacuate homeless animals, just as they had from Texas after Harvey and from Florida after Irma—45 flights and more than 4,500 animals altogether.
The flights took off from Fort Lauderdale, carrying two and a half tons of pet food and supplies to the island and picking up loads of animals on arrival. The flights also delivered 170 tons of water, emergency foods, solar lights and other humanitarian supplies. Though it was hot and he was thirsty, Wings of Rescue CEO and president Ric Browde said he would not drink even one bottle of the water because the need in Puerto Rico was too great. "Everywhere, we've been met with a lot of joy and angst—the tragedy is just enormous," he said. "You just figure if you don't do it, who will?"
That was Cramer's attitude as well. Of the 70 dogs the shelter took from Texas and Florida, more than 20 were pitty-types. "These dogs show the greatest need in times of disaster, and we're going to be there for them. It's important to show folks that a dog is a dog is a dog," says Cramer.
One of those dogs was York, who became a sort of mascot for the effort. The dog came up from Houston, Cramer says, and when his crate came off the airplane on the conveyor belt, he had a stuffed teapot toy in his mouth and a note pinned to his collar: "Please make sure my toy stays with me." Even amidst all the chaos, shelter staff made sure it did—and that it went home with him when he was adopted.
Going the distance for pets in Puerto Rico
On an ordinary day, the main plaza in Vieques' Isabel Segunda neighborhood comes alive with town hall meetings or morning yoga classes. But on Oct. 1, 11 days after Hurricane Maria struck the small island off the coast of Puerto Rico, the plaza was filled for a very different reason.
Despite having no electricity or running water, and with many of their homes destroyed, more than 50 Viequenses and their pets made their way to the plaza for a free animal clinic, hosted by The HSUS and partner Our Big Fat Cat Caribbean Rescue. Some walked miles in the hot sun to get there. Dogs of all breeds, shapes and sizes—and even a cat on a skateboard—came to receive medical attention. And a few kids with very big hearts were in the crowd, too.
Twelve-year-old Kareliz stood in line for two hours so her dogs, Gorda and Pelusa, could receive medical attention.
Dickie Vest, a veterinarian with The HSUS at the time, and Dave Pauli, HSUS senior adviser for wildlife response and policy, helped at the clinic and talked with Kareliz about her dogs.
"She wants to understand how we're treating her dogs and why," says Pauli. "It's so nice to see the young people of Vieques caring so much for their pets."
Ten-year-old Jayshwua was one of those kids. Worried his dog Pen might have parasites, he biked to the plaza after hearing that people were helping animals there. Pen received medication and was sent home with a bag of dog food and treats.
Victor Morales and Vianca Smith sat next to Jayshwua as they waited for help. They were worried about 8-year-old Little Man, a previously calm and social Chihuahua.
"I don't know if PTSD in dogs exists, but he hasn't been the same since Maria," Smith told the vets. "During the storm, he cried nonstop and was wheezing."
Vest examined Little Man. His lungs were clear, but Vest explained that trauma can manifest after a stressful event. "Animals are displaying signs consistent with extreme stress and anxiety," he says.
The HSUS has helped to provide basic health care, food and other critical items to more than 600 animals like Little Man on Vieques and on the main island of Puerto Rico. There is still more to do before a sense of normalcy returns to Puerto Rico, but the islands, their people and their animals are off to a better start.
The heart of Texas
Yes, Hurricane Harvey was a catastrophe. The historic storm dumped trillions of gallons of water on Texas last summer, destroying homes and disrupting thousands of human and animal lives.
But amid the chaos and destruction, people's resilience came shining through, along with their compassion and willingness to cooperate. The storm forced pet owners in the Houston area and along the Gulf Coast to evacuate, but the animal welfare community responded by working together, setting up shelters and arranging transports. Donations poured in from a public moved to help.
"It really brought out the best in a lot of groups," says Bethany Colonnese, live-release manager for San Antonio Animal Care Services. The city wasn't in Harvey's direct path, but the agency set up a shelter for owned pets evacuated from the hard-hit coastal region. The disaster prompted teamwork, with smaller municipalities along the coast forging relationships with bigger organizations. "I know we made a lot of new friends," Colonnese says.
The Dallas-based SPCA of Texas established a shelter and medical facility for evacuee pets in a vacant parking garage—just down the street from a "mega-shelter" for people at the Kay Bailey Hutchison Convention Center—and Hunt Oil Company pitched in to build a temporary dog park to give the pets some normalcy, says SPCA vice president of animal welfare Karen Froehlich.
"It stretches you," Froehlich says of responding to the storm, but the SPCA was still able to continue all of its regular programs. While the Harvey response left staff and volunteers exhausted, she adds, it also pushed every part of the organization to collaborate and proved to be a valuable learning experience.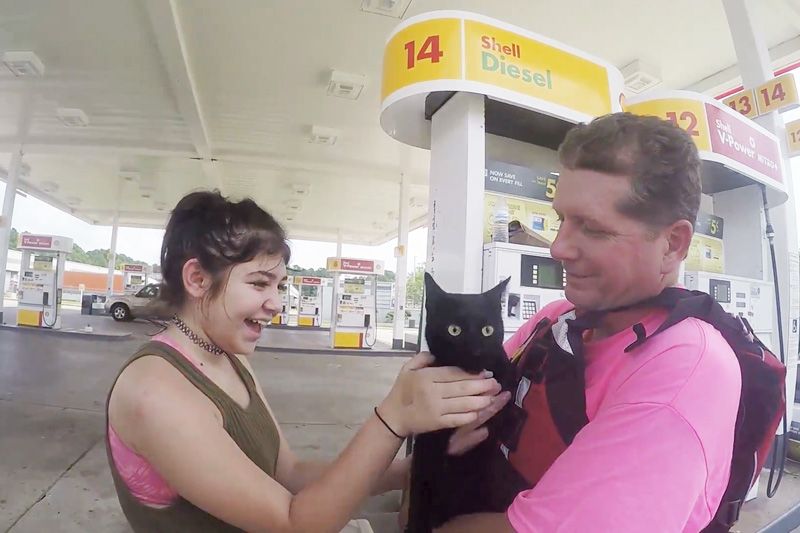 Funding from the Alex & Elisabeth Lewyt Charitable Trust enabled The HSUS to partner with Emancipet (a nonprofit network of low-cost spay/neuter and veterinary care clinics) to offer three months of veterinary services for free. "We wanted to be a lifeline to those Houstonians that need help," says Katie Jarl, HSUS Southwest regional director, noting that the Emancipet clinic was soon booked solid even with extended operating hours.
Pet owners "really had to go through hell and high water to save their lives and the lives of their animals. It certainly was no small thing," Jarl says. "But what I will say is that Texas is known for its community," and it was heartening to see law enforcement, first responders and animal groups step up to help.
She adds: "We get asked a lot, 'Why animals? In all of this, why do you focus on animals—why not people?' And my response all the time is, 'Helping animals is helping people.'"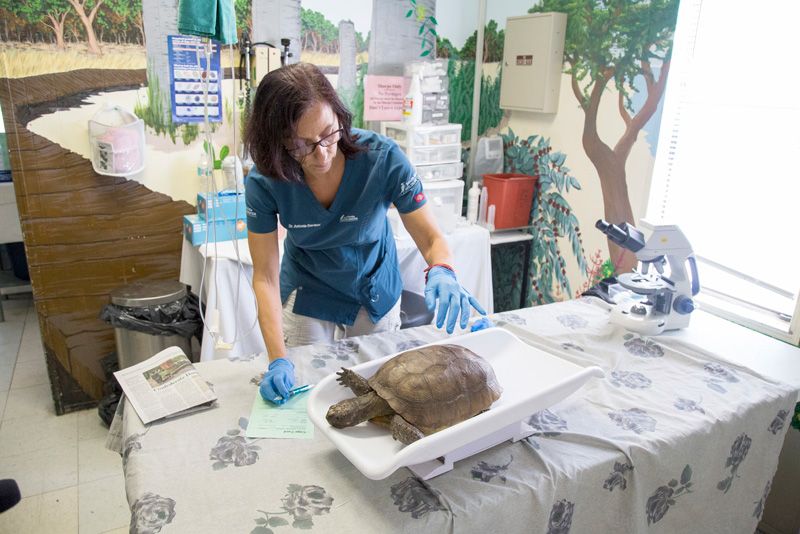 Learning Andrew's lessons in Florida
In 1992, Hurricane Andrew struck Florida just south of Miami. Although around 1.2 million residents evacuated in the face of the Category 5 storm, some stayed behind with their pets, knowing evacuation shelters wouldn't accept them. Others returned home to find pets missing or crushed under the rubble.
"We'll never know how many animals died," says HSUS Southern regional director Laura Bevan, including pets, wildlife, cows and horses, many of whom died of dehydration due to lack of potable water. A native Floridian, Bevan was one of a crew of volunteers who set up a makeshift animal shelter—army tents in a field—to care for around 600 stray animals after the storm. With no Facebook and no cell phones at the time, people found their way to the field by word-of-mouth. "As far as I've ever been able to find out," she says, "that was the first emergency animal shelter set up after a disaster. It just wasn't done."
Since 1992, however, the state has implemented stricter building codes and new laws that have protected people and animals during subsequent storms Opal, Charley, Ivan, Jeanne, Dennis, Katrina, Wilma and Irma. The State Department of Agriculture performs a yearly check of counties' emergency plans, which must include animals, and sends crates and supplies to evacuation shelters ahead of storms.
"Every time there's a storm, we tweak [the plan] and make it better," says Bevan. During Hurricane Irma in 2017, she helped move homeless animals from Florida shelters to HSUS emergency placement partners, making space for pets whose owners were evacuated. Meanwhile, Bevan's many years of bringing disaster response training to animal groups around the state paid off as volunteers and staffers prepared to put what they'd learned into practice.
The HSUS flew over flooded areas of the state, relaying information about stranded animals to the state agricultural response team. The South Florida Wildlife Center, an HSUS affiliate, evacuated more than 400 wild animals in advance of the storm and took in more than 300 injured wildlife in the days immediately after Irma; a University of Florida veterinary team saved a horse on the verge of drowning; other groups distributed hay bales provided by The HSUS to horses and cows. "There were animals all over the state, more than The HSUS could handle as an individual team," Bevan says. "If we had to distribute every hay bale, we'd still be doing it. We helped animals that we didn't even know about."
Thousands of animals were saved by the advance planning and other changes made in Andrew's wake. "People came from all over the state, and they sat in evacuation traffic for 18 hours, but they had what was important to them," says Bevan, recalling people "who had five or six animals that they had packed into their car like Noah's Ark," to bring them to one of 100 evacuation shelters that accepted pets. "I was standing in a field in Miami 25 years ago with army tents that collapsed every time the rain came. For humans and animals alike, it's a world of difference."