Adopt, don't shop!
But only if you're perfect ... otherwise, don't even bother trying
January 24, 2017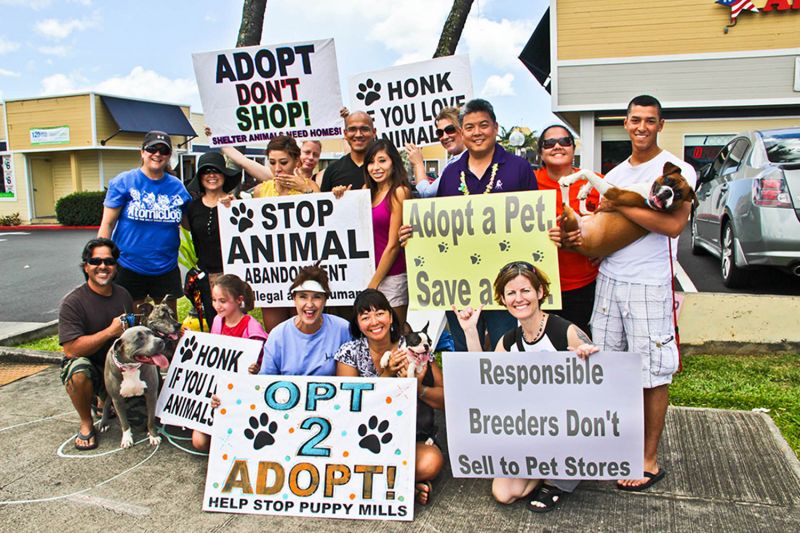 I'm staring at my "Save a Life—Adopt!" magnet as I type this. I'm sure you all have a similar version of this message displayed somewhere on your car, your refrigerator, your filing cabinet. We in the animal welfare field know the harsh reality: Great pets are dying every day for lack of homes, yet people inexplicably still choose breeders and pet stores over rescues and shelters. When that happens, when someone perfectly capable of adopting chooses to buy a pet instead, we shake our heads, silently—ok, sometimes not so silently!—curse them, and ask, "Why don't they get it? When are they going to wake up and do the right thing?!" But maybe the problem isn't "them." Maybe we need to take a long, hard look at the practices of our profession and admit that maybe, just maybe, the people purchasing pets aren't causing millions of adoptable shelter pets to die each year. Maybe we are.
How on earth can I make such a wild accusation? Let me explain. My soon-to-be mother-in- law (let's call her Dorothy) recently lost her beloved companion, Ruby. Ruby was an adorable little Yorkie mix, doted on, loved, spoiled rotten, living just the kind of life we want for every one of our adopted pets. Ruby filled a huge void in widow Dorothy's life, and they were almost never apart. But sadly, Ruby met an untimely end last fall when she was hit by a car.
We've all heard this story a million times—"She never left my side; this was a fluke accident; it will never happen again." And every time we've all thought, "Ugh, that's not an 'accident.' Dogs need to be in a yard or on a leash 100 percent of the time; this was totally preventable; the telltale sign of an irresponsible owner; there's no way any dog will ever be safe in an environment like that."
And you know what? We're factually correct. Ruby's accident was preventable. But it was also a devastating event, one which left a huge hole in Dorothy's heart—and the rest of the family's, for that matter—and one that carried the weight of a hard-earned lesson. All of us grieved Ruby's loss, because she was truly a member of the family in every sense.
Sometime later, when Dorothy said to me, "I miss Ruby so much. I really want another dog," I heard the words, "Great, let's find you a rescue dog to adopt!" automatically erupt from my mouth. But the very next second, my mind and heart began to sink, knowing there was zero chance she'd qualify to adopt from any rescue group in the area. I was determined, though, to show Dorothy and the rest of the family that adoption is the best way to acquire a pet, so I looked for a needle in a haystack, that shelter or rescue who would see beyond the "facts" and really appreciate the loving, wonderful home Dorothy can truly provide. We scoured Petfinder, Adopt-a-pet and Petango, and Dorothy submitted application after application. Weeks passed. In most cases, she never received a response at all, let alone a denial. Just ... nothing.
I still pushed for adoption, and decided to try another strategy. I found an adult male Yorkie mix in a South Carolina shelter being advertised by a local rescue group who promised to pick him up from the shelter as soon as his adoption was finalized. This time I submitted the application on Dorothy's behalf, explaining in a cover note what happened with Ruby, but assuring the adoption counselor that I have a long history in animal welfare and that I would personally vouch for the wonderful home he would receive. I even had a colleague who volunteers for the organization put in a good word on my behalf. But after several weeks of occasional emails—mostly me asking "So what's the status? Anything new?"—and after receiving a long message lecturing me (me!) about appropriate pet caretaking, it became obvious that the group had no plans to approve Dorothy. And for all I know, that adult male Yorkie mix is still sitting in that southern shelter kennel, wondering why no one has stepped forward to adopt him.
Since I never actually received a message explaining why my application had been rejected, my assumption? That the group never looked past the "facts" to see the wonderful, but yes, flawed, adopter that Dorothy is, and couldn't see the truly loving home she would provide. All they saw was strikes against her: STRIKE 1: Older lady living alone (even though her daughter lives next door) who wants—gasp!—a PUPPY (why can't older people just accept they should want an equally old pet?). STRIKE 2: Her last dog was hit by car (she's since put up a secure fence—but so what, it's only the past that counts, right?) STRIKE 3: Her 2 cats, who are healthy and happy, are not 100 percent current on their vaccinations (unlike all of us perfect animal people, right?). And with that third strike, she's out. Frankly, I felt judged and humiliated by this experience, and I felt ashamed having to tell Dorothy that she just wasn't "good enough" to adopt a pet.
So Dorothy turned to Craigslist and bought a puppy. And I couldn't object. It wasn't a puppy mill puppy, thank goodness, but it certainly fit the bill of the puppy sale that makes us all cringe: 6 weeks old, from a planned for-profit breeding, no vaccinations, no deworming, no microchip, certainly not neutered. Dorothy got a new puppy, and she didn't "save a life" by adopting—but not because she didn't want to, or because she didn't go to great lengths to try, but because the animal welfare field, my beloved profession, turned her away. My most difficult moment? When my fiancé turned to me and said, "But aren't you always telling me that millions of pets need homes? Why would they rather have that poor dog sit in a kennel and maybe die than adopt it to us?" I had no good answer.
I know, you're thinking, "But Inga, there are worse outcomes for these pets than life in a kennel or euthanasia." I used to say that, too. Maybe that's something we all say to make ourselves feel better. But I know for a fact that a home with Dorothy would not have been a "bad outcome." Anything but. To see this, though, we need to see beyond judgements, stereotypes and "strikes." It takes seeing potential adopters as real people, flawed and fallible, but still trying to do the right thing. It takes embracing those who have asked to become part of the fold of rescuers, instead of judging and rejecting them because they aren't "perfect."
We can scream "Adopt already!" until the cows come home, but as long as our actions continue to say "Go to a breeder," we will never achieve what we all claim to be working towards—a good, loving home for every homeless pet.
Does your shelter or rescue group look for reasons to say "yes!" to potential adopters? Have you embraced Adopters Welcome as your approach to adoptions? Do you have any advice for groups looking to embrace their pool of adopters? Share your successes and advice with us in the comments below!