The changing world of pet transport
Supply, demand and the changing world of pet transport
October 17, 2019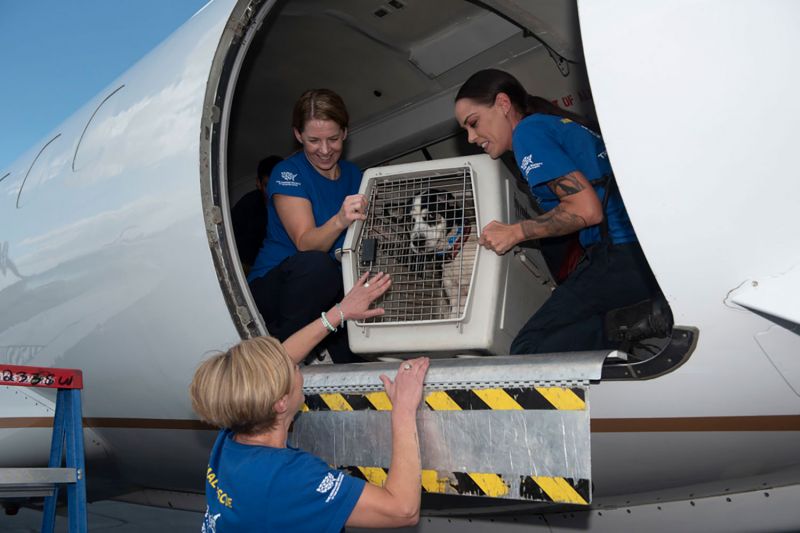 A couple of weeks ago, the Humane Society of the United States, along with our partner in pet transport, Humane Society of Tulsa, loaded 173 pets on a large cargo plane heading to our shelter and rescue partners in Oregon and Washington state from Tulsa, Oklahoma. The cost of the plane was just under $35,000. Did you ever think transports like this would become the norm? I sure didn't. To figure out how we got here, we need to go back a bit in time.
Fifteen years ago, we were still dealing with a national pet overpopulation crisis. Animal shelters were full of dogs and cats of all shapes, sizes and breeds. If a person wanted a small dog or a Siamese cat, they could pop into their local animal shelter and likely find one within a couple of visits. Millions of pets were euthanized for space annually. Shelters and thousands of mighty rescues worked tirelessly to spay/neuter and find homes for homeless pets. Guess what? It worked.
The message of "adopt don't shop" was out in full force across the country. Social media became a venue for shelters to get information out quickly and build community awareness around pet homelessness. Ten years ago, after natural disasters and cruelty cases, people flocked to their local animal shelter to get a pet with a story. In fact, shelters that were full often took in animals from these cases in an effort to pique the general public's curiosity and get them into the shelter for a look. Situations like these gave all the animals in the shelter an opportunity for adoption. There was a diverse population in most shelters. Staff worked with rescue groups to pull all types of pets and make room for incoming animals.
Then there was a shift. But like a low-level earthquake, many did not feel it. Intake decreased, adoption increased, and animal shelters began looking at the business of lifesaving a bit differently. In many regions of the country there were not enough pets in animal shelters to meet community demand. There were certainly still homeless pets, but the diversity in the population decreased, and there was now open space in animal shelters. National and local organizations increased routine transport services drastically. Heck, pilots were even volunteering to fly dogs and cats around for free on their small aircrafts. Enter, Wings of Rescue!
Ric Browde, founder of Wings of Rescue, saw the issue clearly. Homeless pets were dying in some areas of the country, while other regions were begging for animals to fill their shelters. After all, we told the community to adopt from their local shelter, but there were not enough pets to meet the demand. Ric saw that, by hiring private air cargo contractors, he could move larger numbers of animals farther in a shorter time period of time. As groups dug further into remote and rural areas to help homeless pets, ground transport was growing longer and more stressful, increasing the likelihood of disease outbreaks. Not only were the pets coming from shelters that lacked resources to control disease, they were sometimes on transport for 10-18 hours in a vehicle. The planes were able to move larger numbers of animals in less time with less stress and less disease outbreak.
The Wings of Rescue concept drastically changed the way the industry looked at transport, especially during disaster. The HSUS, ASPCA, Wings of Rescue and many local groups worked closely together to fly animals from safety during Hurricanes Harvey, Irma and Maria. They all hit in the same year: 2017. The HSUS alone placed more than 3,000 animals with shelter and rescue partners across the country from the impacted areas. While this was incredibly exciting, something else surfaced. The types of animals who were evacuated from animal shelters in the Southeast were nearly all large dogs, pit bull-type dogs and cats. Receiving partners had the same types of animals in their shelters, waiting for homes. The diversity in the population even in the Southeast was dwindling. Decrease in intake, spay/neuter, rescue, routine transport and adoption had a drastic impact on the dog population. It was also impacting cats, though not nearly to the level of the dog population.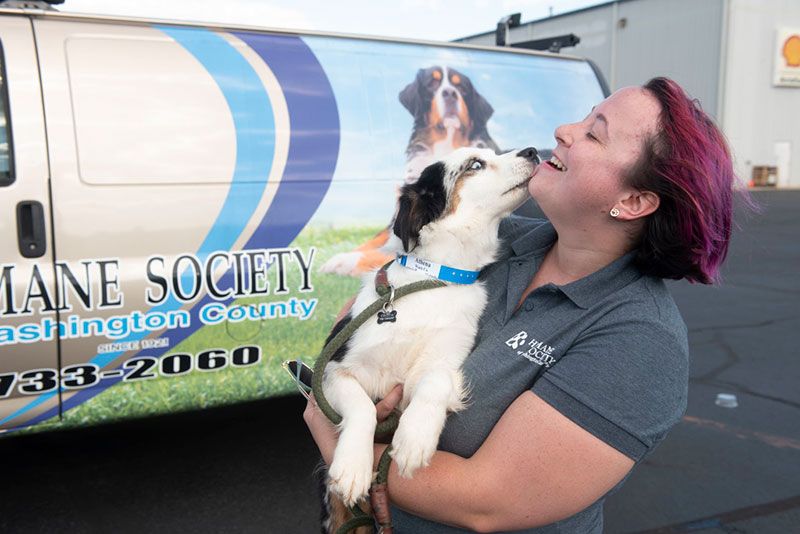 Rescues and shelters took in the homeless dogs and cats after Hurricanes Harvey and Irma, only to find that many had behavioral issues, were heartworm positive and were predominantly pit bull-type dogs. Even the shelters in Southeast were now able to hang on to dogs longer due to the decline in intake and increase in transport. The dogs they were hanging on to were not adopted in the community and got turned down by routine transports. When the storms came and the threat of flooding was imminent, these were the dogs who remained in the shelter and were transferred through the country. I will say that the majority of these pets did have positive outcomes, but their length of stay to address their behavior and medical issues in many cases was long and cumbersome for the receiving shelters. The shelters had their own behavioral, large-dog and medical issues to contend with, and these transports did not help to diversify shelter populations as previous disaster responses had.
National groups like the HSUS, ASPCA, Wings of Rescue and The Association for Animal Welfare Advancement were becoming more strategic in placement. While The Association dug into best practices for animal transport, the other groups looked closely at the country and worked to make decisions on the movement of animals (even during cruelty and disaster) that would not displace local pets. Essentially, disaster transport became the shifting of similar populations from one community to another. The question was, who had space at the time of the disaster? All of this continues to ride on the time of year, type of disaster, area of the country and the impacted population of pets.
So here we are in 2019. As the sheltering and rescue community has worked tirelessly to find placement for every healthy and treatable pet, we face many hurdles. For larger dogs and cats, the distance of transport is a constant problem. Flights are expensive, and funding can be an issue even for the largest of organizations. In order to place large dogs and pit bull-type dogs, we must go farther away, to communities where there is an overall shortage of dogs. Disease is prevalent. Shelters that are even minimally resourced are finding placement for most of their pets. Transport pets are increasingly coming from areas of the country that are socioeconomically challenged. They do not have enough resources for the people, let alone the pets. Pulling titers to check for disease and treating pets before transport is now the norm, but it is still no guarantee against illness. Many receiving shelters are looking at disease differently and anticipate longer quarantine and treatment for incoming transport pets, adding additional expense and length of stay for each pet.
Let's not forget the transport hubs that have been popping up throughout the country! St. Hubert's Animal Welfare Center in New Jersey moves thousands of animals annually from the Southeast to New England shelters and pioneered the hub model. The idea of gathering homeless pets and sending them to regions where there is space was an incredible advancement for all. The ASPCA has now moved more than 125,000 homeless pets through its aggregating hub system. Strong, well-resourced shelters act as hubs for the shelters surrounding them to gather pets and prepare them for ASPCA pickup. The Humane Society of Tulsa, the HSUS and WaterShed Animal Fund are pulling animals from Oklahoma and Texas shelters and providing mentorship through the HSUS Shelter Ally Project. The larger players are not alone! Successful hubs of all shapes and sizes continue to emerge for local, state and regional level lifesaving.
The current climate of supply and demand is not without issues. Many shelters in the Southeast are now reporting that they are in need of healthy, adoptable pets for the community. Wait, what? That's right, shelters in North Carolina, Kentucky, Tennessee and other states are reporting that transports from the deep South are passing them by with adoptable pets they could easily adopt out. In other words, capacity has shifted again. A person living in the Southeast may have to adopt a dog from a New England rescue, a dog who may have come from a shelter in a neighboring state or in their own community. Don't get excited! I am certainly not saying that there are no homeless dogs in the Southeast! The issue is the population in the Southeast is all very similar. If you love big dogs and blocky-headed muffins, look no further. But if you are limited to a dog of a certain weight due to a housing restriction, unable to handle a large dog or looking for a companion who weighs under 40 pounds and is not in the bully family, it's difficult to adopt from a Southeastern shelter. These dogs "fly off the shelf" when they hit the adoption floor or get scooped up by rescue groups and sent to shelters in other regions.
Is it fair to ask a family looking for poodle-type dog to take a Walker Hound instead because that type of dog is what's available in their community shelter? Not really. We must be reasonable and understand that people know what they want. We can't force them into a decision that does not fit their lifestyle. Perhaps the family would consider something in between a poodle and a hound, but the problem is that many shelters rarely have small or medium dogs on the adoption floor for more than a day. So here lies another issue: Is transport opening markets to puppy millers? With fewer options available in animal shelters, people are looking elsewhere, and the puppy millers are happy to provide an immediately obtainable pup, no questions asked.
So, where do we go from here? We collaborate. Join The Association for Animal Welfare Advancement and participate in trainings on disease management and transport practices. Attend the HSUS's Animal Care Expo and look for the workshops from the transport and disease management experts. Consider an intrastate transport program like the one designed by the Michigan Humane Society, which moves pets to different shelters throughout the state to increase chances of adoption and diversify the population. Collaboration is the key to getting us to zero euthanasia of healthy and treatable pets. Make sound decisions in the best interest of each pet in your care. Don't let pets leave your care on transport unless you know that the transporter and receiving shelter are following the AAWA guidelines. Leave diversity behind for the community to adopt locally.
We are not at the downhill part of this journey. In fact, the numbers of animals in shelters may be lower, but the challenges are greater. In the minds of the pet industry officials, rescue transport is competing with their puppy sales. They are working to pass legislation to stop transport or make it too cumbersome for rescues. They are pointing the finger solely at shelters and rescues when disease outbreaks occur, despite the fact that substandard breeders have been responsible for the worst ones, such as an outbreak of canine[KS1] brucellosis that originated with a USDA-licensed puppy mill in Iowa this year, and a nationwide outbreak of Campylobacter that made 118 people sick after contacting puppies from pet stores in 18 states, according to the Centers for Disease Control[KS2].
We are not transporting auto parts. Each pet is an individual with emotional and medical needs. We cannot lose sight of this, no matter what. Pursuit of statistics and numbers cannot outweigh the fact that the pets in our care are sentient beings. We must continue to work to ensure that their time in our care is safe and comfortable, even in transit.
We have come such a long way in a short period of time. The next leg of this journey is going to have to be even more collaborative. We must ask the tough questions: Is this dog safe for adoption in my community? Is a 10-hour transport necessary to find this pet a loving home? How long is it acceptable for this pet to be in this cage/crate? What is my staff's capacity for care both in house and on the road with homeless pets, and are we exceeding it? Are we truly acting in the best interest of this pet?