Good shelter design is good for animals
How your architecture influences visitors and animal flow
November 21, 2018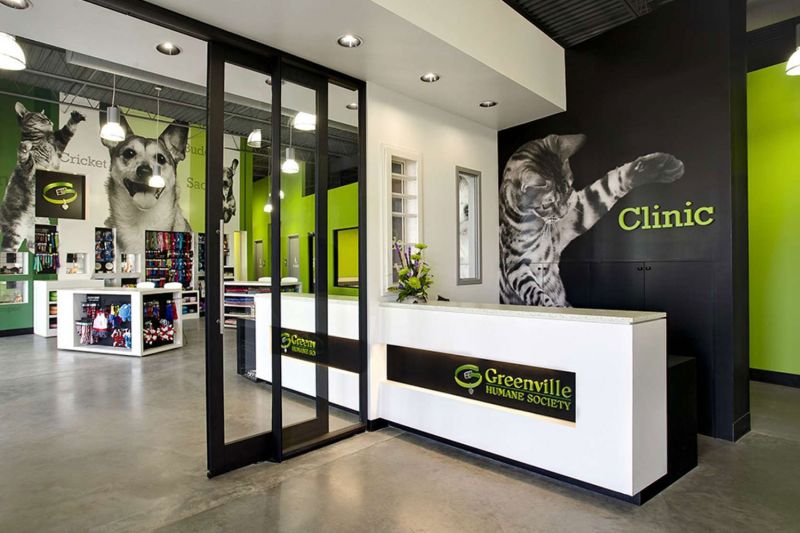 Many of our new animal shelter clients tell us the same story: Their facility is overcrowded, they struggle to reduce numbers without euthanasia and intake numbers continue to be unwieldy. Compounding the issue is the fact that an overcrowded shelter is harder to keep clean and free of disease, yet it's more difficult to adopt out sick or stressed animals.
This cycle sounds familiar because it's one that almost every shelter faces.
But let's take a step back and think of this process as the flow of animals through a shelter and toward adoption. From this perspective, we can identify the bottleneck and find solutions. There are many ways shelter staff can improve this process, and all of them point to minimizing the length of stay—toward moving animals through the shelter as quickly as possible. The physical design of a shelter can significantly support the management process by promoting the idea of flow-through.
Flow-through is encouraged by several activities that good design can enhance.
Curb Appeal + Community Engagement
Get people in the door in order to get animals out. One of the things our design team tried to do at the Greenville Humane Society in South Carolina was to create a destination where people want to spend time rather than a place to go every 10-15 years when they want a new pet. We want people to visit GHS every month to purchase pet products, take advantage of low-cost surgeries and attend a birthday party or special event—"Yappy Hour"! We want to promote a volunteer-friendly environment that thrives on community involvement.
Good design begins at the front door by welcoming folks in and carving out as much space as possible for people and animals to gather—even a porch or yard or walking trail—creating spaces where animal lovers can see animals on a regular basis. This will help boost adoptions, fostering and transfers, while also creating new revenue streams.
GHS net retail income was up by 103 percent in the first two years in the new building (hitting over $100,000/year for first time in GHS history in 2012), and gross income from GHS low-cost spay/neuter surgeries increased by 134 percent in the first two years (over $126,000 for 2012).
Birthday parties at GHS generated over $15,000/year within the first two years.
More than 45,000 volunteer hours were logged at GHS for the second year in the new building.
Space Allocation + Working the Process
How many shelters think that their problem is in holding capacity alone? The trouble with this line of thinking is that there is only so much space that can be built with any budget. Even if we built the world's largest shelter, it would still fill up if we are not flowing animals through!
Through good design, we can help identify a manageable and affordable capacity, and more important, find the right allocation and arrangement of space for intake, holding, quarantine and adoptions that gives the staff flexibility to work the process. For example, at GHS, adoptable adult dogs visible to the public are intentionally limited to only 10, based on research that a smaller pool of options leads to faster decision-making by adopters. A smaller room is also quieter, more manageable and better for disease control. More adult dogs are in a separate holding area nearby, so as soon as a kennel opens up, another dog is ready.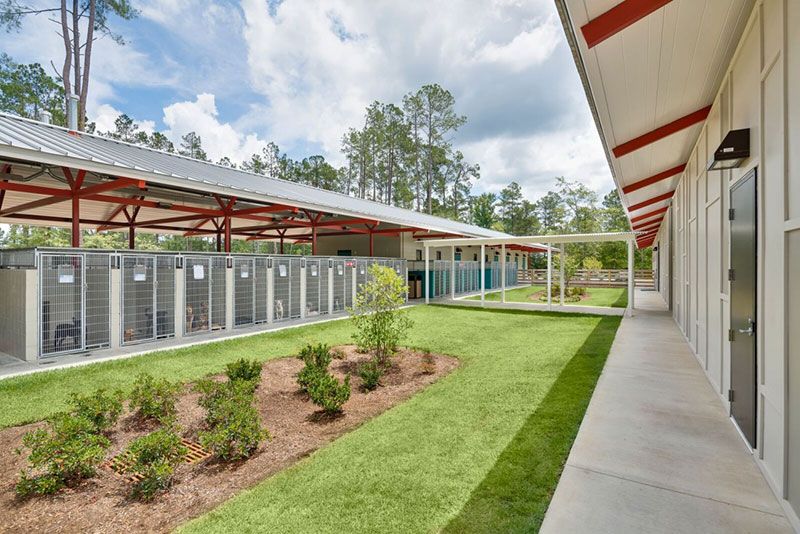 Similarly, at a new facility we designed for Aiken County Animal Shelter in South Carolina, we created more flexibility by designing multiple small pods of 10 kennels each, which staff can use for adoption, holding, quarantine or any combination needed. In both cases, it's working!
ACAS adoptions went up by almost 40 percent in the first two years and had almost doubled within two more years.
GHS adoption revenue increased by 22 percent in the first two years in the new building.
GHS length of stay for adult dogs is currently one to two weeks versus one to two months in the previous facility. Length of stay for puppies is currently two days versus one to two weeks in the previous facility.
Efficiency + Effectiveness
The Humane Society of the United States estimates that it takes 15 minutes a day to care for one animal. Multiply that by 100 animals in a shelter, and it's a very long day! Consider that many shelters are understaffed, and the scenario gets worse. One of our biggest lessons from GHS was just how critical an efficient workflow is and how much a building layout can help the staff's ability to run the shelter effectively. The basic diagram of the building is the backbone that allows staff to keep the process moving—to have what they need where they need it, to handle daily and constant tasks quickly and to manage successful flow-through. The measure of its success is ultimately in the number of lives saved.
ACAS euthanasia rate within two years of moving into the new building had dropped by roughly half. Within the next two years, it dropped by half again.
Historically and prior to the move in 2013, ACAS euthanized over 70 percent of the animals it received. For 2017, this number was under 18 percent.
GHS is so successful at flow-through that it pulls animals from 11 other South Carolina public shelters just to keep up with demand.
Good shelter design is good for animals! We have taken this to heart in our collaborative work with the owners, staff members and volunteers whose careers promote optimal care for our animals.
Do you have stories of how shelter design has affected your organization's work? Share them below or email asm@humanesociety.org.
Interested in learning even more about shelter design? Consider joining us for the Learning Lab, "Barkitecture: Creating the best shelter paws-ible" at Animal Care Expo coming this April to New Orleans, Louisiana!