Sharing your animal welfare expertise after retirement
Goodbye to full-time work doesn't mean you're finished contributing
March 26, 2019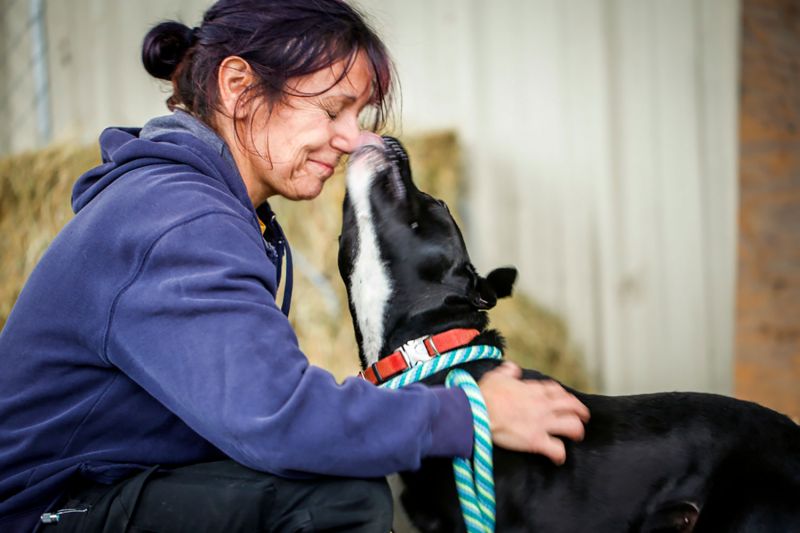 Retirees from the animal welfare field have a lot to offer and shouldn't quietly fade away—that would be such a loss to our cause!
After 45 years of employment in animal welfare, the time finally came for me to retire from active duty. I spent the last 32 years as the executive director of the Humane Society of Carroll County, Maryland, handling animal care and control for our county. I was fortunate to have lasted that long, given the emotional toll this work takes on the heart, family and occasionally, friendships.
I may not know the backgrounds of those reading this blog, but I feel I can reasonably assume you are concerned animal advocates. Your history will differ from mine, but we share a love of animals and undoubtedly expertise and a perspective the general public just doesn't have. I know we all have an abiding concern about how nonhuman animals are treated. Please know that you really do have a lot to offer after retirement!
There are many reasons I was able to stay around so long. First and foremost, I had a very supportive board of directors for 32 of those years. They didn't interfere with the day-to-day operations. This was a huge plus—many executive directors move on solely because they don't have the luxury of a supportive board that understands its role and stays out of daily management/operations. Equally important, I enjoyed the most amazing, dedicated staff, and we had the support of our community.
After you retire, anything you can do to assist those who are currently employed or active in animal welfare is far more meaningful than you might think. For example: Just watch the credits roll of a movie and marvel at how many folks it took to bring that film to the theater. Each one of those people had a very important role in the creation of the movie and can take pride in their collective achievement. Animal welfare is no different. It takes a village!
Now, what can YOU do?
I have been on the board of directors or board of advisers of Days End Farm Horse Rescue Inc. almost since its inception in 1989. Days End is the primary go-to organization that assists animal control with equine cruelty cases in Maryland. It provides training for equine cruelty and neglect investigators, houses and rehabilitates these distressed animals and provides expert testimony in court. If the equines are eventually awarded or turned over to the impounding agency, DEFHR trains, evaluates and adopts the rehabilitated equines into new and loving homes. While I have retired from my paid job, my commitment to this organization remains. Those of you who are either retired now or looking to retire soon might want to begin thinking about how you too can continue to help animals and the causes dear to your heart. Knowledge and experience are so valuable.
Volunteer
I am still active in our state's animal control and humane organization's association, PAWS Inc., serving as its president for 20 years. Four years after retirement, I remain on its board as treasurer. This allows me to continue to volunteer my time and expertise with this incredible group. We meet quarterly around the state to help each other, share new ideas and help pass local laws and regulations. We pool our efforts and hold combined adoption events. We discuss the need for statewide training and provide workshops. As a PAWS liaison, I work with our local college to offer an annual two-week training course for our animal control officers and humane investigators. While mostly Maryland ACOs attend the East Coast Animal Control Academy, it is open to all actively employed in the field, regardless of state.
Share your experiences
As a retiree, I put together a two-day euthanasia certification class held three times a year. I get everyone enrolled, process their payments and secure the venue and the veterinary instructor. I speak to the class about compassion fatigue for a few hours on the second day. As I write this, I am thinking about the testimony I will give to the Maryland House Judiciary Committee later in the week on a bill we hope to pass this year. For now, this seems to work well for me.
My work-related and other experiences provided me valuable contacts, perspectives and resources while enhancing my ability to continue to serve our community and colleagues with a wealth of knowledge and historical perspective. I still get calls from folks for advice or information, which I truly enjoy. I monitor several Facebook pages for animal control and welfare groups. I respond to inquires if I feel I can be helpful. Sometimes people just need a sounding board.
Speak out
You may not be able or even want to commit to an enormous amount of time to volunteering, but perhaps you can participate in select one-time projects or volunteer a few hours a week or month. Nonprofit organizations are always looking for potential new advisers or board members. When animal welfare issues come up in your community or state, you can go to the hearings and share your perspective. Many of you are used to public speaking and can be an extraordinary asset for your local organizations or community.
You don't always need to leave your house to speak out. Write a timely opinion column for your local newspaper, blog or online forum. You can also just sign up as a citizen in support of an issue. The number of supportive bodies in the audience makes a big impression on politicians. If you can't physically attend hearings, you could email, write or call your representatives on pending legislation or issues. That effort would be so helpful and not terribly time consuming.
Consider this: When we're employees, politics and board members often hamper what we can say publicly, particularly if those individuals are going to be deciding on our budget and perhaps our very employment. But as retirees, we may be able to be more effective because we can pick and choose how and who to help—and what proposals to support or fight against. After retirement, we can actually speak our minds like never before—as educated, knowledgeable, unencumbered citizens.
Thank you from the bottom of my heart for all that you do and have done for our beloved animals. Please don't stop just because you have retired. And before retirement, start to plan your next adventure … we still need you, and so do they.