From Virginia Beach to Vieques
The Sister Shelter Project pairs overwhelmed Puerto Rican shelters with thriving stateside shelters for mentorship and support
June 12, 2017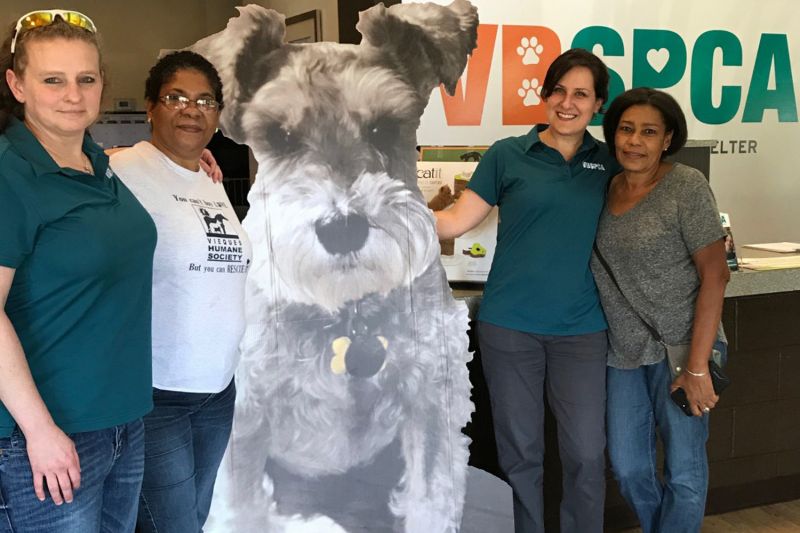 In an effort to assist overwhelmed animal shelters of Puerto Rico, The Humane Society of the United States (HSUS) and Maddie's Fund established the Sister Shelter Project, pairing Puerto Rican shelters with thriving shelters in the mainland United States. You can imagine how honored we were when the Virginia Beach SPCA (VBSPCA), a long-time HSUS Emergency Placement Partner, was selected to be part of this incredible project.
This past February, we made our first trip to Puerto Rico. My colleague, Jenny Teed, and I flew to San Juan, where we met with the ten other stateside shelters involved with this project. Each shelter was paired with an HSUS team member and a Puerto Rican shelter to provide mentorship and support. The VBSPCA was paired with Vieques Humane Society (VHS), located on the island of Vieques, and had the pleasure of working closely with Chris Brosan, HSUS manager of strategic campaigns and special projects.  We had to take a tiny 8-passenger plane—otherwise known as a "puddle-jumper"—to visit with our sister shelter.
The flight was only 20 minutes and the views from the plane were stunning. We learned from the pilot that the overpopulation of dogs was such a problem that they'd often had issues landing the planes because dogs were sometimes on the runway. I was already a little nervous about flying in such a small plane, so to hear that the pilots literally had to dodge free-roaming dogs did not ease my nerves. Luckily it was a very smooth landing, no dogs in sight!
We later learned that a tall fence had been constructed around the entire airport to keep the dogs out of the runway area. The fence has provided an effective solution for the airport, but the larger issue at hand is the island's wild dog overpopulation and the lack of access to affordable spay and neuter services. In fact, most residents lack access to a veterinarian at all. The residents of Vieques have to travel to the mainland of Puerto Rico for many goods and services, including veterinary care.
Jenny, Chris and I spent the day at Vieques Humane Society where we met Aleida, the shelter director, and her staff. Our time together was short, so we dove right in and started talking about the challenges the shelter faces. Prior to her career with VBSPCA, Jenny worked at a shelter in rural Louisiana where the intake of animals far outweighed the number of animals adopted, so she was able to relate to many of VHS's struggles. It quickly became apparent that this was the beginning of a long, mutually beneficial relationship.
The shelter is a small, older building with only six dog runs, but they manage to care for 90+ dogs and have a separate building that houses about 20 cats. The only room that had air conditioning was the front office so they allowed a couple of the older canine residents to hang out there and referred to it as their "much-deserved retirement in comfort." The rest of the shelter was rather hot and humid. Our visit occurred during one of the cooler months for Puerto Rico, so the daytime temperatures were in the mid to upper 80's. I can only imagine what it's like during the peak summer months.
VHS cares for a large number of animals in a small amount of space with a small number of staff and volunteers. What stood out most for us: the cleanliness of the shelter, the dedication and passion of the staff and the good health of both the cats and dogs.
The challenges these communities, and many Puerto Rican shelters, face is poor public perception, little to no access to affordable spay and neuter, unreliable electricity and the Internet, and a lack of funding and resources. VHS had the additional challenge of getting basic resources to the island. It's possible but expensive, and it takes a long time. (There's no overnight shipping there, folks.)
Our day came to an end as we had to catch the last flight back to San Juan. Jenny and I reflected on our day at VHS over a much-needed pina colada (hey, we couldn't visit Puerto Rico and not have one!). We came up with a list of ways we could help, but as we went through the list, we faced our own challenges. Yes, we can with assist them with training on electronic record-keeping but due to the power surges and unreliable Internet, they don't always have access to a computer. We knew we had to get creative.
Once we were back in Virginia, we brought our feedback and our ideas to the VBSPCA staff, volunteers and board members. We had a little over a month before HSUS would be flying Aleida and her colleague, Sheila, to Virginia Beach to visit our shelter for a day and we wanted to make the most of their visit with us. Our team was immediately engaged with the opportunity to mentor our sister shelter and went right to work on gathering resources and putting ideas together.
In late April, Aleida and Sheila arrived in Virginia Beach to spend a day with us. In preparation for their visit, the VBSPCA staff put together a binder full of enrichment projects, complete with step-by-step instructions and illustrations. They also gathered various policies and operating procedures that VHS could take and modify to fit their needs. It was incredible to see what our team put together, and what good can come from this partnership that wouldn't have been possible without The HSUS.
We started our day off with a visit to College Park Elementary School to see our VBSPCA humane education director educating students about the proper way to interact with dogs, be it the family pet or a new, unknown dog. She also taught the children what to do if a dog shows aggression towards them or chases them. I have to say, I learned a thing or two while sitting in on the session! The humane education piece is important for changing the community's perception. It certainly won't happen overnight, but instilling certain values and properly educating our next generation is the most effective way to make long-term progress.
From there, we headed to our main shelter on Holland Road for a tour of our facility and to present all of the resources the team had put together for Aleida and Sheila to take back with them. While we do have air conditioning throughout the entire building, our facility is not a state-of-the-art shelter; it's an older building, so we are often having to do repairs and work within the constraints of an older facility.  And our staff certainly knows how to get creative with the resources at hand in order to provide the best care for our animals—a strategy that seemed to resonate with Aleida and Sheila.
We spent the second half of our day at our city's municipal shelter, Virginia Beach Animal Care and Adoption Center. Collaboration with other private and public shelters is important to us at VBSPCA. Although Vieques does not have a municipal shelter on the island, we felt it was important for Aleida and Sheila to see how our private shelter works with the local public shelter.
We are honored to be part of this pilot program and eager to see the short- and long-term results that develop from the Sister Shelter Project.  We certainly would not be able to make an impact in Puerto Rico without the support of the The Humane Society of the United States and Maddie's Fund.  It's yet another example of a productive and mutually beneficial partnership in the animal welfare world. That's a trend I like to see.