Adoptions through a new lens
A new focus on diversity and inclusion in animal welfare has organizations looking to the HSUS Adopters Welcome model
Adopt, don't shop: It's a message that the animal welfare field has spent decades promoting to the public. But even as we've exhorted people to do the right thing, we haven't always made it easy for them to do so.
The Humane Society of the United States introduced its Adopters Welcome philosophy more than five years ago. At its core, Adopters Welcome is about supporting adopters in their search for companion animals instead of enforcing strict requirements that prevent people from adopting. Put into practice, the Adopters Welcome philosophy encourages a discussion-based adoption approach instead of lengthy applications. Shelters saw how this approach allowed them to better help animals and embrace their communities.
Now, Adopters Welcome is seeing a surge of interest as the animal welfare field looks inward and works to become more diverse, equitable and inclusive. Shelters and rescues are realizing that open adoption policies, based on the idea that everyone deserves the companionship of a pet, not only save lives but also ensure adoptions are accessible to people regardless of the color of their skin, their income, their age or other factors that don't affect how much they love their pet.
National conversations about racism have "renewed a conversation within animal sheltering about how all kinds of shelter processes, but adoption processes in particular, may be … impacting underserved communities or communities of color," says Lindsay Hamrick, director of shelter outreach and engagement for the HSUS.
Adopters Welcome is seeing a surge of interest as the animal welfare field works to improve diversity, equity and inclusion.
Some shelters are looking to implement open adoption policies for the first time, while others that already removed barriers are seeing there is even more they can do to be inclusive.
Shelters are realizing that "we are equal to our community, and we need to start treating people in a more supportive way," says Mandy Evans, executive director of the Panhandle Animal Shelter in Ponderay, Idaho. Her shelter went from helping 1,200 animals a year to 8,800 after it implemented Adopters Welcome and other programs a few years ago, including a helpline and a private pet rehoming website for owners, that are based on respecting and trusting community members, she says. Average length of stay decreased by 89%, and the return-to-owner rate for dogs increased from 40 to 88%.
Equal opportunity adoptions
The Adopters Welcome approach starts with removing barriers like landlord checks, home visits, veterinary references, fence checks and other requirements that keep people from adopting but don't have anything to do with whether they'll provide a loving home for an animal.
These barriers to adoption disproportionately affect people in underserved communities and people of color who, as a result of decades of discriminatory housing policies, are more likely to rent, not have a fence and more.
"All of these things … really start to systematically erase people as potential adopters," says Amanda Arrington, senior director of the HSUS Pets for Life program, which provides pet care resources to people in underserved communities. "That just doesn't serve us well as a movement. Not only in finding loving homes for animals, but also in making sure we are equitable in our practices."
Many issues keep people in underserved communities from ever engaging with animal shelters in the first place, from lack of access via public transportation to a lack of knowledge that the organizations even exist, says Arrington.
Data from Pets for Life shows that less than 3% of people in underserved communities get their pets from animal shelters or rescues. That's why being more inclusive and equitable in adoption practices can mean not just removing barriers, but also improving access to adoptions, like having events in low-adoption areas or translating materials into other languages.
Building relationships
Pima Animal Care Center in Tucson, Arizona, created a diversity, equity and inclusion focus group in spring 2020 to make sure "we're including everyone in our community and not excluding people [without] even realizing we're doing it," says shelter manager Danielle Harris.
Even though the shelter already had open adoption policies, it realized there were still ways it could be more inclusive.
The shelter decided to translate its adoption materials into Spanish and, in an effort to include community members who may be undocumented, decided to allow any photo identification to adopt, as opposed to requiring a state ID.
Dallas Animal Services also realized it could remove more barriers to adoption, even though it had already scaled down a lengthy application to a two-page questionnaire after Ed Jamison took over as director in October 2017.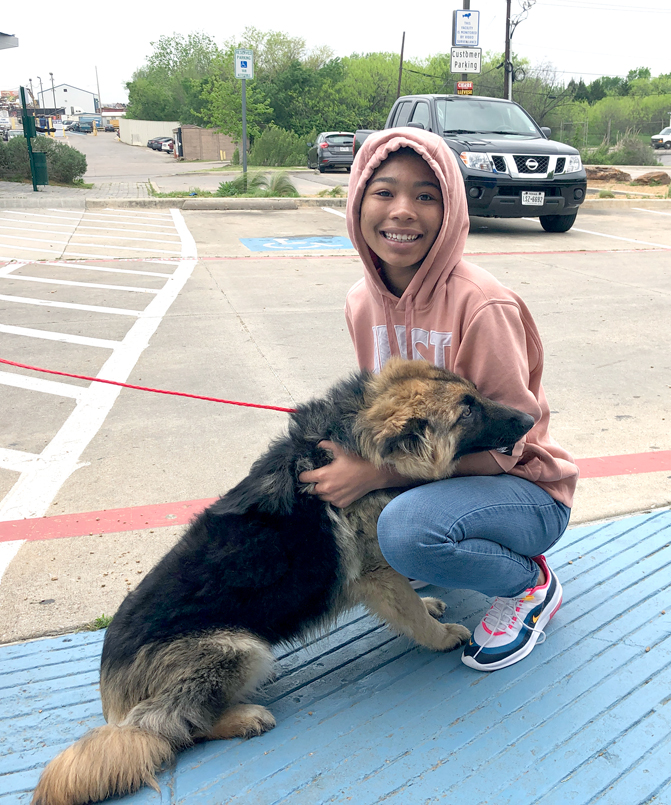 Jamison, who notes that he is one of the few Black shelter leaders in the country, took the advice he gave other shelters during talks about inclusion in 2020, which was for each organization to look at its existing policies.
"As things change in the world, you have to continually look at yourself," he says. "[We're] realizing now through fresh eyes … that we might unintentionally be causing barriers."
Dallas Animal Services removed any questions that—although they were only meant to facilitate conversation—could be perceived as judgmental or a tool for screening, such as one about whether potential adopters rent or own their home.
For organizations that want to implement Adopters Welcome but aren't ready to jump in and change everything at once, Hamrick recommends keeping track of why they're rejecting applications. Whatever the most common reason is, remove that barrier first.
"That's probably not only going to have the biggest impact on rebuilding your relationship with your community," she says, "but it's going to get more animals in homes."
After all, building relationships with your whole community—and not just part of it—is key to success, Jamison says. It not only ensures shelters are being inclusive, but helps them fulfill their missions.
Dallas Animal Services, which took in 39,000 cats and dogs in 2019, has seen large increases in adoptions and other positive outcomes for animals since implementing open adoption policies and removing barriers.
"We're finding solutions," says Jamison, "and that's by embracing our entire community."