Compassionate Care Scholarships empower veterinary students
Humane Society Veterinary Medical Association awards future generations of animal-welfare-focused veterinarians
As a child, Nima Morady didn't have any pets. But the Montreal native's favorite cartoons, Zoboomafoo and The Wild Thornberrys, helped him decide early on to be a veterinarian, even as his parents encouraged him to become a human doctor instead.
It wasn't until he was an undergraduate that Morady got the hands-on experiences with animals that he'd craved as a kid. He walked dogs at a local shelter, volunteered at vet clinics, spent a summer in Ghana as a volunteer with Veterinarians Without Borders, and adopted a former street dog from Quebec. By the time he entered Atlantic Veterinary College at the University of Prince Edward Island, Morady's path was clear: He was going to make the world a better place for animals and their people.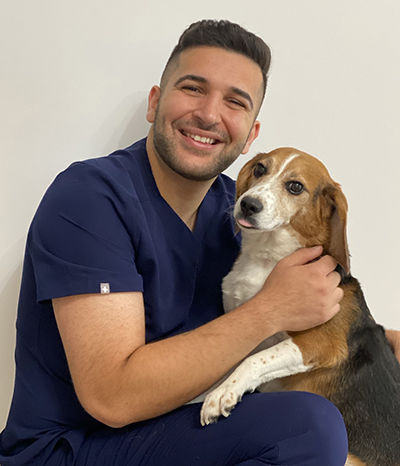 Over the next four years, he would help lead the vet school's animal welfare club, coordinate a lecture series on animal protection issues, and launch a successful campaign to end the school's use of "teaching beagles," who were housed at the school for students to practice handling skills and basic procedures. "They're such social beings, having them live in the school rather than a home wasn't ideal," says Morady, who ended up adopting a beagle named Herschel. He also founded the BIPOC+Allies club, the first club of its kind at Atlantic Veterinary College, and organized outreach to encourage children in underserved communities to consider careers in veterinary medicine.
All this earned Morady first place in the Humane Society Veterinary Medical Association's 2022 Compassionate Care Scholarships, which are awarded to veterinary students who demonstrate extraordinary dedication to animal welfare.
"It's always amazing going through the applications," says Heather Schrader, HSVMA program manager for student outreach. "Vet school is so demanding, yet here are these students who are accomplishing incredible things in what little free time they have."
For the past seven years, HSVMA has awarded three to four scholarships a year in amounts ranging from $1,500 to $3,000, mostly funded by donations from its leadership team and board members. Now, as the nation grapples with a growing veterinary workforce shortage, HSVMA is expanding the program to five $10,000 scholarships. "We want to reduce students' income-to-debt ratio and help animal-welfare-focused vets go out in the world and do great things," Schrader says.
The average vet school graduate carries about $200,000 in debt, so even modest awards make a difference, she adds. Many past scholarship recipients have used the money to help pay for tuition, living expenses, or costs associated with completing an externship at a wildlife center, an animal sanctuary or a shelter.
"It definitely helped pay a few months' rent, and it also gave me the opportunity to network within our profession," says Dr. Ron Orchard, a 2019 scholarship recipient and graduate of Kansas State University's College of Veterinary Medicine, where he helped set up a shelter medicine program that brings vet care to underserved communities. "I was able to travel to an HSVMA conference, and the contacts I made there I've since become collaborators with."
Equally important, Orchard says, was how winning the scholarship motivated and inspired him. "I think it's really important to get that affirmation that the work you're doing makes a difference and you're on the right track."
Morady agrees. "Vet school is rough. It's very draining. You don't get enough praise as a vet student as a whole. Sometimes you wonder, 'Am I doing the right thing?'"
After his scholarship was announced, Morady's work was featured in a local news story and on Atlantic Veterinary College's website. "My school was very proud of me," he says. "I needed that little push to get me through clinical year." His parents, once puzzled by his career choice, are equally proud and now consider veterinary medicine a noble profession.
Currently completing his last semester of vet school, Morady will soon be working at two Montreal private practices, where he will further his knowledge of companion animal, exotic and large animal health issues. He plans to volunteer at the SPCA in his "spare" time.