Dog and pony show
Window visits spread cheer to Wisconsin nursing home residents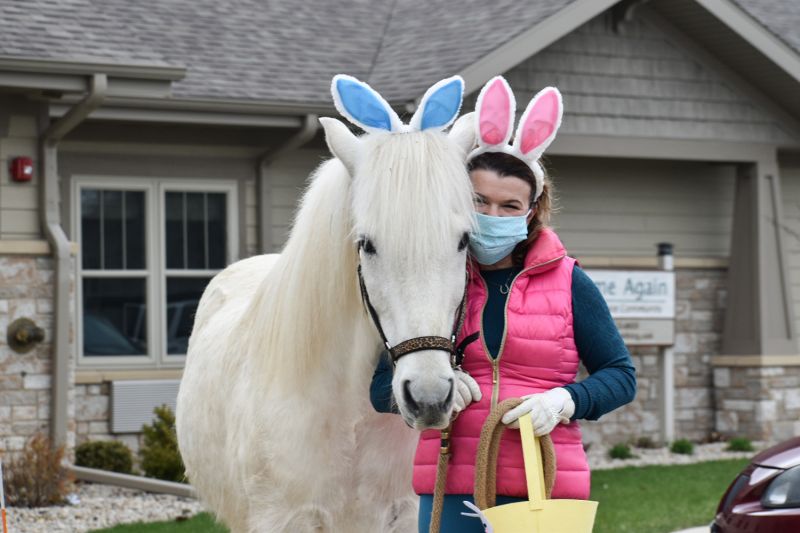 In a typical spring, I'd be busy lobbying for animal protection bills in the Wisconsin State Capitol. But with the legislative session cut short due to coronavirus concerns, I started thinking of ways I could bring happiness to the people in my community most impacted by social distancing.
Initially, I planned to take my rescue dog Maverick to a local nursing home for a window visit to cheer up the residents. As I dug through his costumes, I came across bunny ears my horse wore for an Easter photo a few years back.
My friends Robin and Wil Guernsey own five Icelandic horses, including an older pair named Kommi and Hrimnir (Hermie) they adopted from a man who moved back to Iceland. Two years ago, Robin started a Facebook page, where she posts funny photos and videos of her horses to help people with depression. Together, we crafted a plan for what Wil dubbed the "Smile Tour."
Easter seemed like the perfect time to spread love to people in nursing homes who were missing their families. We did a trial run at one facility, proving that we could conduct window visits safely, then on Easter Sunday, Robin, Wil and I, along with Maverick, Kommi and Hermie, visited three nursing homes in the Madison region.
While Maverick ran around with a stuffed toy in his mouth, the horses pranced and walked right up to the windows to greet the people on the other side of the glass. Even though the people inside couldn't touch the animals, they could feel that connection.
Staff members said it brought tears to their eyes to see the residents' reactions. One person emailed me that she hadn't seen that many smiles in months.
The Guernseys and I are planning to do this every year and to expand the number of places we visit as COVID-19 restrictions allow. The Smile Tour showed the power of animals to bring humans happiness in difficult times, and it was truly the best Easter I've ever had.
- Megan Nicholson
State director, the Humane Society of the United States
Madison, Wisconsin