Hard work—with a soft touch
ASPCA Safety Net managers provide resources and compassion to Los Angeles County pet owners
Don't expect to find Bernice Osorto, Erica Macias or Miguel Ruelas staring at computer screens all day. The ASPCA's three Safety Net managers at Los Angeles County's two high-intake shelters in Downey and Baldwin Park spend their time sitting at a folding table at each shelter's main entrance, greeting clients as they approach with dogs on leashes, cats in crates, kittens and puppies in shoeboxes, or injured pets wrapped in towels.
Each Safety Net manager works toward one goal: keeping those pets out of an overcrowded shelter. "Is there anything I can do to help you keep your animal?" is one of the first questions they ask, which usually leads to a longer conversation.
Since the ASPCA's program was unveiled in June 2014, Osorto and Macias, who are stationed at the Downey and Baldwin Park shelters, respectively, and Ruelas, who divides his time between both, have interacted with thousands of pet owners and helped more than 3,400 animals remain in their homes.
Through a collaboration with the Los Angeles County Department of Animal Care & Control and the Los Angeles County Animal Care Foundation, the program offers services to clients living in the Downey and Baldwin Park areas. These services can include free or low-cost spay/neuter, medical care, vaccines, assistance with licensing fees and boarding—even help with fence repair. The services are granted through an ASPCA voucher system via partnerships with local veterinary clinics, pet service providers and animal welfare organizations, and often make the difference between a family keeping a beloved pet or having to relinquish their companion.
"Our work involves building trust and relationships, not just between us and our clients, but also with our partner organizations," says Allison Cardona, senior director of the ASPCA's Cruelty Intervention Advocacy (CIA) program, which oversees the Safety Net program.
The team also refers clients whose pets require euthanasia to veterinary partners so families can be present and say goodbye when their pets are put to sleep. When Shiloh, an 11-year-old cocker spaniel battling cancer, could no longer walk, her family planned to relinquish her. Instead, with help from ASPCA staffers, they took her to a veterinary partner to be humanely euthanized.
"It's tough, the work that we're doing," says Osorto, a former high school Spanish teacher whose passion for animal welfare was ignited by her daily drive to school through a South LA neighborhood where she saw many stray dogs roaming the streets.
"I feel like we're making a difference," adds Macias, formerly with the Child Care Resource Center in Chatsworth, where she managed an "intense" caseload of families enrolled in subsidized child care programs.
Ruelas, who spent 12 years in the hotel business, says it's "the hardest I've ever worked, but by helping people help animals, it's also a way to help my community."
Real Connections
The stories these managers tell often start with sadness, but end with hope.
Recently, Macias met a La Puente man who couldn't afford to neuter his dog, Charlie, and brought him to the shelter. "He kept saying, 'I don't want to leave him here,'" Macias recalls. She provided a voucher for a free neuter procedure so Charlie could stay with his owner.
When a single mom from Downey planned to relinquish four young puppies, Osorto talked her into keeping them until they were older. In time, the woman was able to find homes for each, and even made their spay/neuter appointments. "I guided her, but she did the work," Osorto recalls. "I told her, 'You're a hero to these animals.'"
Her role is about empowering people to do the right thing—"and that makes people feel good about themselves," she adds.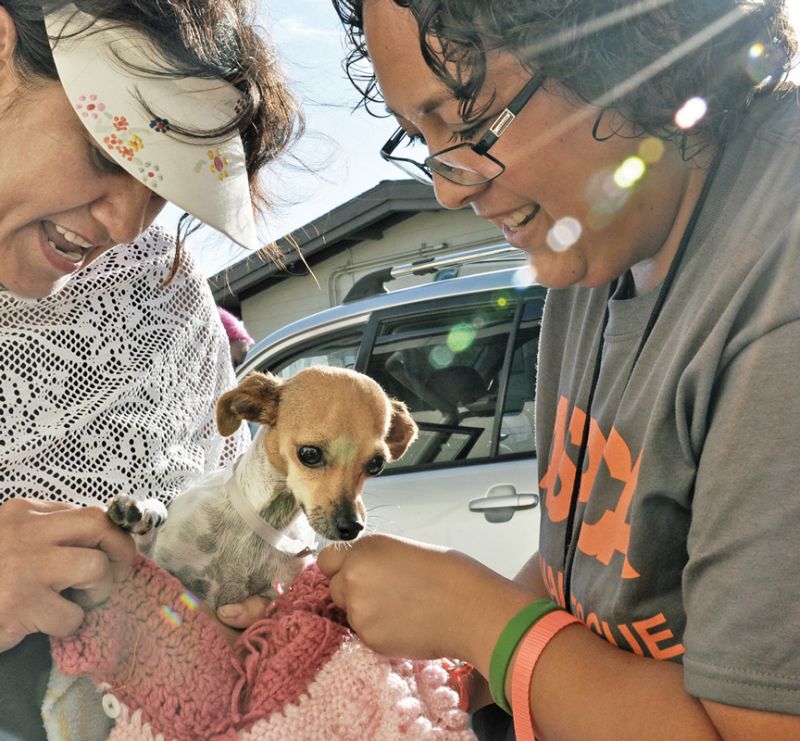 Ruelas recently intervened in the case of a Compton family who had discovered three kittens in a box next to railroad tracks. Downey staff informed them that the shelter couldn't care for such tiny kittens. "So the two younger kids quickly volunteered to feed and care for them, and Dad agreed," recalls Ruelas. He provided them with supplies and food, but the family did all the work to save the animals.
None of the Safety Net managers is shy about explaining the large numbers of pets euthanized at the shelters. Pit-bull-types, Chihuahuas and cats are the most vulnerable because they make up the highest numbers of homeless animals in local shelters.
"In general, people aren't aware there's a pet overpopulation problem," says Macias. "But with some clients, a light comes on, and they realize their actions are contributing to the problem. Yet they've never had access to information or resources, so they're very grateful."
All three managers are fluent in Spanish—a necessity in a region where 95 percent of the clientele is Latino. But sometimes, it takes more than a common language or years of experience to connect with clients.
"Not everyone has Internet access or email accounts," says Macias, who recently photographed a client's dog and emailed the result to a veterinary service provider so that the dog could undergo a much-needed surgery, and has helped send out pictures of animals in need of rehoming. "Sometimes I'm networking all day," she says.
How does the team stay focused?
Ruelas, who grew up in Inglewood with dogs, chickens, rabbits and turtles, acknowledges there are moments when he must take time to process difficult situations. "I allow myself that, and then I move on," he says.
Macias walks the kennels each evening; Osorto studies her list of clients and contemplates the resources they have to live on. In the end, the managers recognize that it's not a person's financial situation that defines his ability to responsibly care for a pet. But as so many of their clients quickly learn, a little help and a lot of compassion can go a long way.