Employee of the year
'Genius' new Maddie's Fund app provides shelter-approved advice to adopters and fosters
You really should contact all of last week's adopters and see how things are going—but, nevermind, your new assistant is taking care of it.
Also, a foster volunteer needs instructions for bottle-feeding neonates, another is concerned about her foster dog's loose stools, and the people who adopted the hound-poodle mix yesterday have some questions about housetraining—but no worries, your assistant is handling these, too. Your assistant never takes a holiday, is available 24/7 and gives spot-on advice. Best of all, your assistant works for free.
Thankfully, your assistant isn't a beleaguered employee but an app—specifically, the Maddie's Pet Assistant (MPA) app developed by Maddie's Fund. Designed for smartphones and tablets (Apple or Android), the interactive app is based on scenarios adopters and foster volunteers commonly face, particularly during an animal's initial adjustment period when caregivers need the most handholding.
"The first month is a really critical time, when we can create lasting positive experiences between people and pets," says Maddie's research coordinator Amber Freiwald.
While most animal organizations recognize the value of post-adoption and foster care support, many simply lack the time to provide it. MPA virtually "checks in" with caregivers, using questionnaires to solicit details about the pet's health and behavior and sending tailored feedback and helpful tips. The participating shelter or rescue can view all the communications between the app and caregivers, and staff can respond to individual users and add their own advice directly in the program.
For Tina Hunter, director of operations at the Humane Society of North Myrtle Beach in South Carolina, MPA is the customer service guru her shelter has always needed but couldn't afford to hire. "We're a small shelter with a small budget and only 13 staff when we're at full staff," she says. "So having the ability to connect with our adopters a couple of times during the first week and then answer all their questions—well, we can't do that, but the Maddie's Pet Assistant has enabled us to do that."
One of her favorite features is the color-coded summary reports, which the app emails to her every morning. "I'm crazy super busy, so if I don't have time to read the report immediately, I scan the email and just look for red or yellow," which are issues that the app has flagged as high or moderate priority for a direct response by the shelter.
Hunter has also been impressed with the depth and quality of the information, which is drafted by Maddie's veterinarians and veterinary behaviorists, and how the program is designed to send follow-up questions about previously reported issues. Plus, the app will modify advice based on factors like how long the animal has been in the home.
"Whoever put this together is a team of geniuses," she says. "The information it gives is definitely tailored to what the adopter's problems are. I've tested it myself to see, 'Is it going to give accurate information to someone who says the cat's peeing on the carpet?' or that kind of thing, and it is. It's everything we'd say to someone."
Freiwald says the most common app queries involve poop (too little or too much), housetraining and loss of appetite, since many animals eat less when they're stressed. Sometimes, the app simply reassures new adopters or fosters that certain behaviors are normal in the early days of a transition; other times, the app may advise immediate action, such as contacting the shelter's foster coordinator.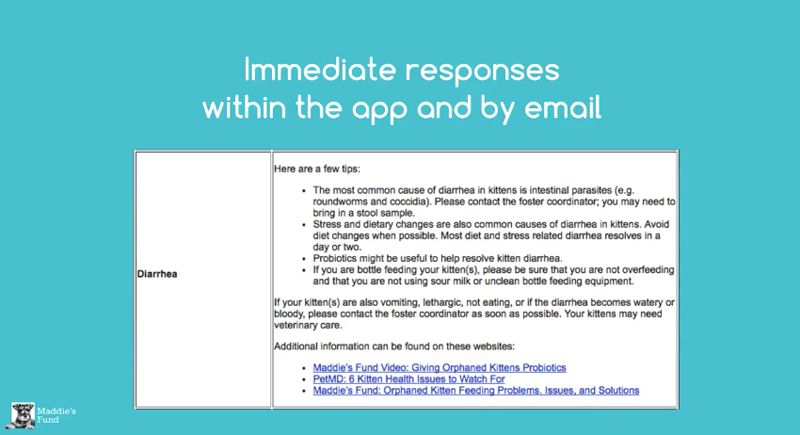 When Cathy Flores Gregoire started fostering for the Louisiana SPCA in New Orleans this summer, she considered herself fairly knowledgeable about pet issues. But not long after she brought home her first foster—a tiny poodle mix named Susie—Gregoire found herself turning to MPA for advice. "You get used to your own animal and what that one's going to do, and you forget about stuff," she says.
MPA gave her peace of mind in the early days when Susie forgot her housetraining and when her second foster dog, a Chihuahua named Tinkerbell, seemed overly subdued. And in this way, she says, the app has made fostering more enjoyable for her: "The bottom line is that I'm adjusting to this animal as well."
Hunter reports that her adopters "love it because they have instant access to the information they need." She plans to begin offering the app to her foster caregivers as soon as she and her team transfer the foster care data to their shelter management system. "I'm looking forward to not being called up in the middle of the night for foster questions," she says.
Sharon Fletcher, director of marketing and communications at Maddie's, points out that the app has several "downstream benefits." Adopters and foster volunteers can upload stories, photos and videos, which the organization can then share on social media, in newsletters and in other communications. Caregivers can track animals' weight and vaccination history, while shelter staff and volunteers can keep tabs on how animals are doing in their new homes. Every day, Hunter shares the MPA summary report with her staff so they can see the types of questions that people have once an animal is in their home. "It's really opened our eyes to how we can be better adoption counselors," she says.
Since MPA launched in May, 250 organizations have registered, and more than 10,000 people have downloaded the app, says Freiwald. She and her team expect that number to keep growing as they work to add more features and to integrate MPA with more shelter software systems. (Right now, the app will automatically import data from Animal Shelter Manager, PetPoint and Shelterluv; organizations that use other systems must manually enter data into the MPA website).
It's all part of the Maddie's team's mission to bring technology to the real-life challenges of the sheltering and rescue field.
"We really want to calm nerves and allow people to be the most confident and competent caregivers they can be," says Freiwald. "Knowledge is power."