Everyone's a winner
Innovation Showdown champions roll out lost pets program in Sacramento
At Front Street Animal Shelter in Sacramento, California, staffers save close to 90 percent of the nearly 11,000 animals they see each year, a 70-percent increase from 2012. The vast improvement is credited to new staff positions, lifesaving new policies and out-of-the-box marketing and social media efforts. (The shelter recently spoofed TV show "The Bachelor" in an adoption promotion video featuring four adopters vying for one dog.)
It's a huge accomplishment—and one that's increasingly being replicated at shelters around the country, says Bobby Mann, public relations coordinator at Front Street. But like many shelters, Front Street still has a less-than-ideal return-to-owner rate. Only around 30 percent of dogs who come to Front Street as strays are returned to their owners, he says, and the rate for cats is even lower.
"We know that shelter environments can be incredibly stressful for animals; a dog that we think is shy or timid [and] could be difficult to place in a shelter environment could be the best dog in the world in the home," he says. "It's important to make sure owned pets are reunited with their owners. We believe it's the organization's responsibility to provide the tools for people to be successful to find their pets."
So in 2018, Mann and Front Street social media coordinator Ryan Hinderman applied their marketing and social media skills to a two-part idea that would reunite pets and owners in Sacramento: A bilingual, automated text messaging system to handhold and cheerlead owners of lost pets, and bilingual fridge magnets sent to almost 200,000 Sacramento residents with lost pet resources, including "get out of shelter free," free microchip and free licensing coupons.
Mann and Hinderman submitted their idea via video to the 2018 Innovation Showdown, the first annual "Shark Tank"-like competition in which three finalists pitch to investors live on stage at the Humane Society of the United States' Animal Care Expo. Mann explained to judges that people would be able to text "stray" to a 6-digit number and receive links to the city's lost dog and cat pages; periodic reminders to check Craigslist; a link to the Finding Rover facial recognition app for lost pets; links to other local shelters' lost pet pages; two in-depth, evidence-based videos on how to find lost pets; and follow-up links to the city's stray pages every three days. (Phew!)
Unsurprisingly, Front Street was selected as a finalist, and Mann and Hinderman pitched the project to investors like the Petco Foundation, The Jackson Galaxy Project, the ASPCA and more in May. You can guess what happened next: Front Street won the winning investment of $250,000, and Mann and Hinderman literally jumped for joy on stage. In this edited interview with senior editor Bethany Wynn Adams, Mann shares how the project is faring after a large infusion of cash.
It's been almost a year since Front Street won the Innovation Showdown and a $250,000 investment. How have you expanded the Lost2Found program since then?
A lot of the first four to five months we spent doing research. Because Lost2Found is a text messaging-based program, we had to make sure that everything is in compliance with text messaging laws and that regulations were followed. We did a soft launch of our text message program in December. We're seeing a 97-percent text message open rate, and we've already seen pet reunification because of the program, which is really exciting. Often, losing a pet is such a stressful experience, even if people are actively looking for their pet, they've forgotten any tips we've provided them, or they've lost the flier [with the tips]. This program gives them something they can take along with them on their phones.
Because of the budget that we were provided, we've also been able to implement other marketing and resources. We're going to be doing ads for the program in low-income areas of Sacramento, so typically places where we're seeing a lot of our strays coming from. And a big part of the magnet, which we'll be sending out on February 1, is the resources on there. "Get your pet out of the shelter for free," the free microchip, the free ID tag. We believe one of the barriers to people getting their pets back is fees, and also they're sometimes fearful of engaging with us. The last thing we want is there to be a financial barrier or fear stopping people from getting their pets back.
We've also turned Lost2Found into a cookie-cutter program for other shelters across the country to use. Everything is in place: the marketing collateral, the text message program and even a tutorial to help shelters implement the program. The cities of Las Vegas and Austin are going to implement it; just The Animal Foundation in Las Vegas alone takes in 25,000 animals each year, so this is going to affect so many animals.
We understand that it was a very substantial investment, and we do not take that lightly. We hope we can continue to make the Petco Foundation and everyone involved proud.
Can people opt out of text messages once they've found their pet?
Even if you haven't found your pet, you can opt out at any time by texting STOP. That's part of the national automated text regulations. Texting is very, very regulated, and that's one of the reasons why it took us so long to implement the program. Obviously, with Front Street being a government agency, we were working very closely with our city attorney's office.
Once a city in California can do this in compliance with text messaging regulations, I can only assume other organizations in other places will be able to take this program and run with it.
Are you already seeing a higher return-to-owner rate in your area?
We have around a 30-percent return-to-owner rate for dogs; cats can be a little bit lower because many of them are free-roaming cats in Sacramento. We have seen an increase in return-to-owner rates in the shelter in general, but the Lost2Found program is only one piece. There are a lot of things that we're doing. We're posting lost pets on the Nextdoor platform (a social networking site for neighborhoods), our lost and found pages, Craigslist, the Finding Rover pet facial recognition app. We have absolutely seen an increase in our return-to-owner rate since we've made it a priority.
Once everything is implemented, even if we're able to increase the return-to-owner rate by 5 percent within six months, that would be substantial, because there are so many pets that come in that don't have identification, and there's not somebody that's actively looking. If we could get our return-to-owner rate up to 40 or even 50 percent, we would consider that incredibly successful.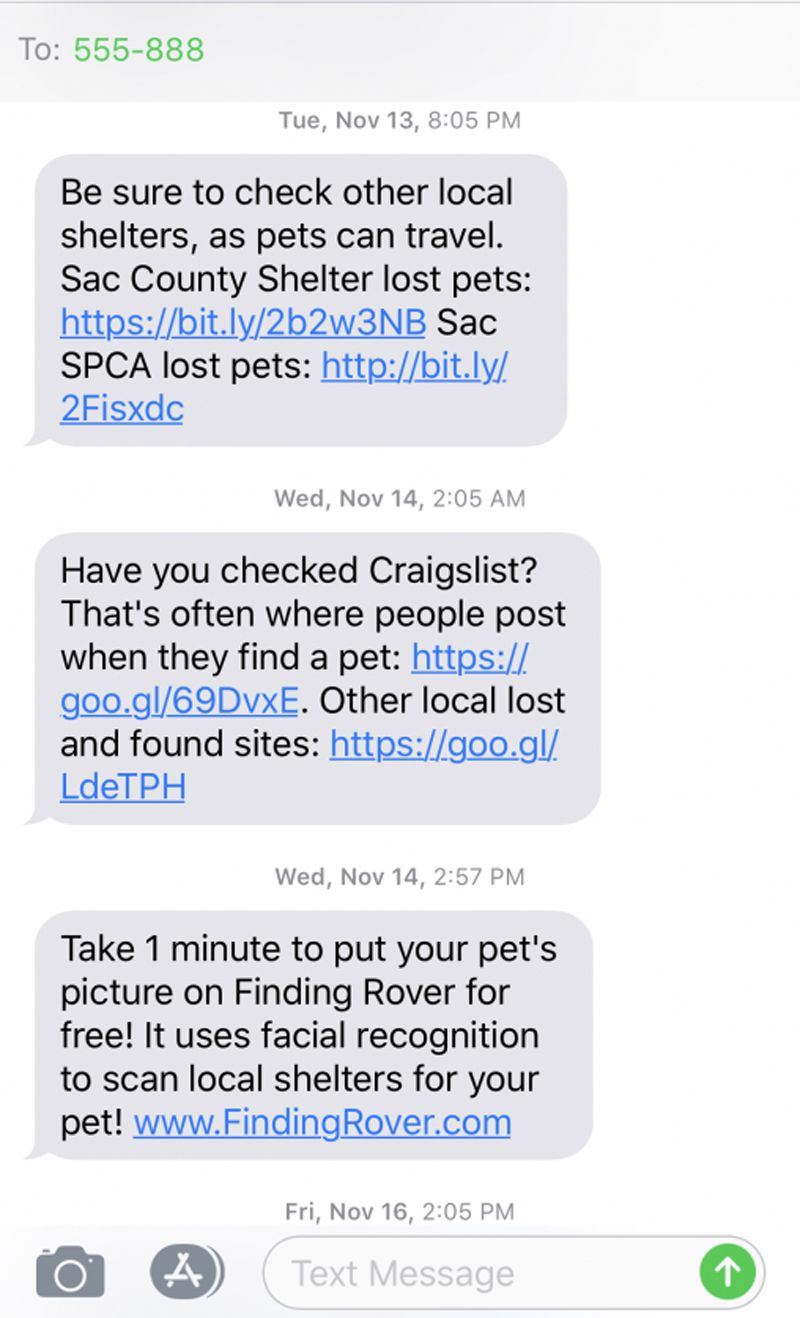 A big part of the Lost2Found program is engaging your whole community with bilingual fridge magnets, ads and text messages. Front Street also has around 180,000 Facebook followers. Do you have any tips for shelters wanting to engage their communities?
The beauty of what all of us do [in animal welfare] is we're all doing amazing things, and we all have a story to tell. Engage your audience, show them what you're doing, create quality content and most importantly be transparent.
It's almost like a real relationship with a person. You're not going to ask someone to marry you the first day you meet them. But if you listen to them and invest in them and you're honest with them, you can start to have a relationship. Then when you ask them to do something, they're going to want to help.
Whenever I'm going around the country doing conferences and trainings, the number one thing that I tell people who say they don't have the time or resources for social media is: You don't have the time not to invest in this. It's the one platform of communication that you do have control over what it says about you. If you're not investing time into it, you're not looking at the big picture.
You helped pitch Lost2Found live on stage at Animal Care Expo last year. What do you think helped Front Street's program stand out to the judges? Do you have any advice for Innovation Showdown hopefuls this year?
Just leave it all on the table. It's a once-in-a-lifetime opportunity. It is scary. It's a room full of all of your peers and the people who you look up to the most in this industry, and if you have that opportunity, the one thing that you can do is allow your passion to shine. We don't work in this industry for the money or the fame. We do it for the cats and dogs, so give it all that you have. It was one of the most exciting moments of our lives, and we still use that as inspiration to continue on even on the most difficult days.
I think it's also important to say that our social media coordinator, Ryan Hinderman, who presented with me, is the one who actually came up with the concept for the program. There's so much innovation that goes on around us in our shelters. As managers, we should always have an open ear and listen to people's concepts. If we empower young individuals who have good ideas and want to use technology and social media to benefit animals, it doesn't just help our organization, it benefits animal welfare around the country. This is a great example of that.