Too close for comfort?
The joys and challenges of experiencing pets 24/7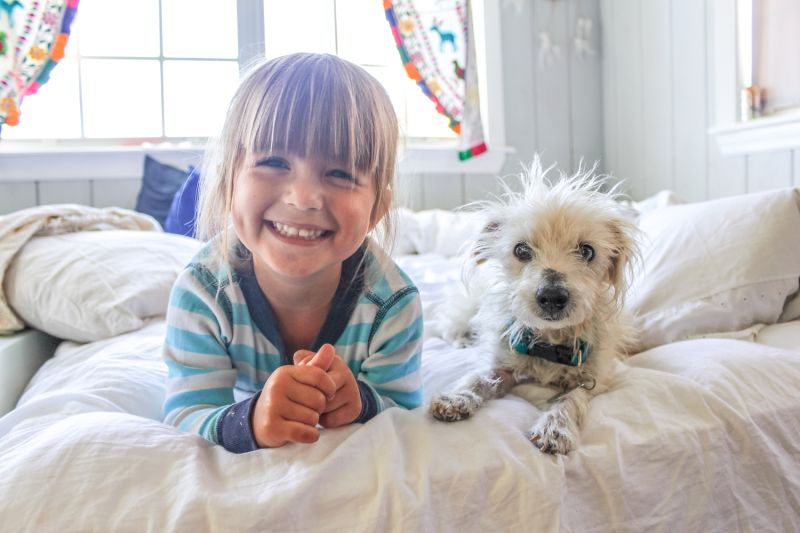 Before COVID-19, pets watched us leave in the morning and return in the evening. Now they're by our sides around the clock, wanting to play, angling for walks or food, crashing our Zoom meetings, maybe wondering why we've become such homebodies.
On the plus side, we're spending more time with our dogs, and they've become one of our primary sources of exercise, interaction and activity.
But it's not all fetch and roses. The change to routines and forced togetherness can be stressful for us and our pets, especially when young children are involved. And as an animal welfare professional or volunteer, you might be wondering what advice to give pet owners in this new era of togetherness.
In this edited interview, Lindsay Hamrick of the Humane Society of the United States chats with dog trainer Helen St. Pierre (mother of a 2-year-old and a 9-year-old) about how to maximize the benefits and lessen the pitfalls of families being homebound with their furry friends.
Hamrick: What are the impacts, for both owners and dogs, of families being stuck at home together?
St. Pierre: People being home with their dogs more is a fantastic thing for many of us in the animal professions to see. Too often we stress to our clients that they need to spend more time engaging with their dogs and other pets to enrich their lives.
On the flip side, it's not easy to have a four-legged, nonverbal animal with a toddler mindset attached to your hip all day. Many clients are struggling with their dogs loving their humans being home so much they don't ever want the activity to stop. Pushy behaviors, boredom behaviors and more are the concerns I've been fielding during this time.
What are you hearing from parents with young children?
Since schools have been canceled, I have been inundated with frantic calls and desperate emails from concerned parents whose loving family dog snapped at one of the children today, or growled, or bit or showed teeth.
Do you think these behaviors are related to people being home 24/7 with their pets?
Absolutely. Working from home and having limited interactions, if any, with friends and co-workers has been stressful for many of us, not just the dogs. Kids being home 24/7 lately has put enormous pressure on many of our lives, including our dogs. Yes, you could say in some ways all that quality time has been great, but figuring out how to balance work and homeschooling and entertainment isn't easy every day, day after day. So there is no doubt this added stress [on parents], plus the constant stimulation and activity of children, could be causing these issues to spike rapidly.
How can people help their dogs adjust to the new normal?
If you, like me, are home a lot more and have kids at home all the time right now, here are some tips to follow:
Make sure your dog gets plenty of breaks or has a safe "no kid" zone area to go to. A crate, a bed, even a room, can be a safe place for them to decompress when they need it. Even if they don't seem like they are bothered, some time and some peace can be really good for your dog to recharge. This space should be a completely off-limits area to the kids and handled the same way a boiling stove or fire would be: not to be touched or bothered. This is huge, even if you are working from home alone with no kids. Your dog still needs to learn how to self-soothe and be without you, so that when you return to work it isn't a shock. Breaks from each other are OK and encouraged!
Always supervise interactions between dogs and kids. If that's not possible, don't feel guilty putting your dog away so you can shower or make the beds, etc. Active, aware supervision is how you proactively stop situations from happening or see scenarios as they play out. Do not feel bad about utilizing management techniques more than usual during this time. Trust me, your dog will be grateful!
Refresh your kids' minds about dog body language and certain boundaries. Remember to talk about leaving dogs alone while they are chewing, not hugging or kissing them, and repeat this verbiage often. I can't tell you how many times I've had to remind both of my children to share with each other the past two weeks, like they had never learned that lesson! New situations can often lead to a feeling that old boundaries and rules don't apply anymore. Make sure the kids know that the boundaries with the dog are still there.
Dogs aren't furniture or toys or entertainment. They shouldn't be climbed on or pulled or teased. Ever. No matter how tolerant they are. I hear over and over "he always was fine" or "our last dog we did that," and I have to remind people that dogs are individual creatures and they all have their own level of tolerance and experience bad days too. Take some time by yourself or with the kids and do some training together with your dog, play some games or set up an agility course. Structured interactions, rather than chaos, are much more enjoyable and safer for all of the species involved! Plus, your kids will learn a lot about your dog as a whole!
Lastly, ask for help when you need it. That's what canine professionals like myself are here for. Familypaws.com is an amazing resource and organization I'm honored and proud to support and be a part of. We are a dedicated bunch of professionals licensed in dog and family safety, and we are all over the globe!
Are dog trainers available to help owners now?
The majority of us are still doing online consults, classes and workshops to help people with their dogs while we wait this out. Look for progressive, reward-based trainers practicing LIMA (least intrusive, minimally aversive) techniques, and don't be afraid to ask for references. The Association of Professional Dog Trainers is a great resource to find professionals in your area, as is the International Association of Animal Behavior Consultants.