Landing your first animal welfare job
The inside scoop on interviewing for an entry-level position in sheltering and rescue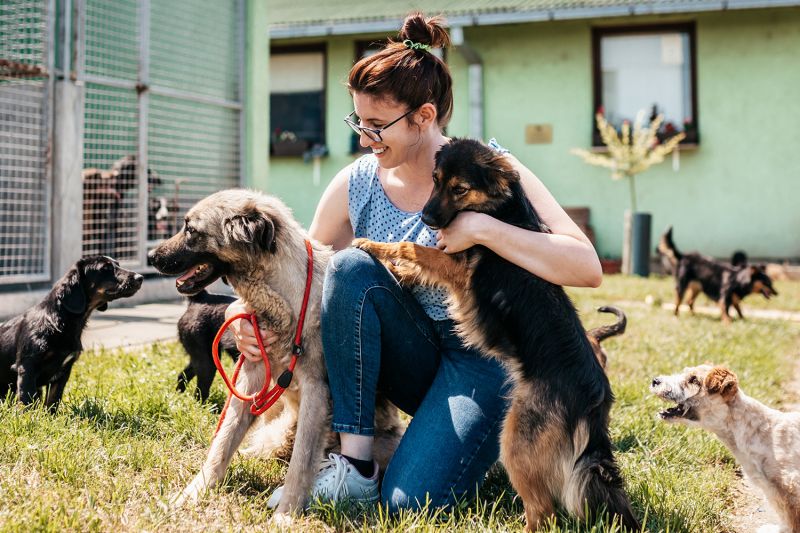 Interviewing for a job can be stressful: You don't know what questions to expect, and you might be a little nervous. These pre-interview jitters can be amplified when applying for a job where your passion for the cause is strong, but your experience might be minimal or nil.
Shelter and rescue is a growing, and increasingly professionalized, field, and each organization has its own priorities and programs specific to its area's needs, from trap-neuter-return and kitten fostering programs to pet food banks and low-cost veterinary clinics. Just as there are a variety of organizations, there are positions for people with a variety of skillsets and educational backgrounds. But many enter the field the old-fashioned way: the entry-level job.
You shouldn't be afraid to apply for an animal care job even if you've never stepped inside a shelter. Hilary Hager, senior director for outreach and engagement at the Humane Society of the United States, says that experience such as pet-sitting or caring for a pet's medical condition can be useful. An animal care job may entail a wide range of responsibilities such as answering questions from the public, helping potential adopters find the right match and performing community outreach. "It's OK if you don't have any experience in animal care," says Hager. "If you've worked at Starbucks, you have skills that are going to be valuable."
Hiring managers will also be looking for soft skills—such as critical thinking, emotional intelligence and customer service, especially as shelters shift toward providing more community outreach and pet-owner support programs. In your application and interview, you want to convey your desire to help people as much as your desire to work with animals.
"That makes you stand out: if you provide something along with your resume that articulates why you think you want to do this beyond liking animals," says Elisa Martin, senior director of animal care at Pasadena Humane in California.
Like any job, a positive attitude and the ability to work well with others go a long way. "Candidates may also be asked about experience with previous co-workers and what made them positive or negative," says Amanda Griffin, patient services manager at the Humane Society of Boulder Valley. "This helps the employer understand what your ideal work environment looks like and if you will be a good match with the existing team members."
Getting hired
Programs and priorities can vary among animal welfare organizations, but hiring managers are essentially looking for the same thing: competent employees who can handle the realities of the job. Treat a shelter or rescue interview as you would any other interview: Dress professionally, prepare thoughtful questions, and be ready to describe how you will be an asset to the team and the organization's overall mission.
What really makes a candidate stand out? Seasoned animal welfare professionals say they look for the following qualities in job applicants:
A realistic view of the job: Martin says the biggest mistake she sees candidates make is not fully understanding what they're applying for. A position at a large municipal shelter could look a lot different than one at a rescue group that relies on foster homes or at a high-volume spay/neuter clinic. If you don't have a contact within the organization who can give you the lowdown, study the organization's website and social media posts for clues about what to expect.
Connection with the mission: A love for animals is certainly a plus, but think about the reasons this particular organization appeals to you. Are you drawn to its programs providing pet care services for underserved communities, its humane education programs for local schoolchildren, its training programs to help keep pets in homes?
Emotional resilience: Like other social-service based missions, animal protection has moments of profound celebration, like seeing a family reunite with their cat after finding pet-friendly housing, but it also has challenges like not having the financial resources to provide all of the programs you wish you could. Can you commit to building the resilience you'll need in order to thrive in an emotionally charged environment?
Problem-solving and conflict resolution skills: Interpersonal conflict can quickly sour a workplace environment, and animal welfare has plenty of gray areas. You may not agree with every decision, but your supervisors and colleagues will value your ability to see all sides of an issue, to look for solutions, and when necessary, to handle conflict professionally and productively.
Customer service/interpersonal skills: "I love animals but hate people" isn't the way to go in modern sheltering, and in fact, your people skills may be your biggest asset in this field. Hiring managers will be looking for evidence that you can interact with people from a diverse range of backgrounds in a positive, professional manner.
Willingness to learn: Sheltering and rescue is a dynamic, ever-evolving field. While entry-level jobs often entail tasks such as cleaning kennels, laundry and answering phones, they're also an opportunity to learn about a lifesaving business from the ground up. Martin encourages people to see the long-term career potential in sheltering and rescue. A job as a kennel technician, receptionist or adoption counselor could lead to a career in shelter medicine, behavior and training, humane law enforcement, fundraising, management and more.
What questions might hiring managers ask? You can expect the standard (dreaded) questions (e.g., where do you see yourself in five years, what are your greatest strengths and weaknesses), but you should also be prepared to discuss industry-specific issues, such as your views on euthanasia for behaviorally and medically suffering animals or how you will cope with the emotional rigors of the job. Prior to your interview, re-familiarize yourself with your job history and qualifications, and get your mental wheels turning by considering how you'd answer the following prompts.
What are your feelings on euthanasia? Are you aware that while many organizations are no longer forced to euthanize cats and dogs for space reasons, euthanasia for animals who are suffering from untreatable medical conditions or severe behavioral aggression and trauma will likely remain a needed service not only for shelter animals but for owned pets in your community?
Describe your previous animal handling experience, if any. Are you familiar with the Five Freedoms and the basics of fear-free handling, or are you willing to learn?
Describe a specific problem you faced in the workplace. How did you handle the problem? What role did your colleagues play?
What's an example of a decision you made recently that involved not just information, but your judgment as well?
What helps you learn? Describe the last time you learned something new.
Are you familiar with any shelter software programs? If not, do you have experience using database applications, such as programs to manage customers or inventory?
If you have customer service experience, describe a customer interaction that you could have handled better and what you learned from it.
Have you ever volunteered with a charity? Are there any nonprofits whose missions you particularly admire? Why? Do you have experience in another field of social services?
Have you ever had any pets? What was your relationship with them like?
What do you know about this organization in particular? Do you have any questions about the job or the organization's mission and policies?