Q&A: Lisa Wysocki, co-founder of Fido Fixers
In its drive to end pet overpopulation, a Connecticut charity leases mobile spay/neuter clinics to organizations around the country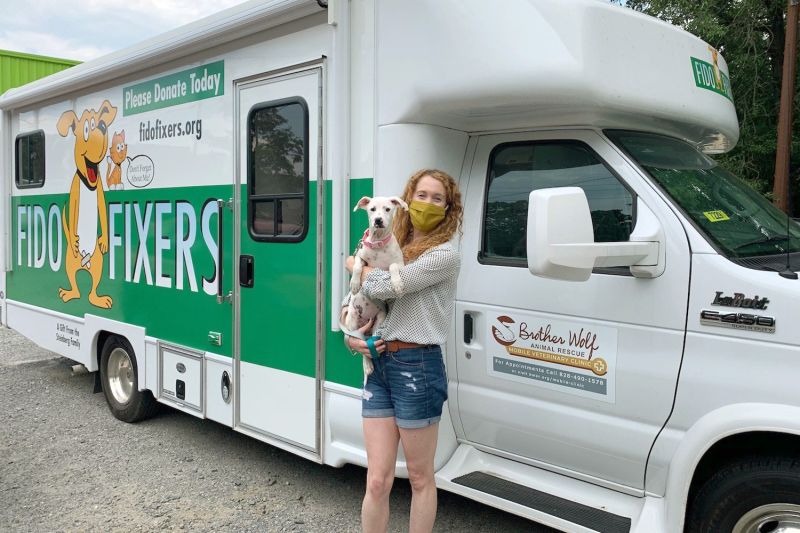 Lisa Wysocki and Suzanne Steinberg met at an exercise class in 2009 and discovered they had a common interest. At the time, Steinberg shared her home with 13 rescue dogs. Wysocki, who volunteered at a local shelter and had seven rescue cats and two rescue dogs, wasn't far behind.
"We instantly became very close friends," Wysocki says, and soon after they also became partners in rescue, helping to coordinate and fund transports of dogs and cats from overwhelmed shelters in the South to adoption groups in New England.
"It was really very joyful to find forever homes for these dogs and some cats …" Wysocki says, "but also very frustrating because we knew we were leaving thousands behind."
Looking for a way to tackle the roots of pet overpopulation, they founded Fido Fixers, a nonprofit based in Greenwich, Connecticut, that purchases mobile veterinary clinics and leases them to partner groups for a dollar a month (a symbolic and nominal cost that allows Fido Fixers to retain ownership of the units and divert them to new locations as situations change). This simple business model removes a major barrier to organizations bringing low-cost spay/neuter services to their communities.
The first Fido Fixer hit the road in early 2013. Today, Wysocki and Steinberg oversee a fleet of eight mobile clinics in partnership with animal welfare organizations in Florida, New York, North Carolina, Tennessee, Texas and, most recently, Pennsylvania.
"So many pets and people are being helped," says Zoll, adding that the mobile clinic will enable Providence to provide more than 2,400 additional spay/neuter surgeries a year.
Partner groups commit to perform at least 200 low-cost spay/neuter surgeries a month and are responsible for staffing and running the clinics. Fido Fixers provides the mobile unit—a 26-foot specialty vehicle equipped with a generator and all major surgical equipment—and covers the insurance, taxes and Department of Motor Vehicle expenses.
For the Providence Animal Center in Media, Pennsylvania, the Fido Fixers mobile clinic it received in June is already making a difference, says executive director Jo-Ann Zoll. Every week, the clinic, staffed by a veterinarian, a technician and an assistant, rotates among three locations, including the parking lots of a pet supply store in Woodlyn and a municipal shelter in Philadelphia.
"So many pets and people are being helped," says Zoll, adding that the mobile clinic will enable Providence to provide more than 2,400 additional spay/neuter surgeries a year.
It's the type of impact Wysocki and Steinberg envisioned when they founded their nonprofit. As of the end of September, the Fido Fixers fleet had collectively completed more than 115,000 free or low-cost spay/neuter surgeries, Wysocki says, and "the ticker keeps going."
In this edited interview with HumanePro, Wysocki describes the challenges of bringing low-cost spay/neuter services to areas in need, what she looks for in a partner organization and the lessons she's learned along the way.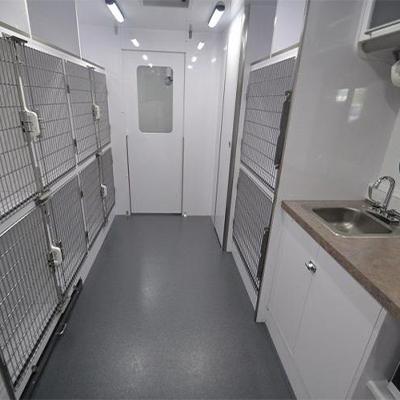 What first attracted you to the mobile spay/neuter clinic model?
All of our efforts transporting dogs from the South to the Northeast, working with shelters we had alliances with, weren't having as much impact as we wanted. Suzanne and I were thinking about forming our own charity, and at the time I was listening to a book on tape, Bob Barker's Priceless Memories.
Bob Barker has always been an animal rights and spay/neuter advocate. So I called his foundation and had a long conversation with the executive director, Nancy Burnet. She convinced me to focus on spay/neuter, and that conversation was the catalyst for us investing in mobile clinics that we could move and go deep into areas of high need to get the population under control.
We also looked at different designs for mobile clinics. La Boit [Specialty Vehicles] had a prototype, so I [showed it] to my vet and a friend who is an architect, and they thought the design was great.
Can you describe some of the lessons you learned in the early years?
The first unit went to a group in New York that wanted to go to West Virginia, where they were pulling their animals. We leased it to them, had a celebration, and then it sat there. Within a few months, this group realized they couldn't run this program. It was very disappointing.
So we moved it to Alabama, where the entire county didn't have an animal control facility. But the group that leased it from us couldn't find a vet. At that time, we were like, "What do we do? This was a big mistake."
Fortunately, the next group, in Macon, Georgia, was an enormous success, so much so that they eventually bought their own bigger unit with two operating tables, since ours has one. We then moved that unit to Tennessee, and it kept growing from there.
All of this made us very happy that we didn't buy the units and gift them to groups outright. That was our best decision. It allows us to move them when needed and keep them in the field where they're being effective.
How involved are you with day-to-day clinic operations?
We're very hands off with how we run Fido. We let our partners do their thing in the community. They know the community, they're the veterinarians, they're the vet techs, and they're running their organizations. They set the prices for their services; we just require that the surgeries be low-cost. Some of them choose to add wellness visits and vaccination clinics to their services.
We let them run it, but we do our job, which is not an easy one. We're the fundraisers who raise the money to buy this equipment and handle all the technicalities, including getting insurance, dealing with property taxes and DMV, all of those things that are very time-consuming.
When we first started, we had 20 groups on our waiting list, all these areas that had vets and could use a Fido. In 10 years, it's completely changed: The areas that can get the vets often aren't the areas with pressing need.
That's what happened to one of our very best partners in South Carolina. They used two of our vehicles for many years, then one vet quit and the other got sick, and they couldn't attract vets and had to give up their two vehicles. It broke my heart because they were a phenomenal partner. I told them, "Just let us know when you're ready, and I'll get you one back."
So that also reaffirmed your early decision to invest in mobile clinics?
Yes, and we're so glad we built this flexibility into the program. Even when something like this happens and a group has to give up a unit, it's a good model if you look at the big picture. Had the South Carolina group raised the money themselves to purchase the mobile spay/neuter clinics, it would have diverted all that money and now those vehicles would be just parked there.
Even the groups that I count among our failures, the ones where the clinic never got off the ground, the experience had some value. The groups thought they had the ability to run a clinic, but in reality they couldn't, and they discovered this without investing big money into a unit.
What's it like running a charity with your best friend?
We're both volunteers; we don't take any salary from Fido. Suzanne is actually the largest donor, and I'm the second largest.
Suzanne has great judgment, and we also really trust each other. We have very different personalities. I'm more temperamental and less trusting; she's calmer and very trusting. We talk all the time and bounce things off each other. When we combine our judgment, it's usually a very good decision.
For groups that might be interested in acquiring a Fido Fixer, what do you look for in a potential partner?
The most important thing is they need to have a vet. We learned that lesson early on. The next thing is referrals. I have to get good referrals from people I trust, because it's a big leap of faith. We're sending our $200,000 asset off to an area we may never have been to.
It takes a very specific person to run this program and an organization that can raise money because they have to pay for the staffing and repairs. So there needs to be a good program in place with ties to the community, and all of that has to be set up in order for this to be successful. Not every organization can do it.
There also has to be an understanding of how Fido works as an organization. It has to be a cooperative, collaborative relationship. We like to like our partners. When it works, it's great, and there is a very rewarding bond.