A step ahead of the storm
Proactive evacuations get animals out of harm's way before disaster strikes
By the time Dorian began its ominous swirl toward the East Coast in late August, Kimberley Alboum and Shelly Simmons were furiously trading phone calls and emails while keeping an anxious eye on radar maps that tracked the storm's progress across the Atlantic.
There was no telling where the storm would do the most damage, but Alboum, director of shelter outreach and policy engagement at the Humane Society of the United States, and Simmons, division manager of Greenville County Animal Care in South Carolina, expected that shelters near the Southeast coast would be affected. Their goal was to get animals out of harm's way before the storm hit.
"In your mind, you're constantly looking at the weather map; you're constantly problem solving," Alboum says.
"Years ago, you just waited for the storm to hit and went in and assessed the damage. Now we go in first and save a lot of lives."

—Kimberley Alboum, The Humane Society of the United States
It isn't the first time the two organizations have partnered on disaster response. About 300 miles inland, Greenville is outside the hurricane zone but close to the coastal communities that typically bear the brunt of Atlantic storms. Its location, along with a shelter and a community that are eager to help others in crisis, make it a vital part of what Alboum calls the "hub approach" to animal disaster response efforts in the region.
Since a storm's path is unpredictable, and it isn't feasible to evacuate every shelter animal in regions that might be affected, HSUS teams typically start by evacuating animals from hub shelters and transporting them to some of the 360 shelter and rescue network partners around the country. When the storm gets closer and its trajectory becomes more certain, there's a newly emptied shelter nearby that can take in the animals from the danger zones.
"It's incredible what we've learned over the years and how we're responding to natural disasters," Alboum says. "Years ago, you just waited for the storm to hit and went in and assessed the damage. Now we go in first and save a lot of lives." This proactive approach has also resulted in shelters that are better prepared and that communicate with one another, Simmons says. "We've got to know and become closer to some of our neighboring shelters. Shelters are reaching out earlier. They say, 'We know we flood, we know it's expected to hit, so let's get these animals out of the shelter now.'"
"When our friends down [South] run into problems like this ... we feel a great obligation to step in and help."

—David Dinger, The Anti-Cruelty Society
After HSUS teams evacuated 100 homeless cats and dogs from the Greenville shelter, meteorologists predicted big impacts on the Charleston and Myrtle Beach areas. The Greenville shelter was soon filled with animals from those shelters, though not for long; after a successful adoption event promoting the Dorian evacuees, Greenville once again had space for animals from hard-hit coastal regions.
Evacuations before a storm hits are based on educated guesswork, and "there's always a wild card," Alboum says. "We all thought Dorian was going to be much worse on Florida and have less of an impact on the Carolinas, and it was the exact opposite. We ended up needing to move animals from the North Carolina coast."
But again, the shelter and rescue partners network provided the answer. "The HSUS Animal Rescue Team can't be in all places at the same time, but our network partners can be," Alboum says. "When there is a pivot, it's our partners on the ground that can get there first."
While HSUS first responders were stationed in South Carolina, Angels of Assisi, a partnering organization in Roanoke, Virginia, took in 77 homeless pets from the Lenoir SPCA in North Carolina, which was in danger of flooding.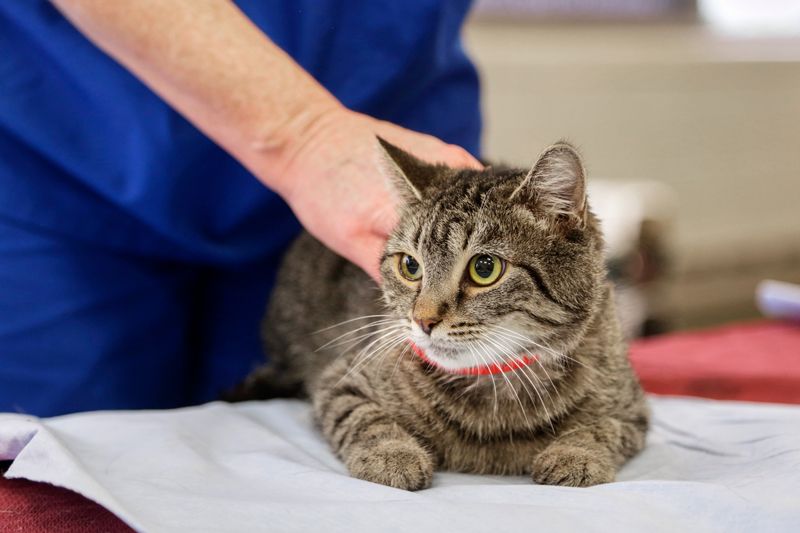 Altogether, Alboum and her team coordinated the transports of nearly 400 homeless shelter pets from Florida, North Carolina and South Carolina to partnering organizations in Illinois, Michigan, Virginia, Wisconsin and outside the storm's path in North Carolina.
One of the first organizations to receive Dorian refugees was The Anti-Cruelty Society in Chicago, whose staff and volunteers lined the street and cheered the arrival of rescue rigs carrying 63 cats and 26 dogs. Meanwhile, inside the shelter, foster volunteers waited to find out which animal they'd be taking home. Many of them had never fostered a pet before, says David Dinger, the shelter's vice president of operations, but were inspired by the call to help animals affected by a natural disaster "they see on TV but aren't in a situation to directly influence."
After years of taking in animals during the Atlantic hurricane season, Dinger jokes that he and his staff have stopped making Labor Day weekend plans.
But that's OK, he adds. "When our friends down [South] run into problems like this … we feel a great obligation to step in and help."