Summer's last splash
Canine pool parties raise money and community support for Maryland shelter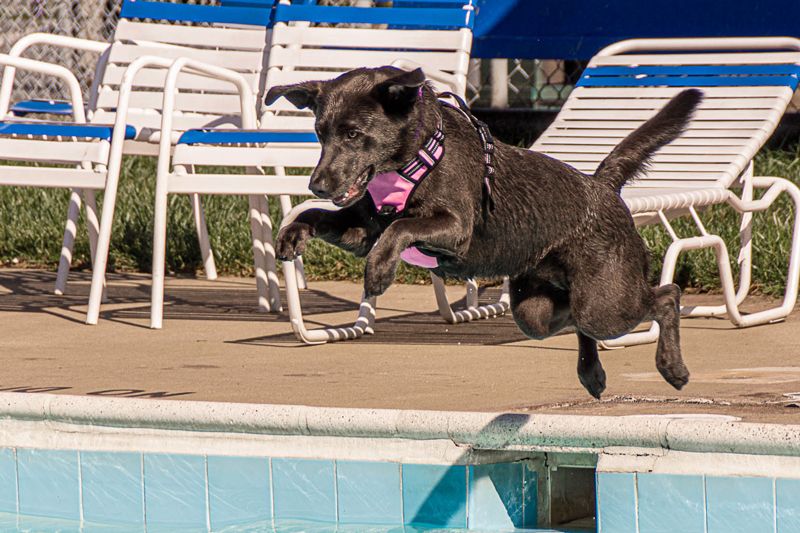 On the Saturday after Labor Day, people and pooches are lined up outside the city public pool in Hagerstown, Maryland, when one among the crowd decides he's waited long enough. Slipping through his collar, the border collie sidesteps the registration table and races up the concrete walkway. Just as he's making his way to the stairs leading to the clear blue water, a volunteer nabs him.
The dog, a longtime Pooch Plunge attendee, knew what fun was in store and was simply too excited to wait, says Colin Berry, executive director of the Humane Society of Washington County, which coordinates the annual event.
Soon after his thwarted attempt to skip the line, the border collie is in the water, joined by dozens of dogs of all breeds and sizes. The bolder pups take over the deep end, launching themselves into the water with athletic glee. More cautious types trot down a concrete ramp to paddle around in shallower waters. Some owners strip to their bathing suits and join them; others stand at the sides of the pool, tossing in toys, shouting encouragement and snapping pictures. Meanwhile, a handful of dogs, not in the mood for swimming, romp around a grassy stretch that borders the pool deck.
It's "fun chaos," says Katie Lingenfelter of nearby Martinsburg, West Virginia. This is the third year in a row that she and her husband, Justin, have attended with their rescue dogs Kyra and Gander.
"I just love it," says Tara Lyn of Sharpsburg, Maryland, clearly pleased to see her rescue dog Vesper leaping confidently into the water, something she says he learned by watching the other dogs. "He wasn't as brave last year."
Now in its 16th year, Pooch Plunge has become a beloved tradition for community members and shelter staff alike, says Noel Fridgen, the shelter's communications and digital fundraising manager. At the end of summer, the shelter holds one plunge at the city pool on a Saturday and a second on a weeknight at the county pool, netting about $2,000 between the two events.
Along with raising money, Pooch Plunge creates "that sense of community that brings people together," Fridgen says. "It's an opportunity to educate people about the humane society, get them involved in our events, add them to our mailing list, get them coming to different events or signing up as volunteers." And since dogs and people cavorting in a pool provide endless photo ops, free publicity is almost guaranteed. This year's Pooch Plunge nabbed the front page of the local newspaper, Fridgen reports, and once the event photos are posted, traffic to the shelter's social media pages soars.
Among the attendees at this year's event is a blonde terrier-spaniel type who came to the shelter in 2018 with seven other dogs rescued from a South Korean dog meat farm. This is Honey's first Pooch Plunge, and while she's showing no interest in the pool, her owner, Greg Rotz, is thrilled. "She's letting perfect strangers pet her," he exclaims.
For humane society staff members, reconnecting with pups who once resided in their shelter is a highlight of the event, Fridgen says. "It's great to see them again having fun and living life the way they should."