A topping of pupperoni
Upstate New York shelter teams with local pizzerias to promote adoptable animals
Some people prefer extra cheese or peppers and onions on their pizza. But the Niagara County SPCA in Niagara Falls, New York, thought outside the pizza box, enlisting local pizzerias to promote its animals by putting adoption flyers on takeout and delivery orders.
Kimberly LaRussa, the shelter's director of community engagement, came up with the idea after reading about a New Jersey pizzeria that puts flyers for lost dogs on pizza boxes.
"I thought, who doesn't love pizza, and who doesn't want to help dogs?" LaRussa says.
She reached out to her friend Mary Alloy, who owns Just Pizza in nearby Amherst and has a passion for animal rescue. After the Pizza + Pups program launched in February, the shelter saw an uptick in visitors, adopters and fosters, as well as a surge of traffic to its website and social media channels.
"It just kind of exploded on social media," LaRussa says. Before long, Pizza + Pups was being featured on Good Morning America, CNN, BuzzFeed and other news outlets. The shelter has since expanded the promotion to include cats.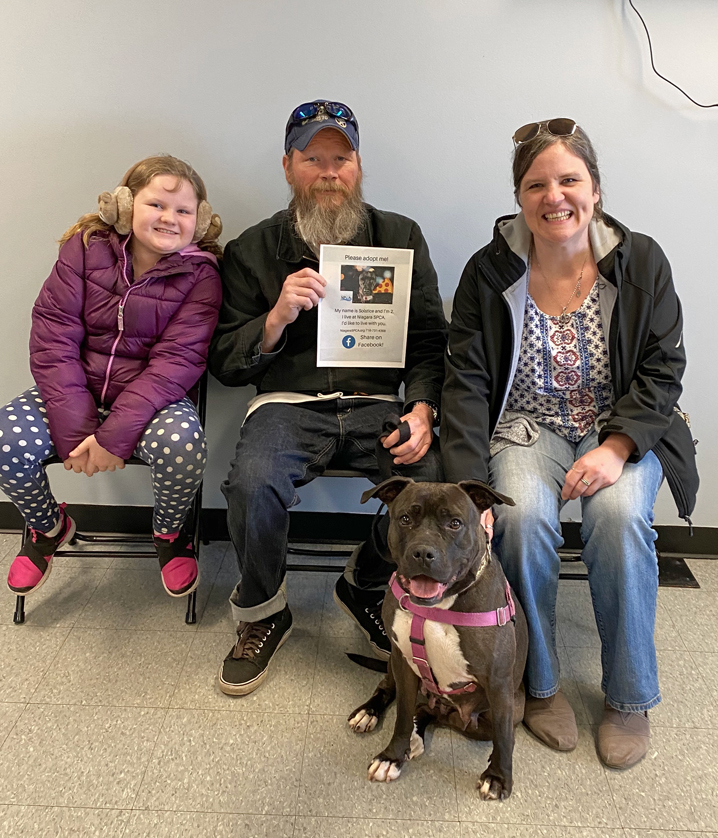 While LaRussa doesn't know how many adoptions were a direct result of the pizza box flyers, she believes the heightened publicity for individual animals has had an impact. "Many people who receive the box then share that photo on social media or with their family and friends, and then awareness spreads about the dog," she says.
Soon after the shelter created promotional T-shirts and sweatshirts for the program featuring Hooch, a mastiff-mix and longtime shelter resident, Hooch was out of his kennel and in a home. "I don't believe it was coincidence that shortly after the pizza box promotion and Pizza + Pups T-shirt promotion that he was adopted by a wonderful couple," LaRussa says. "His face was literally everywhere."
For a 3-year-old dog named Solstice, pizza box stardom served as a nudge to her future family. Marnie Aldrow of Sanborn, New York, had seen Solstice at the shelter in January. Her 9-year-old daughter fell in love with the dog, but the timing wasn't right.
"When we came back from vacation in March, we were like 'Oh my gosh, holy cow' and started panicking when we saw that she had been put on a pizza box," Aldrow recalls. "We rushed to adopt her before anyone else could."
LaRussa typically prints and delivers about 300 flyers to Just Pizza each week. Since the program's inception, several other pizzerias and a printing company (which prints the flyers for free) have jumped on board. The Little Bakery in Niagara Falls has even put the flyers on its bread bags.
Other shelters have contacted LaRussa about the program. Her advice? The costs are minimal, so give it a try.
"All of us who work at shelters get so busy, but we all need to figure out creative ways to get these dogs and cats adopted on a regular basis," LaRussa says. "That's what I try to do in my job ... figure out what crazy ideas I can come up with to get these animals out of the shelter and into a beautiful home."