Career spotlight: Public policy advocates
Public policy professionals lobby for the legal protections that animals deserve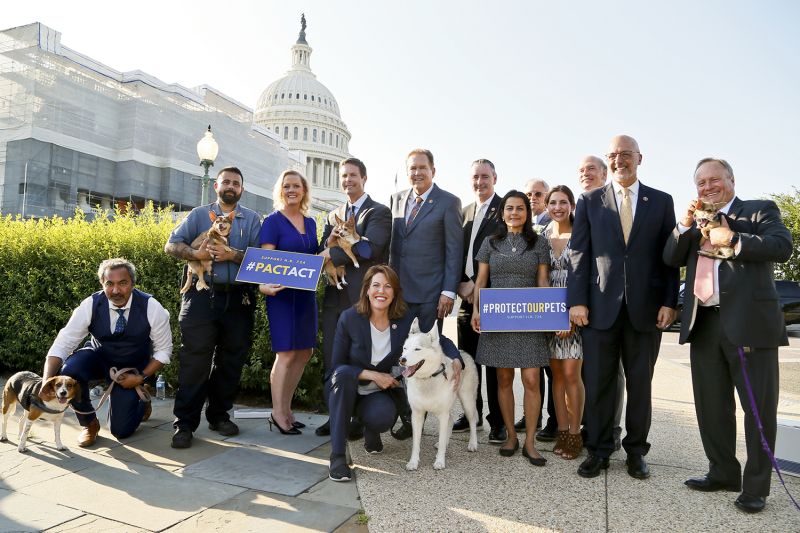 Like many young animal lovers, Marie Claire Langlois wanted to be a veterinarian when she grew up. She didn't know of many other career opportunities in animal welfare.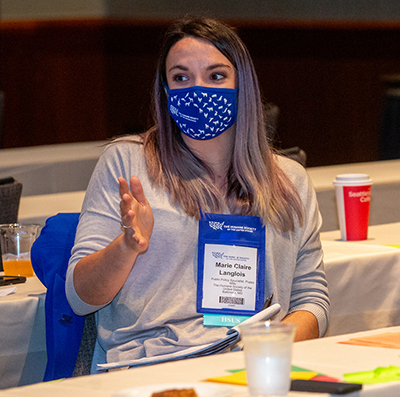 Her dreams were dashed when she realized she didn't have an interest in science. So after college, she worked in media advertising. Later she attended law school, which led to a job at an insurance defense firm. Still, animal protection was where her heart was at. Over the years, she'd volunteered at local animal shelters but had an aching feeling that she wanted to do more.
In 2019, that feeling led her to apply for a fellowship in the Animal Protection Law department at the Humane Society of the United States. She wasn't the typical applicant: She wasn't fresh out of law school and didn't have experience in animal law. But her background in litigation and consumer protection law paid off, particularly when it came to battling the puppy mill industry. After working as a fellow, she was hired as a public policy specialist for the HSUS Stop Puppy Mills campaign.
That was a year and a half ago, and Langlois has since helped pass humane pet store ordinances in cities and counties such as Lexington, Massachusetts and Orange County, Florida.
Jumpstarting your career
Careers in animal welfare public policy can be fast-paced and keep you on your feet. On any given day, you may be meeting with legislators and other government officials, helping to draft legislation, testifying before committees, mentoring local advocates, building support for bills, raising public awareness or researching issues.
For Laura Hagen, HSUS captive wildlife campaign director, a career in animal welfare public policy started shortly after she moved to Massachusetts in 2004 and began volunteering in the animal welfare field. She'd volunteered at shelters in the past fostering animals, cleaning kennels and walking dogs so this time she tried a new kind of volunteer work: collecting signatures for a ballot initiative to end greyhound racing in the state. Hagen was immediately hooked.
She got a job at the MSPCA shelter in Boston before moving to the organization's public policy department, then went to law school where she focused on animal and environmental law. Next, she spent three years as HSUS Massachusetts state director, working to pass laws in the state on a variety of animal issues including banning the cruel confinement of farm animals, ending the sale of puppies in pet stores and protecting wildlife. Today, she uses her expertise to end the exploitation of captive wild animals in entertainment.
Like Hagen, many public policy professionals entered the field as interns or volunteers. It's a good way to gain experience, make professional connections and decide if you like the work before pursuing it as a career, Langlois says.
Others got their start by tackling an issue close to home, such as by working to pass a local ordinance to end the sales of puppy mill dogs in pet stores or to bar traveling wild animal acts from their communities.
Working on local measures can give you "a really good sense" of what public policy work entails and make you a stronger candidate for paid jobs in the field, Langlois says.
A law degree can certainly be an asset when applying for public policy jobs, but many jobs do not require it. Skills in communication and research, and knowledge of animal protection issues and the legislative process can help you stand out as an applicant.
Entry-level jobs in public policy can help you gain experience and give you a competitive edge. Most national animal advocacy organizations and many large shelters have staff who specialize in public policy, but if you're having trouble finding the right job at an animal welfare organization, you can get experience by working on public policy for another nonprofit, such as a social justice or environmental organization, or working on legislative issues in a government role. Working in Congress or your state legislature can show you "not just how [public policy] works on paper, but how it really works," says MSPCA director of advocacy Kara Holmquist.
"When we go to legislators, we're not just saying, 'We think you should do this.' But we're saying, 'We think you should do this because we see this when we're out … in our community.'"

—Kara Holmquist, Director of advocacy, MSPCA
Challenges and rewards
For Hagen, the most rewarding aspect of her job is the potential to make an impact for a large number of animals. "The big wins can make a very big difference," she says. She also likes that the public policy field is dynamic. "Issues change, the way we talk about them changes, the people we're talking to change, the people in power change."
Working with like-minded people, forming partnerships for a common goal, is another positive aspect of the work. During her time as the Massachusetts state director, Hagen enlisted the support of shelter and rescue organizations to help pass a range of reforms, including legislation that was enacted in 2021 that protected millions of egg-laying hens from lives in battery cages.
Of course, trying to change the status quo brings its fair share of frustrations. Legislative victories seldom come quickly: The Massachusetts greyhound ballot measure Hagen first worked on as a volunteer in 2005 didn't pass until 2008—the third time advocates collected enough signatures to put the issue on the ballot.
Progress is often incremental, so persistence and resilience are key. "Maybe the first session, a bill doesn't even get out of committee. The next session, maybe it gets out of committee and gets through one chamber," says Hagen. "As we continue to see progress, we know we're making the case, we know we're bringing more people on board."
Tangible impact
At the MSPCA, Holmquist and her team see the impact of their efforts up close, through the experiences of their colleagues in the organization's adoption centers, animal hospitals, and cruelty investigations and law enforcement department. Holmquist says having colleagues doing hands-on work helps her better understand the problems they're facing and how policy changes can be part of the solution, such as passing laws that help fund spay/neuter surgeries or increase enforcement of animal protection laws.
The hands-on work of her colleagues also lends her more credibility when she talks with legislators. "When we go to legislators, we're not just saying, 'We think you should do this.' But we're saying, 'We think you should do this because we see this when we're out … in our community,'" Holmquist says.
When all that time spent lobbying legislators, encouraging citizens to take action, collaborating with like-minded organizations and researching animal welfare issues finally pays off, Hagen says, it "really makes all the blood, sweat and tears worth it."