The cats in the hats
Fashionable felines turn heads and attract adopters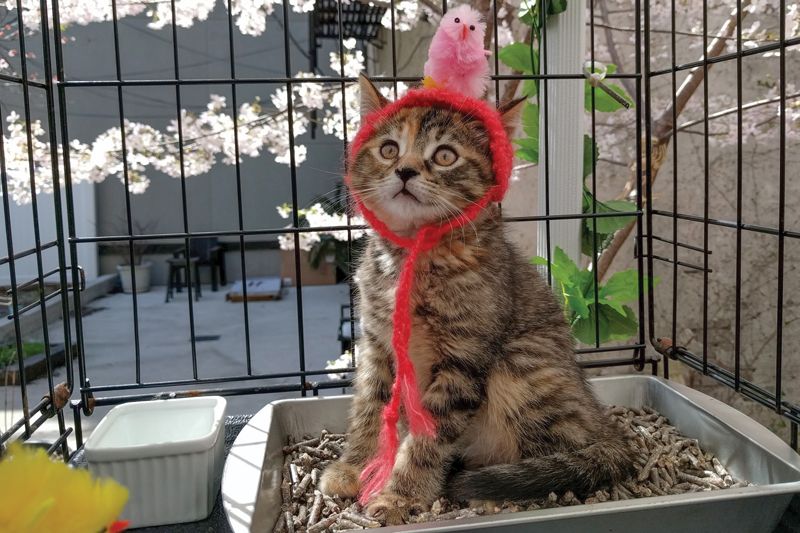 While New York Fashion Week was wrapping up in mid-February, adoptable cats in Brooklyn were making their own fashion statement—modeling colorful bonnets in styles that ranged from the whimsical to the avant-garde.
Photos show Stevie in a coral number with an artificial bird atop and Munchkin in a pumpkin-hued headpiece topped with a knitted taco. Peaches rocks the retro look in a frilly mob-cap, while solid-black Mooney is the picture of classic elegance in an understated olive-and-taupe cap.
It all started when Janice Purvis, a volunteer with Bushwick Street Cats, attended the Women's March in Washington, D.C., in January and saw crowds of people wearing pink hats with cat ears. After she returned home, she had an idea: "Wouldn't it be hilarious to knit small pussy hats for cats?"
Her friends loved the hats, and Purvis' own cats didn't seem to mind wearing them, so she expanded her designs and brought them to weekend adoption fairs at a local pet store, where Bushwick Street Cats, North Brooklyn Cats and Whiskers-a-GoGo showcase their foster kitties. Volunteers with all three nonprofits wanted cat bonnets (or "kitten lidz," as some call them) for their fosters, and a new trend in feline knitwear was born.
Purvis' brother-in-law, Chris Glazier, who co-founded Bushwick Street Cats, admits that his initial reaction to the hats was less than enthusiastic. "I didn't really appreciate maybe the utility of them," he says. But he later saw that there was "a real synergy" between the hats and his group's efforts to publicize adoptable kitties.
While it's too soon to gauge the impact on adoption numbers, there's been a marked increase in foot traffic at adoption fairs. "People are coming in just to take pictures and text them to friends," Purvis says. "People are excited and laughing."
The cats, on the other hand, seem largely indifferent to their headgear, which Purvis attributes to the hats' lightweight, ear-friendly design.
Purvis took up knitting 15 years ago but had never thought to combine her hobby with her passion for animal rescue. Now she spends her morning and evening commute on the train churning out more cat bonnets, and she recently began selling her creations to raise money for Bushwick's trap-neuter-return and rescue efforts.
"This is so rewarding to me," she says. "It's a break from harsh reality [and] the horror stories you hear about animals."
Meanwhile, photos of cats in bonnets have become the most popular (and shared) content on Bushwick Street Cat's Facebook page.
"Who doesn't like a cute picture of a cat?" Glazier asks. And if she's wearing a cute hat, "that much better. It gives us a little edge."