The changing face of community outreach
With the COVID-19 pandemic, HSUS Pets for Life team shifts tactics but retains core beliefs
The stories reach Amanda Arrington via text message these days: The immunocompromised hospital worker in Milwaukee who brought her spunky dog, Rusty, onto her porch to give a socially distant thanks when a Pets for Life team member dropped off dog food. The veteran with four dogs who was so appreciative of receiving food for his furry family in Washington state. The man from Los Angeles who sent a teary message of gratitude for the lifesaving eye surgery PFL facilitated for his cat, Bombay.
As senior director of the Humane Society of the United States' PFL program, Arrington is used to stories like these. In regular times—non-pandemic times—PFL works in underserved communities around the country, providing veterinary services and pet supplies at no cost to families who can't otherwise access them. During the coronavirus crisis, the work has shifted. During the months that states deemed spay/neuter services nonessential, Arrington's team pivoted to providing families with pet food in addition to emergency veterinary care and supplies. The work looks different, with contactless drop-offs and exchanges via text message rather than the door-to-door, face-to-face approach that PFL has used for more than 10 years. The goal, though, is the same: to keep pets in their homes, with the families who love them.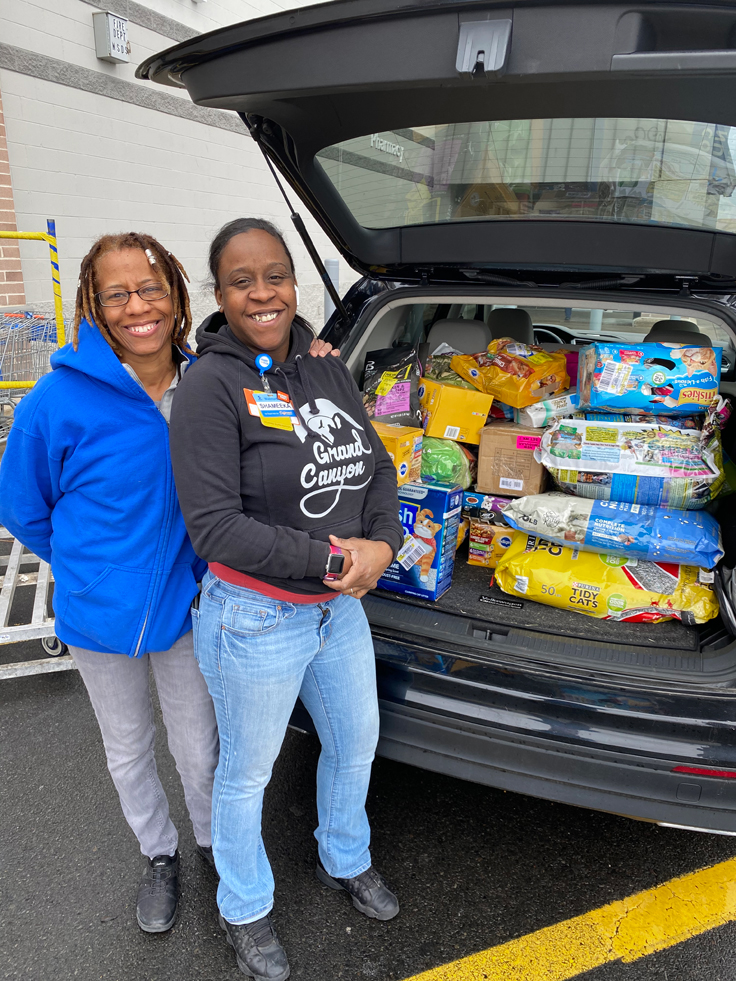 That goal drives the HSUS's COVID-19 response, says Kimberley Alboum, director of shelter outreach and policy engagement. Pets bring us comfort and joy, especially in crises. "The worst thing could be for people to have to give up their pets over veterinary care or food when we as an industry have the ability to supply that," Alboum says.
During the pandemic, Alboum's team—which manages the HSUS Shelter and Rescue Partner program—has pivoted from arranging pet transports and facilitating shelter mentorships to ensuring that communities have the resources they need to support pets and their families.
Thanks to a generous donation from the Alex and Elisabeth Lewyt Charitable Trust and contributions from HSUS supporters, the HSUS distributed funds to hard-hit areas, partnering with local organizations to help pet owners struggling due to lost wages and economic insecurity.
In some ways, the crisis hit at a time when the sheltering community was prepared for it. Over the past 10 years, says Alboum, "the shelters, the rescues, the national groups have worked so hard on messaging: spay/neuter, spay/neuter, spay/neuter. And guess what? It worked." Many shelters had a manageable number of animals and got them into foster homes quickly, or required only a small staff to continue operating. Cities with PFL mentorship partners had already developed close ties with their communities, and they could build on that trust to connect with residents in need.
Arrington and Alboum both see the PFL model as the way forward: trusting people to act in the best interests of their pets, and giving them the tools they need to do so. Enabling shelters and rescues to serve as community hubs, offering resources to local families. Many organizations have embraced this model during the crisis—and are finding that it works. "I don't think we will be able to—and I don't think that we'll want to—turn our backs on those lessons that we've learned and what we've seen is possible," says Arrington.
As paychecks disappeared and jobs dried up, so many people discovered that they were one crisis away from not being able to afford resources for their pets. Working together, though, the HSUS and local groups are helping to prevent an even more widespread access-to-care crisis—and, says Arrington, illustrating that people everywhere want only the best for their pets. "And that has been something to hold on to."