Delivering the right message
Since 2009, the Shelter Pet Project's upbeat ads have helped normalize adoption
"So I just moved in with this family, and it's embarrassing—the little one, he likes to go outside and crawl around in the giant litter box. I don't know what he's doing. I mean, I was born and I knew how to use the litter box," narrates the cat on the screen.
A giant litter box? Not quite. In the background, you see a child playing in a sandbox.
So begins an early Shelter Pet Project ad, typical of the initiative that aimed to portray adoption and shelter pets in a new light.
"It was with tongue in cheek and hilarity, but it was also just to get people thinking," says Sharon Fletcher, Maddie's Fund director of marketing and communications.
Since launching in 2009, the Shelter Pet Project, an adoption awareness campaign of the Humane Society of the United States, Maddie's Fund and the Ad Council, has used positive and heartwarming messages to promote adoption as the first choice for families seeking a pet. Groundbreaking in its early years for both its upbeat approach and national scope, the effort has helped adoption become the norm over the last decade—and inspired hundreds of thousands of adoptions.
From 2015 through 2017 alone, the Shelter Pet Project led to more than 357,000 adoptions in the United States, according to an advanced statistical model that measured the campaign's impact. (This type of analysis, called a media mix model, is routinely used in media and advertising to quantify the influence of marketing efforts.)
From 2015 through 2017 alone, the Shelter Pet Project led to more than 357,000 adoptions.
Research from the Ad Council also shows an increase in the public's awareness and consideration of adoption. Although this can't solely be attributed to the Shelter Pet Project, the campaign has had substantial reach. From January 2014 through May 2020, the project's website had more than 13 million visits and more than 2 million pet searches, and it has more than 289,000 followers on Facebook.
"I think it was a really important campaign to help provide a sea change," says Betsy McFarland, principal at consulting company Adisa. As former vice president of companion animals at the HSUS, she helped launch the campaign.
"We can't take credit for all that's happened in animal welfare—clearly a lot of people are working really hard to solve all of this," adds McFarland. "But it was good to be a part of it and to bring something new and different in terms of this type of marketing to the cause."
The collaboration of two national animal welfare organizations, the HSUS and Maddie's Fund, and the Ad Council, which is responsible for major social awareness campaigns like "Smokey Bear" and "Friends Don't Let Friends Drive Drunk," resulted in a powerful combination of resources and reach.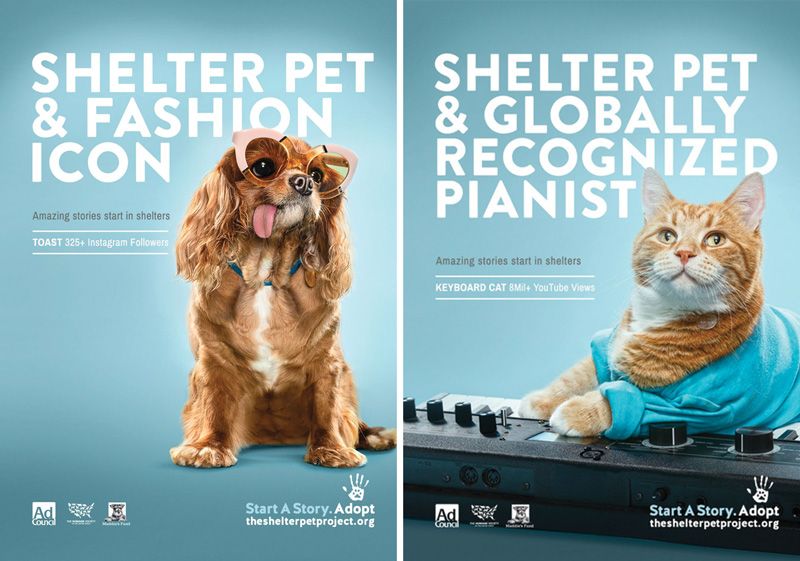 Through PSAs, billboards, bus shelter ads, social media promotions and more, the Shelter Pet Project not only raised awareness about adoption but also directed people to its website, where they could search for adoptable pets near them.
"It provided an opportunity for local organizations, without having to extend resources or do anything, to benefit from a big, national marketing campaign that was ideally driving potential adopters to their doorstep," says McFarland.
When the Shelter Pet Project started, adoption was gaining traction, but there was still a stigma that shelter pets were damaged, says McFarland. Its first campaign, "There's Nothing Wrong With Shelter Pets," aimed to combat this idea in a humorous and positive way.
This wasn't common in 2009—adoption messages were "relentlessly sad," says Christie Keith, social media and communications consultant for the Shelter Pet Project.
This "warm and friendly approach" to messaging has worked and has remained constant throughout every campaign, says Hannah Strashun, campaign director for the Ad Council.
Every year or two, the Shelter Pet Project comes out with a fresh campaign to recapture the public's attention and match evolving attitudes about adoption. The Ad Council develops campaigns based on research and interviews with a target audience, and involves advertising agencies that provide pro bono work, says Strashun.
From the beginning, the Shelter Pet Project has leveraged the power of social media to reach a wide audience, and it has collaborated with companies like Disney and MTV. (The latter partnership included a "Pupparazzi Pen" full of puppies at the MTV Video Music Awards.) It's also worked with celebrities—both human and animal.
Part of its "Start a Story. Adopt." campaign in 2016 featured social-media-famous pets like the piano-playing Keyboard Cat and party-going Hamilton Pug. Its current campaign, #AdoptPureLove, highlights the bond between shelter pets and their people, with help from actress Olivia Munn and football player Logan Ryan.
The project strives to have its ads feature, and target, people of diverse races, ages and backgrounds.
"One of the things that's been incredibly important to us is reaching communities of people who aren't traditionally the recipients of adoption messaging, particularly who weren't being reached out to 10 years ago," says Keith.
Throughout its first 10 years, the campaign focused mainly on adoption. But since 2019, it has broadened its social media messaging to include fostering, offering a glimpse of how the initiative may evolve over the next decade.
"Our goal was to make adoption from shelters and rescues the first and obvious choice for people who wanted to add a pet to their family," says Vicki Stevens, who oversees companion animals communications for the HSUS. "And in many ways, we've reached that goal."