The healing powers of horses
United Neigh program pairs equines with at-risk youth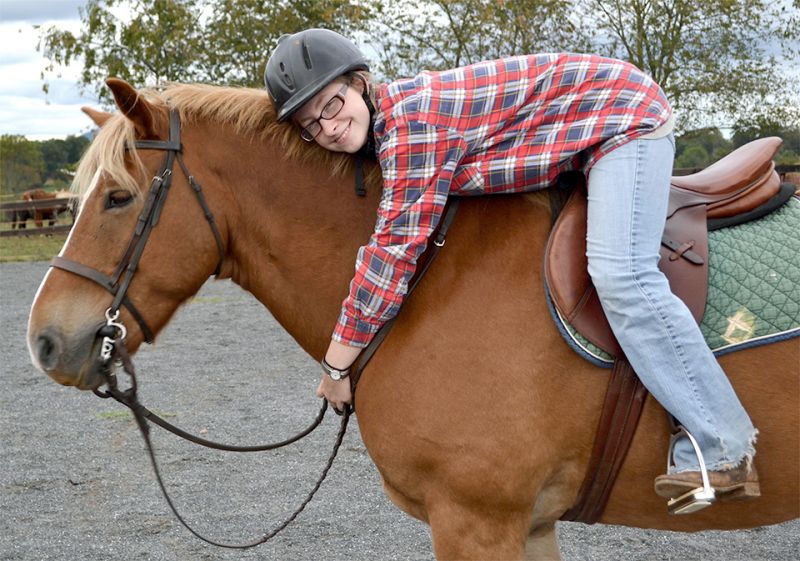 In rural Virginia, against the backdrop of the Blue Ridge Mountains, a horse named Sid was starving. Nearby, a teenage girl was struggling with anorexia. They both needed to be rescued.
They met at Brook Hill Farm, a nonprofit horse rescue, and found healing together through a program called United Neigh, which encouraged each of them to maintain a healthy diet. Founded in 2001 in Forest (a rural suburb of Lynchburg) and accredited by the Global Federation of Animal Sanctuaries, Brook Hill Farm has helped about 450 horses find homes, while its United Neigh program has paired horses with at-risk teens to teach valuable life skills.
The program for at-risk and disabled students ages 12-18 wasn't part of the organization's original plan. While Brook Hill Farm was established to help unwanted horses, its groundbreaking youth program was born out of necessity. It evolved out of compassion.
"We needed help, so we invited some inner-city youth to come and be our labor force," recalls Jo Anne Miller, the nonprofit's executive director, who co-founded the rescue with her husband, Jay. "We realized that most of the youth were failing high school and loved working with the horses."
Miller, who has a degree in education, decided to require the youths to get good grades if they wanted to interact with the horses. "We brought in volunteer tutors and soon realized that their grades were improving and that they were realizing the importance [of] education," she says. "The youth were able to relate to the rescue horses, and we incorporated equine-assisted learning to help them with their problems."
That same compassion is given to its horses, who are mostly from owner surrenders and county seizures. Working with veterinarians, farriers and other professionals, staff and volunteers create rehabilitation plans based on each horse's needs. After receiving recommended medical treatments, the horses work with interns to regain strength and mobility. Once they become sound in hand, the horses are worked under saddle. Finally, they return to doing what they were trained for and are re-evaluated by a committee.
During their rehabilitation, the horses also work with students in the United Neigh program. "Each youth is assigned their own project horse, and they work with that horse, keeping records of their progress," says Miller. "Once the youth is done with their work, the horse is available for adoption."
Many are adopted and able to return to various disciplines, including show jumping, cross country and dressage. Those who aren't able to return to their former "jobs" are taught new skills and begin working with children and adults as part of the farm's equine-assisted activities. Horses who are unable to continue to work are given a permanent retirement on the farm.
Attending the program twice a week, students bond with horses with similar issues. For instance, if a teen has been bullied or physically abused, she'll likely be teamed up with a horse who has also been abused. Together, they build confidence through discipline, care and teamwork. All of the 100-plus students who have completed the program have graduated from high school—or obtained GEDs—and continued their education at colleges or trade schools.
One student whose life changed is "Britt" (a pseudonym). She tried to escape a violent home through drug use and acting out. "I was angry about my life … and the school system recommended me for the program. Brook Hill has taught me that only I am responsible for my life and that I can overcome my past; I make the choices, and good choices are better," she says.
Now in her late teens, she also learned the value of hard work. She has been very successful in Pony Club and says it "was hard work and good choices that led to my success."
Another success story is "Kyra" (also a pseudonym), who will remain in the program until she gets her GED. A home-schooled student with an unplanned pregnancy, she joined the program "to be more social" but found more than friendships. "At Brook Hill, I got the help I needed to do better in school," says Kyra, who is now in her early 20s. She has a learning disability but has completed a nursing assistant certificate and is close to completing the requirements for her GED. "I am now making better choices," she says.
Miller, who spoke at the 2015 Homes for Horses Coalition Conference sponsored by The HSUS, ASPCA and Animal Welfare Institute, says that what brings her the most joy from the United Neigh program is the healing. "I think that watching the youth and horses heal together is the most rewarding experience."
There's no doubt that Britt, Kyra and other United Neigh students would agree. Kyra sums up the feelings of many of them. "Horses are the best teachers," she says, "and Brook Hill is my family!"