Humans of Animal Advocacy: Dr. Don Popa
California veterinarian achieves 200,000 spay/neuter milestone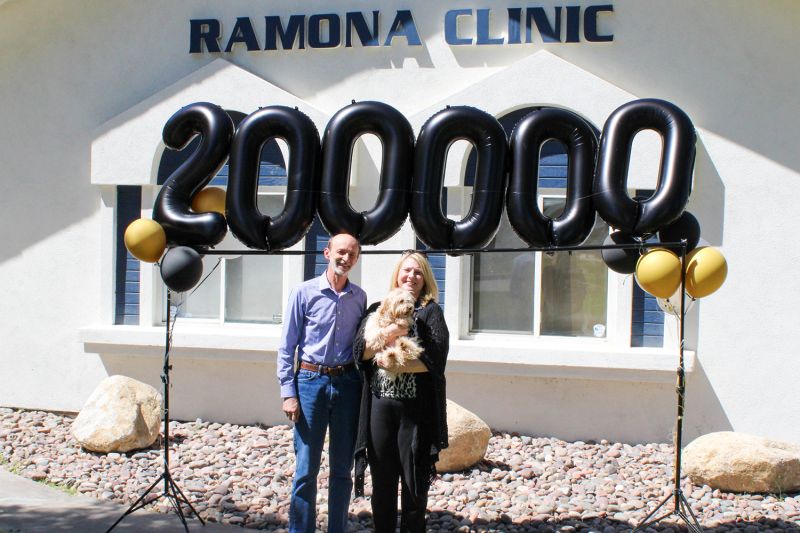 Back in 2009, after Dr. Don Popa performed the 100,000th spay/neuter surgery of his career, the then-55-year-old told Animal Sheltering magazine, "I really want to complete at least another 100,000."
He wasn't joking. Popa, who's the spay/neuter clinic veterinarian at Ramona Humane Society in San Jacinto, California, hit the 200,000 spay/neuter mark on April 21. He spayed Sophie, an 8-month-old Yorkipoo brought in by Lisa Blanchet of nearby Hemet, California, who co-owns the dog with her mother.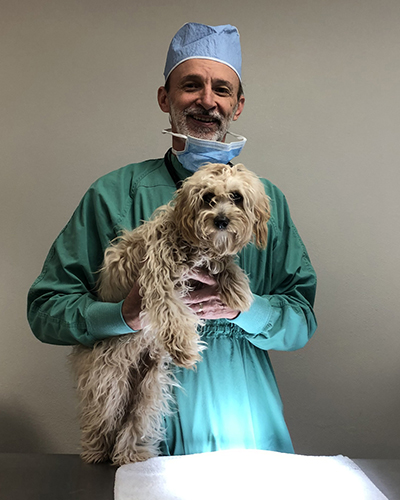 As Popa left for the day, a crowd outside the clinic, including Ramona Humane Society staff and board members, lined the walkway and applauded. Large black balloons spelled out "200,000."
Popa calls his latest milestone "a very nice accomplishment" but concedes that when he first turned his focus to spay/neuter surgeries, he had an even bigger goal in mind: a quarter million sterilizations.
That might not be realistic anymore, admits Popa, who turned 68 this month and would likely need at least four years to do another 50,000 surgeries. (Assisted by two veterinary technicians, he averages around 40 spay/neuters a day.) But every surgery brings him closer to that goal, and in the meantime, he says, "I feel very good about 200,000."
From Romania to Ramona
Growing up in Romania, Popa felt a connection to animals, eventually attending trade school to become a veterinary technician and then college to become a veterinarian. He defected to the United States in 1985 and applied for political asylum, spending about seven years sorting out his legal status in the U.S., sometimes working odd jobs such as gardening and cleaning houses. Once he got a work permit, he found jobs as a kennel attendant and a vet tech at an emergency clinic in California.
Popa's veterinary license from Romania wasn't recognized stateside, so he needed to pass a series of exams to practice in the U.S. He recalls a "really harsh" weeklong final exam in Oklahoma that helped him realize he had an aptitude for spay/neuter.
A hands-on portion of the exam required Popa to spay a dog, but he had a mishap: The tissue on an ovary tore off, and he lost the stump before he had a chance to ligate it. But he kept his cool, retrieved the stump and stopped the bleeding. Among his group of three students doing spay/neuter surgeries, he finished first.
"That was a very big incentive for me to [say], 'I think I'm dedicating my life to just spay/neuter.'" 

—Dr. Don Popa, Ramona Humane Society
The stumble left Popa frustrated and fearing he might fail the test, but a veterinarian supervising the exam saw things differently. "He said, 'This is not a bad thing that happened to you. To me, this proved that you are prepared for any kind of emergency,'" Popa recalls.
After passing that test, plus the national board exam and California's state exam, he began working as a relief veterinarian in California's Palm Desert region in the 1990s.
In 1997, Popa started working one day a week for the Animal Action League in San Bernardino County. He admired the dedication of the league's founder, Jordin Kuecks, and the nonprofit's mission of bringing low-cost spay/neuter services to areas of high need and animals who typically had never received any veterinary care.
He again saw the problems of overpopulation—animals "coming in from all over the place," sometimes being euthanized when adopters couldn't be found—when he took a full-time position at the Riverside County Department of Animal Services in California in 1997. "That was a very big incentive for me to [say], 'I think I'm dedicating my life to just spay/neuter,'" he says.
In addition to his job with Riverside County, he filled in at several organizations in the region for a time, sometimes working seven days a week. He accepted a permanent position at Ramona Humane Society in 2004, which is where he has completed about 140,000 of his 200,000-plus career spay/neuter surgeries.
The road to 200K
Not surprisingly, Popa says efficiency is key to racking up large numbers of spay/neuter surgeries. He realized early on that he was pretty quick with a scalpel.
When he started at the Animal Action League, he was asked how many daily surgeries he could handle. He had no idea, but he threw out a number: 35. He thought he might need eight to 10 hours, but he finished in about six.
"And that only improved from there," Popa says. "I had days when I did 105 surgeries in one day."
"Never challenge him," says Ramona Humane Society president and CEO Jeff Sheppard with a chuckle.
"And he just kept telling us, 'Bring 'em, bring 'em' ... and he did 106 animals in that one day. And went home for dinner, and the dogs and cats all went home that night."

—Jeff Sheppard, Ramona Humane Society
In the wake of a 2008 flood caused by a burst pipe in the clinic, for instance, the shelter borrowed a spay/neuter mobile unit that supposedly couldn't handle more than 35 animals a day. "Dr. Popa was like, 'Watch me,'" Sheppard recalls. "And he just kept telling us, 'Bring 'em, bring 'em' … and he did 106 animals in that one day. And went home for dinner, and the dogs and cats all went home that night."
Sheppard, who has worked with Popa for nearly 20 years, believes it's the results that keep his friend going. Euthanasia was all too common when Popa began at Ramona Humane Society, Sheppard notes, but now the shelter has seen its intakes drop and its live-release rates soar. "I don't even know if we can measure the impact that Dr. Popa has had on this humane society and the community around it," Sheppard says.
While his spay/neuter numbers may be eye-popping, Popa has a straightforward view of the value of his work. "What I find rewarding about it is the idea that the more I do, the less [animals] are gonna be born, and the less suffering [will be] out there," he says. "That was my drive for doing this."