The long road
Meeting the animal welfare challenges of low-income rural communities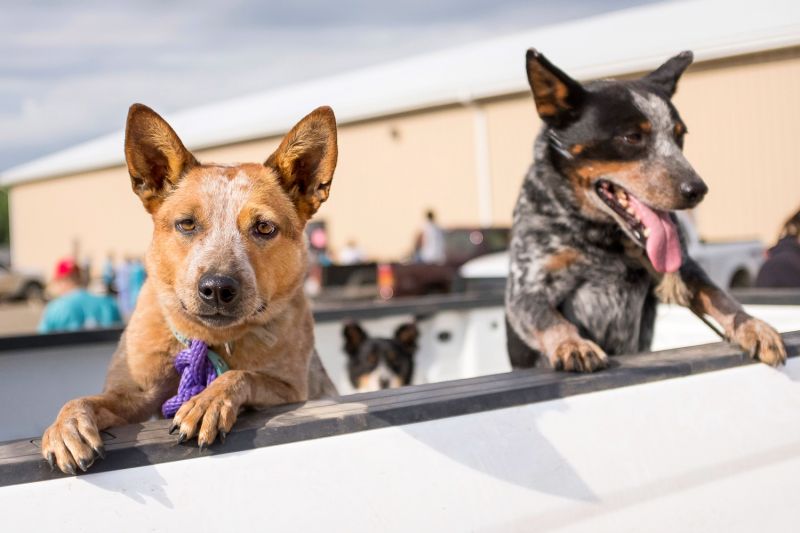 Where to even begin?
If you're a rural shelter, or an organization with the capacity and desire to bring services to rural areas, the challenges of low-income, rural communities—from the difficulties individual people and animals face to overarching population and zoonotic disease control—can feel insurmountable.
"It's this cycle that happens when a family or community doesn't have access to basic [veterinary] care, so then animals aren't vaccinated or spayed or neutered, so then they're more likely to be impacted by disease or have unwanted litters, which piles on additional expense and stress," says Windi Wojdak, senior director of Rural Area Veterinary Services, a nonprofit veterinary outreach program of the Fund for Animals and the Humane Society of the United States. "If there's a shelter, all of those impacts are being seen at the shelter."
In rural areas, rescuers say these access-to-care issues are caused or compounded by difficulties like few or no veterinary and pet supply resources; if a shelter exists, there's little or no foot traffic by potential adopters, no animal control budget, dated facilities and limited hours, including some shelters left unstaffed over the weekends; a lack of pet wellness, foster care, enrichment, community cat and marketing programs; and significant anger and sadness among local animal advocates who perceive little progress despite their years of work.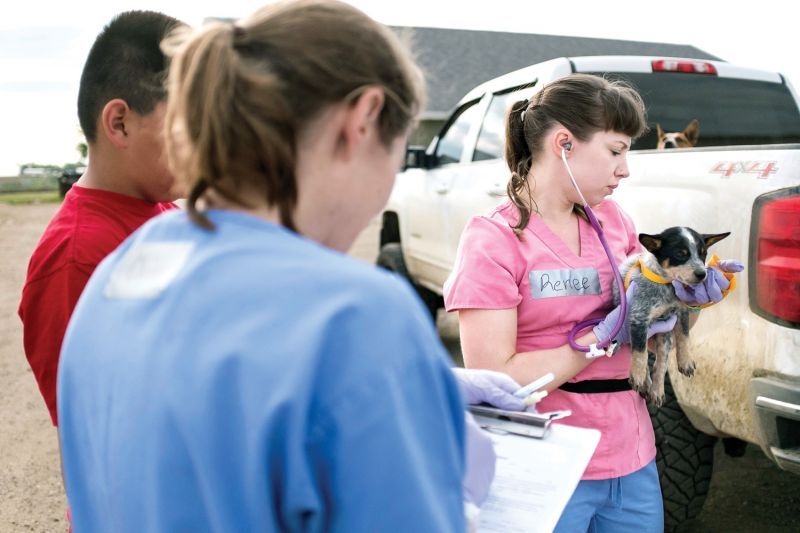 Having provided vet care in these challenging areas for over 25 years, mostly through pet wellness clinics, Wojdak has learned to "start with what's achievable." She measures available resources against the community's priority needs by working closely with potential partners like community leaders, social services, any veterinary or sheltering presence in the area, and local pet owners.
It might be that broad spay/neuter or emergency care are paramount, or that— in communities where humans plagued with flea bites aren't uncommon and large numbers of pets have never received a rabies shot—less resource-intensive services like vaccinations or parasite control might initially be most impactful.
"It might not be fixing everything all at once. It might be really a long, slow process," she says. "But we start in that corner and with each action, each clinic, each event, each program, we're absolutely helping individual animals and building the base of what can become a community-wide project."
In fact, in remote communities, Wojdak says it's best not to expect big, fast change: The animal welfare professionals you'll read about over the following pages have put many years—often decades—of hard work into their respective communities, and they're not done yet.
"Many of the communities we work in, we're talking about a history of long-term systemic oppression and poverty. We as animal welfare professionals, we're not going to fix that," says Wojdak. "Being realistic about that is really hard and really important. It's this really slow thing where you look back 15 years later and say, 'Wow, things have really started to change in this small, incremental way.' It might not be the glorious end story yet, but that progress is happening."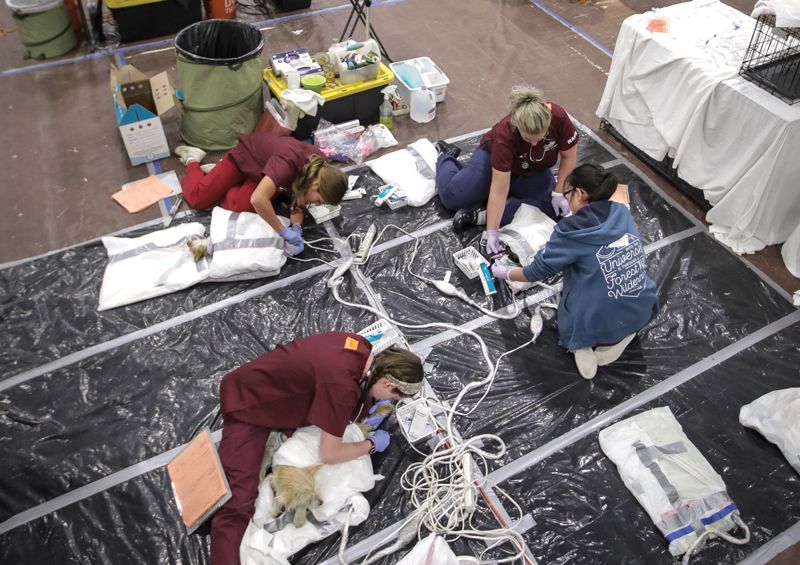 "Rural veterinary practitioners are the hardest working people in the world. It's a nonstop job."

—Windi Wojdak, Rural Area Veterinary Services
Outreach location: Union County, Tennessee
Number of households: ~7,000
Population density: ~35 households per square mile
Median household income: ~$27,000; ~20% of the population lives below the poverty line.
Executive director Tammy Rouse isn't mincing words: When she founded the Union County Humane Society in Maynardville, Tennessee, in 1996, "There was no veterinarian in this county and never had been. Stray animals were all over the place, and it was not uncommon on the drive from Union County to Knoxville to see at least five dead dogs on the highway."
Thirty-five miles north of Knoxville, Union County was comprised mostly of farmland, and "spay/neuter was a foreign concept." With no official shelter, Rouse first intended to raise money to subsidize spay/neuter efforts, but once word got around that a humane society existed, she quickly had people dropping off the county's sick and homeless animals at a board member's backyard barn and trailer. Before long, the makeshift shelter was taking in thousands of animals a year.
So Rouse reached out to veterinarians in the area, including Dr. Eric Davis, who was teaching at the University of Tennessee veterinary school at the time and had recently founded RAVS as a grassroots program that brought senior veterinary students to Native Nations reservations during summer breaks. She also met city veterinarian Hilrey Randolph and learned that he admired Union County's lakes. Rouse took that as an invitation to find him a suitable building for rent, and in 1997, Randolph opened the county's first veterinary clinic.
Meanwhile, Davis agreed to bring his high-volume spay/neuter equipment to Union County. Although Rouse was initially hesitant to do anything that might jeopardize the new veterinary clinic, Randolph was more than happy to lend his building for the operation, telling her, "I think this community stands more to gain than I have to lose."
(Rouse took the right approach by checking in with Randolph. Says Wojdak: "Rural veterinary practitioners are the hardest working people in the world. It's a nonstop job. Being realistic about what you're asking of a veterinarian or practice will help build those relationships and the trust that you're not going to be setting unrealistic expectations of what they can do," such as taking financial losses on surgeries, which isn't sustainable.)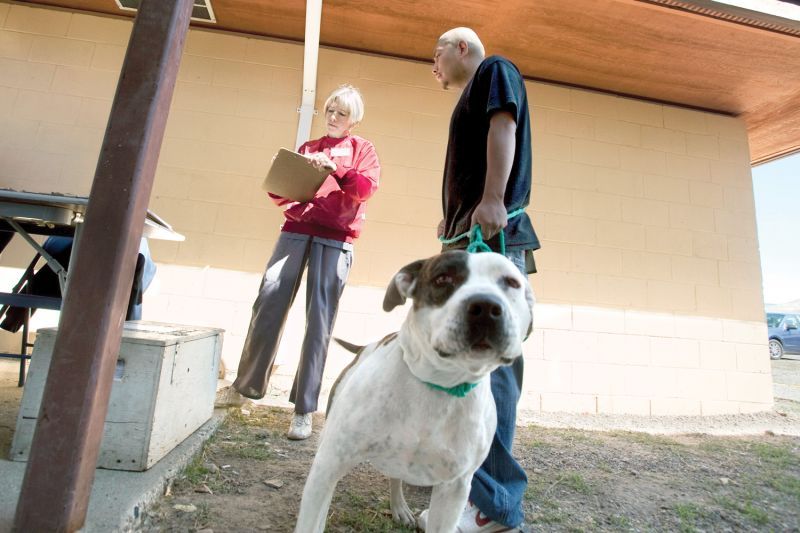 Rouse is a no-nonsense type who knows what needs to be done and gets on with it. But when she describes the county's first spay/neuter clinic in 1998, during which Davis and the RAVS team sterilized 98 animals over two days, there's a long pause while she checks her emotions. "The memories of that day ..." she finally says. Then she gets on with it. "Anyway. That's how it all started."
Over the next decade, RAVS held monthly high-volume spay/neuter clinics in Union County, and Rouse began joining Davis for weekend clinics in Tennessee, Georgia, Mississippi and Ohio. She kept folders of notes on sheltering approaches she liked and animal welfare professionals she admired, over time recruiting more board members, volunteers and two additional veterinarians. By the time Rouse felt ready to break ground on a new shelter facility in Union County, plenty of people were willing to help.
"We all just kind of pitched in and did what we could do and made it work."

—Tammy Rouse, Union County Humane Society
"We'd been putting our own money in this thing forever. Just what little bit of money we had, the volunteers and the board of directors … we all just kind of pitched in and did what we could do and made it work," she says. But then community members started showing up at the shelter's trailer with checks, offers of support, building supplies, equipment and other donations.
The tipping point was when a recently retired couple donated UPS stock, allowing the shelter to purchase 22 acres of land. Then a local architect reached out, sitting down with Rouse at a Hardee's fast-food restaurant and drawing up shelter plans on a napkin. The county upped its funding from $5,000 to $20,000 a year. And within two years, the Union County Humane Society was built—heated via a wood-burning water stove that runs on firewood donated by the community and chopped by officers and inmates from the local sheriff's office.
Union County now sterilizes over 1,100 animals a year through its weekly, low-cost in-house spay/neuter clinic, achieves 400- 500 adoptions each year through sites like Petfinder, mostly to adopters outside the county, and works with GoNorth Animal Transport Collaborative to transport hundreds more pets out of state. The county hired its first animal control officer in 2017.
It's the personal connections that matter, says Rouse—the mutual goodwill. She allows some pet owners to pay what they can, when they can for spay/neuter services, or makes deals: Bring your eight puppies to be fixed, and we'll spay their mom for free. One Christmas, a now-regular donor sent five single dollar bills in an envelope with a note: "I appreciate what you do, and I wish to God I could give more." While bigger organizations might focus on applying for grants, Rouse would rather she, her staffers and volunteers spend their limited time showing people what the shelter can do for them, making personal calls and writing thank-you letters. She believes it pays off.
"It was always 'we gotta do what we gotta do to keep these animals as healthy as we can and save the ones we can,'" says Rouse. "Some days when we're having pity parties and feeling sorry for ourselves, I just say, 'you know what, we've done a hell of a lot more with a hell of a lot less.' So it's a good feeling to be where we are right now."
Outreach location: McDowell County, West Virginia
Number of households: ~9,000
Population density: ~41 households per square mile
Median household income: ~$22,000; ~33% of the population lives below the poverty line.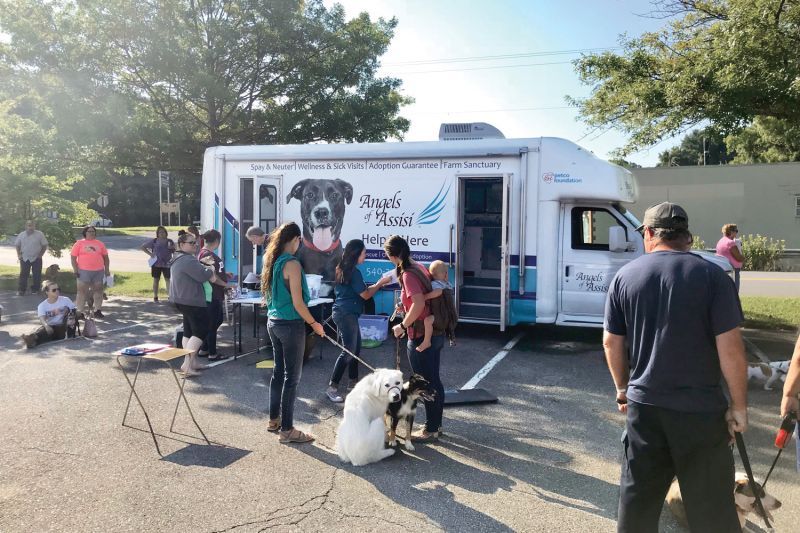 "Logic says if you can't afford a pet, you shouldn't have one. It's easy to get angry," says Lisa O'Neill, executive director of Angels of Assisi. "But bottom line: People are going to have pets. Sometimes that's all they have; sometimes people don't go out on purpose to get a pet. They take in [stray] animals and try to help them, even if they can't afford them. And they should!"
Angels of Assisi is a large private shelter in Roanoke Valley, nestled in Virginia's Blue Ridge Mountains. The organization has long served rural communities in its region by transporting pets to its full-service clinic in Roanoke city for spay/neuter surgery—sometimes addressing other medical issues that may have gone untreated—and back again. But in 2017, when Angels of Assisi received a Petco Foundation grant for a veterinary truck and assisted with a cruelty case in McDowell County, West Virginia, around the same time, it became clear that the shelter could do even more.
"We had so many donations come in to take care of those dogs because they were in such terrible shape, we wanted to give back to the community where [the dogs] came from," O'Neill says. With guidance from a veterinarian who lived in West Virginia, Angels of Assisi decided to return to the area to perform a vaccination clinic at a local fire station.
About three hours away from the bustling city of Roanoke, McDowell County has the highest rate of drug-related deaths and the lowest life expectancy of any county in the nation. It's also considered a food desert by the U.S. Department of Agriculture, with just two grocery stores serving around 500 square miles. "We really had no idea what to expect," says O'Neill. It was difficult to navigate the rural area, with low underpasses where the clinic van couldn't fit. Finally, a man who'd been waiting for them told staffers to follow his pickup truck to the station.
"The line went all the way around the inside of the fire station, and people had dogs in their cars and in their pickup trucks. They would have their animals seen, and then they would go pick up their neighbors' animals and bring them in …" says O'Neill. "One of the ladies who had helped us get the word out said, 'Lisa, I've got to tell you, you guys changed my mind. I never thought anybody in McDowell County, West Virginia, cared about their pets.'"
Angels of Assisi ended up hiring the West Virginia veterinarian as its medical director, and during the summer, the shelter now performs low-cost pet wellness clinics not only in Roanoke but in rural counties in southwestern Virginia and southeastern West Virginia.
O'Neill quickly learned that clinics scheduled at the beginning of the month, when people get paid, draw the largest crowds (even when services are free, clients might feel nervous about unknown costs). Staffers have also learned to advertise "the old-fashioned way"—hanging flyers in post offices, laundromats, gas stations and grocery stores—as well as on Craigslist and in local lost-and-found and yard sale groups on Facebook. Held at high schools, churches, parks, baseball fields and fire stations—anywhere with electricity, toilets and parking—the clinics are treated like family events, with ice cream and food trucks, yard games, bubbles and sidewalk chalk.
Pet owners whose animals have needed care for a while might feel embarrassed or defensive, says O'Neill, so Angels of Assisi has a policy of no judgment, no questions asked, whether in an urban or rural area— just bring animals for care and staffers will take it from there. "All of [our] clients are partners in [our] mission. Bring them resources and things they can afford, and they will meet you halfway," she says.
The truck itself is stocked with slip leads, cat carriers, water bowls, a laptop queued up with ShelterLuv, and administrative and medical supplies. Volunteers with "listening ears and a lot of compliments" greet pet owners with an expected wait time and numbered cards indicating their place in line, meaning they don't have to stand and can spread out, eat lunch and socialize alongside their pets. A check-out volunteer ensures clients leave with a copy of their pets' records, emergency contact information, a discount card for over-the-counter medications that work for both pets and humans, and a mobile clinic schedule.
Pet owners aren't the only potential partners in these counties. Depending on the county, there are government shelters, "friends of" nonprofits, humane societies, grassroots rescues and transport groups. But resources are few and local outlets for adoption are fewer; residents tend to be isolated, and cruelty or neglect situations are more likely to go unnoticed or untreated for longer. While Angels of Assisi will sometimes provide supplementary pet care or offer to pull animals from rescue groups for adoption, it doesn't force the issue. Transport is "a Band-Aid on a much bigger problem," says O'Neill, and mentorship relationships might be more impactful in the long-term. The shelter plans to return to the same counties repeatedly in the coming years.
"It's a balancing act. … We [don't] want to come in like the big bad Roanoke telling everybody what to do. So, it's tough sometimes, but you have to choose your battles."
Outreach location: Native Nations reservations throughout the western U.S
Number of households: Varies; the range for communities RAVS serves is 348-4,246 (median 2,396).
Population density: Varies; the range for communities RAVS serves is 2-11 individuals per square mile (median 4.6).
Median household income: Varies; median income in the communities RAVS serves is $33,000 (an estimated 20% of all Native Nations households earn less than $5,000 a year).
Dr. Ahne Simonsen is glowingly enthusiastic about her work. Before joining RAVS as a staff veterinarian in 2012, she volunteered with the organization throughout veterinary school and also spent five years working and volunteering at other high-volume clinics and shelters near her home in Boulder, Colorado.
"[I] fell in love with the social work, or what's now more [often] termed access-to-veterinary-care, side of the profession," she says. "It was really eye-opening about the systemic poverty and the need for care that exists. I had always known just because you don't have money doesn't mean you don't love your animals."
She's also seriously committed to her work: She and her husband purchased an RV they and their son could live in while she works on Native Nations reservations each summer. Primarily working with community health organizations and tribal government entities, RAVS currently holds free, annual MASH-style operations on reservations across the western U.S., bringing in teams of 40-50 volunteer veterinary students and professionals to assist with wellness treatments, emergency care and spay/neuter surgeries and seeing up to 600 animal patients over the course of a weeklong clinic.
Simonsen describes how people ride bikes to low-cost clinics with cats or dogs restrained in backpacks and bags, or show up with a toolbox full of kittens. Some of the pet owners she encounters don't have cars; others can't drive their cars because they can't afford gas, repairs or new headlights. But they catch a ride or come on foot and show up, she says, and it's obvious that they love their animals.
Many animals are also community animals, who might roam freely and choose to sleep in one family's home one month and another the next. Everyone knows them, but no one "owns" them, says Simonsen— but they're still part of the community, and they don't miss out on the clinics. Even when a community animal's name might have changed since the last clinic, complicating RAVS' paperwork, locals are quick to remember their previous names or treatments, even showing up with photo albums, rabies tags and licenses.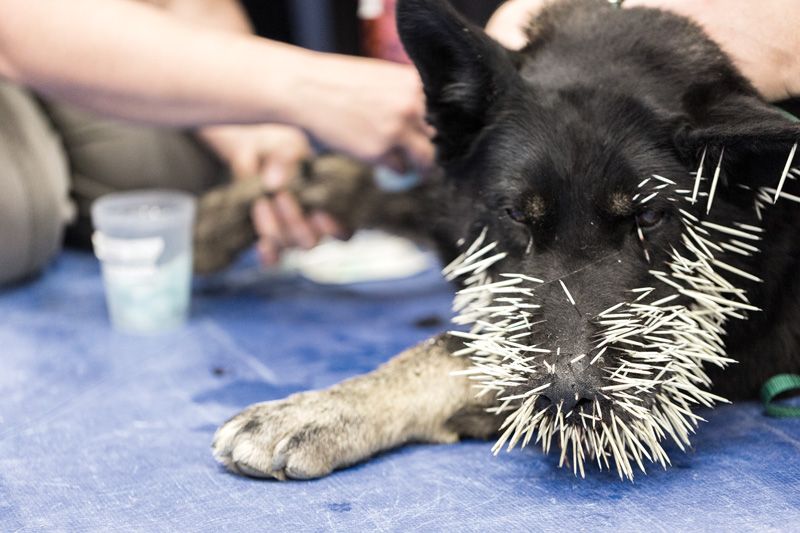 Something else unique to RAVS communities is the number of animals needing emergency care—pets with life-threatening injuries or infectious diseases like Rocky Mountain spotted fever, parvovirus and distemper. As a result, although the clinics aren't a permanent fixture in the communities, they're critical to the immediate well-being of individual animals and people.
"A lot of communities that we serve when we first start working there, there has been no access to veterinary care, so it's not even in the social consciousness that you can prevent disease, or if an animal's sick, that there's an option for treatment and they might get better. That's just never been the community's lived experience," explains Wojdak.
Simonsen says that by performing annual wellness clinics in these communities, RAVS is able to demonstrate the safety and efficacy of treatment and surgery options, and this knowledge then spreads by word-of-mouth. By this point, the first-come, first-served annual clinics fill up so fast that RAVS sometimes isn't able to see every animal.
That's where initiatives like the HSUS Pets for Life program come in, says Rachel Thompson, PFL operations and strategy program manager. Pets for Life staffers provide free pet services and information in pet resource deserts and train local organizations to implement the inclusive approach in their own communities. After working primarily in cities like Atlanta, Philadelphia and Los Angeles for several years, the program began working with mentorship partners in rural communities and on native lands like Blackfeet Nation in Montana in 2015.
"It was really eye-opening about the systemic poverty and the need for care that exists."

—Dr. Ahne Simonsen, RAVS
Partnering with Medicine Bear Shelter, a local organization that provides emergency shelter and other services for the homeless, and Dr. Ethel Connelly of Grass Winds Veterinary Clinic, PFL provides biannual high-volume spay/neuter clinics, sterilizing around 200 animals each time, and day-to-day pet wellness services and supplies like flea and tick medicine. As of February 2020, Pets for Life had served about 2,500 pets and altered more than 1,600 on Blackfeet Nation. Ken Walter, who previously worked as a resource officer at Medicine Bear and now serves as its PFL community outreach manager, also transports around six pets a week to Grass Winds for sterilization—he could take more, says Thompson, but Connelly is the only veterinarian serving the 10,000-person community and treats large animals besides.
To become a meaningful ally on Blackfeet Nation, Pets for Life had to build relationships centered on Native-led voices and strategies, explains Jason Schipkowski, PFL marketing and communications program manager. PFL staff presented at council meetings, listened to the Blackfeet Tribal Health Department and engaged other leaders to understand how to complement the work the tribal government was already doing. "The result," Schipkowski says, "is a partnership built on inclusion and cultural humility, with grants going directly to a Native-controlled agency."
Like many remote areas, the community is large, but that doesn't stop Pets for Life from doing daily door-to-door outreach. "We're fortunate that Ken is so connected in the community," Thompson says. "Everyone knows he's the go-to person for pet care resources and information."
Local connections also help ensure the program is providing the services that the community wants and needs. "It's important to listen when we're doing the work and not just make assumptions," says Thompson. "We are there to be an ally and provide support."
In Medicine Bear, the PFL team found an ideal partner: "They've been there for generations, Thompson says. "They already have a lot of relationships established. They're the best partner to provide services daily in addition to the biannual clinics. The need exists 365 days of the year."
Spay/neuter, vaccines and porcupine quill removal are some of the most common requests. "We don't do porcupine quill removal in Baton Rouge," Thompson says. "But we do it in Montana."