Stepping up to the plate
Partnering with athletes and teams, shelters can hit a home run for animals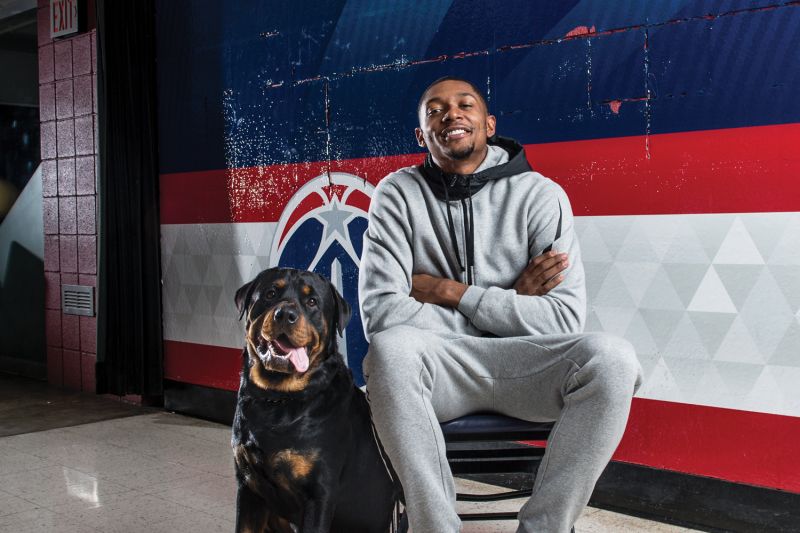 After endless endless snacks, perhaps a few too many beers, and a four-hour game, not to mention the commercials and the halftime show, viewers across the country heard the news. Celebrities tweeted about it. The news coverage reached more than 1.3 billion people: Kansas City Chiefs defensive tackle Derrick Nnadi would pay the adoption fees for all the dogs at the local animal shelter after his team's Super Bowl victory last February.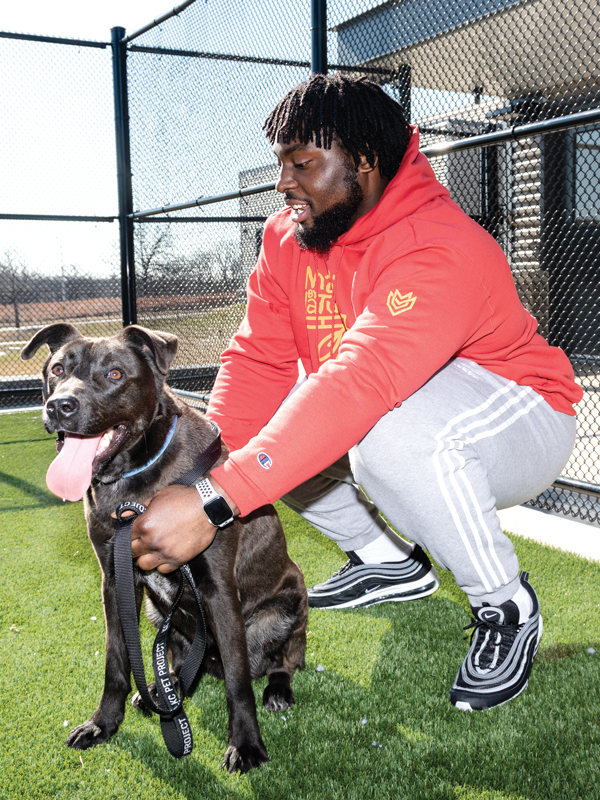 Of the 109 "Nnadi dogs" at KC Pet Project (all the dogs available for adoption at the time of his announcement), 90 were adopted out in a week.
"We had people from all over the world that were reaching out, wanting to adopt pets that were part of this," says Tori Fugate, chief communications officer for the Missouri shelter.
The Nnadi promotion is a prime example of the attention athletes can draw to animal welfare organizations. It doesn't matter whether they play sports involving a ball or a puck, or boxing gloves or shoulder pads—athletes often love animals and are happy to show it. Whether they involve individual players or entire teams, these partnerships build awareness for shelters' work, resulting in adoptions, donations and more.
"I can't say [it] enough, if you can get the right person, it really is fantastic for the awareness in your community, whether it's for a program, adoptions or even to help just raise funds," says Sherry Silk, CEO of the Humane Society of Tampa Bay, which has worked with pro football and hockey teams.
Once you've engaged athletes in your mission, there are endless ways they can help.
Kicking off your partnerships
"Tough guys need love too" was the message that hockey player Victor Hedman shared in a 2014 commercial promoting adoptions of pit bull-type dogs for the Humane Society of Tampa Bay. After the video—in which Hedman skated on the ice with a pitty mix—aired, the Florida shelter saw an uptick in adoptions of pit bull-type dogs, says Silk, but that wasn't the only benefit. Since that promotion, Hedman and his Tampa Bay Lightning teammates have supported the organization through pet food drives and other fundraising efforts, says Silk.
But it wasn't easy to get the collaboration started. Silk and her staff began by reaching out to the Lightning's public relations people and charitable foundation, with no luck.
Many teams have foundations for charitable efforts in their communities, but shelter staff often find that foundations already have partnerships established. Although taking the formal approach is an appropriate first step, most groups find more success by networking and making personal connections. In the case of the Humane Society of Tampa Bay, eventually a videographer who worked with both the shelter and local sports teams connected the group to the Lightning.
"Start with just going through the regular channels and then rack your brain for anybody that might work with them," says Silk.
Having athletes sponsor adoption fees following newsworthy events, like Nnadi did after the Super Bowl, gets the public's attention.
Another approach is using social media, which is part of KC Pet Project's strategy. In the eight years since its founding, the group has worked with various teams and their players, from baseball's Kansas City Royals to soccer's Sporting Kansas City.
KC Pet Project follows athletes from local teams and their significant others on social media, and if they post about their pets, staff will start leaving messages or comments as simple as "Super cute!" These first steps to forming a connection can eventually lead to an invitation to partner, often starting with a visit to the shelter, says Fugate.
"A lot of these relationships actually take a while to cultivate, but the longer that you just put the effort in, then that's how these things get started," she adds.
Social media is how KC Pet Project got involved with personal trainer Brittany Matthews, a former professional soccer player and the girlfriend of Chiefs quarterback Patrick Mahomes. Matthews started interacting with the group on Instagram, and KC Pet Project took advantage of the opportunity to develop the relationship. She now regularly visits the shelter and posts pictures and video of its dogs (usually long-timers or those who aren't coping well with kennel life) on Instagram, reaching her 527,000-plus followers.
When that happens, "our Instagram blows up," says Fugate.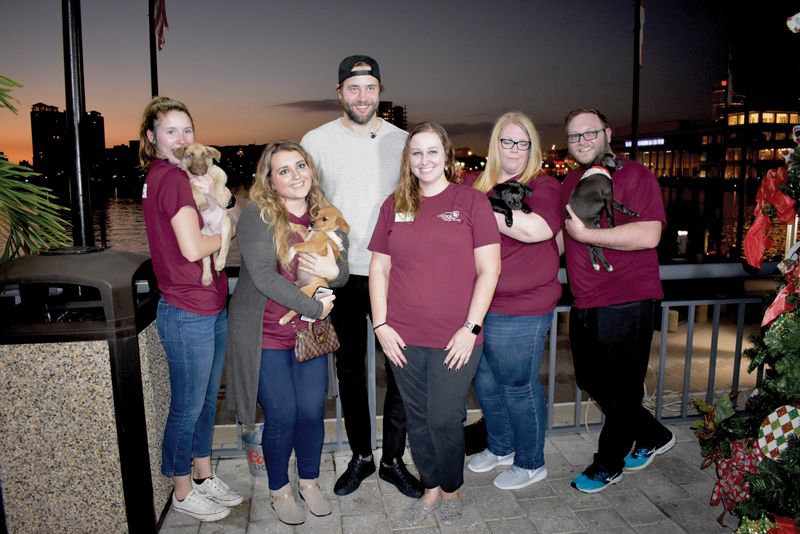 Turning players into your cheerleaders
Once you've engaged athletes in your mission, there are endless ways they can help. One common approach is to have them do promotions to raise awareness of your organization's work or a specific program.
It helps when athletes have a connection to the issue they're highlighting and have the same audience the shelter is trying to reach, whether new or existing supporters.
When the Shelter Pet Project (an initiative of the Humane Society of the United States, Maddie's Fund and the Ad Council) was developing a national public awareness campaign promoting shelter adoptions, it wanted to feature harder-to-place dogs, says Lina Renzina, who works with talent partnerships for the Ad Council.
One of NFL player Logan Ryan's pets is a blind pit bull-type dog, so Ryan was a great fit for the campaign, says Renzina. He filmed a video for the project and has become a spokesman for shelter pets, doing press interviews about adoption.
"Finding an athlete with a story and also such a passion for the issue, and these beautiful dogs, was just so incredible," says Renzina.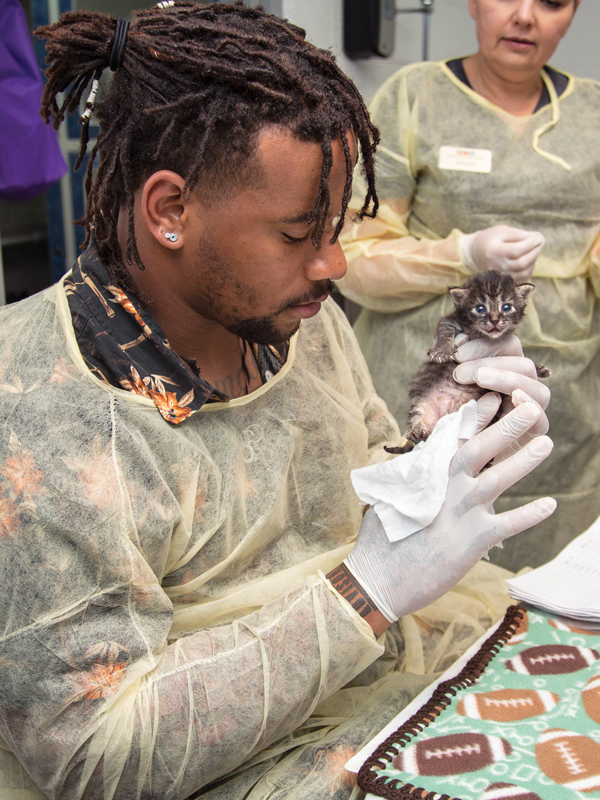 Of course, athletes can show cats some love, too. In 2018, to promote its need for foster caregivers during kitten season, Arizona Humane Society had cat lover and then-Arizona Cardinals NFL player Robert Nkemdiche visit the shelter's bottle-baby kitten intensive care unit and help with feedings.
Shelter staff did a Facebook Live stream while he was there, spread the word on social media, filmed the visit for use in a promotional video and invited a sports reporter to cover it.
"It was definitely a huge platform for us and a different way to target some new audiences on both fostering and caring for kittens," says Bretta Nelson, AHS public relations manager.
Humane Society Silicon Valley in California works with boxer Andy Vences, particularly to help reach Spanish-speaking communities by doing television interviews and campaigns in Spanish.
He helped the shelter promote its targeted spay/neuter program in his native San Jose, where many residents speak Spanish, says Sandy Mallalieu, HSSV senior director of marketing.
The campaign included a promotional video with Vences discussing the importance of spay/neuter, mentioning his origins in San Jose and noting that even fierce athletes can care about pet overpopulation. "Be a tough guy," he says in the video. "Take care of your own. Fix your dogs."
Thinking outside-the-park on adoptions
In the nation's capital, the Humane Rescue Alliance has found dedicated partners in Washington Nationals pitcher Max Scherzer and his wife, Erica May-Scherzer, who's an HRA board member. They support the organization in a variety of ways, from filming promotional videos to sponsoring adoption fees, says Andrea Messina, chief philanthropy officer for HRA.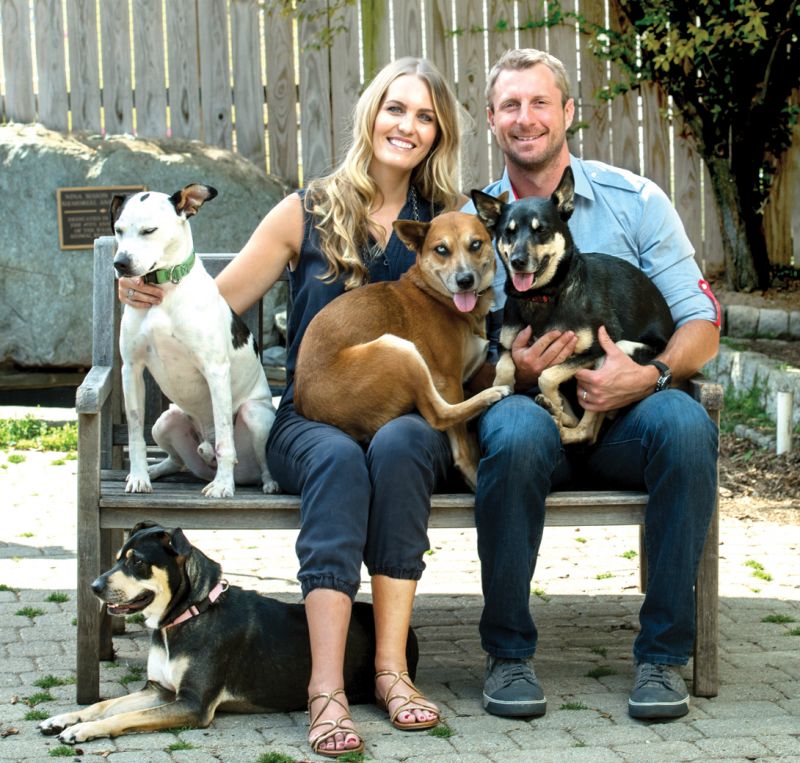 Having athletes sponsor adoption fees following newsworthy events, like Nnadi did after the Super Bowl, gets the public's attention.
"It's not just the fact that it's a free adoption. It's being a part of it and saying, 'I got a Derrick Nnadi dog,'" says Fugate.
During Hurricane Harvey in 2017, the Scherzers sponsored adoption fees at HRA so the shelter could make room to take in animals from the disaster, says Messina. More than 140 animals were adopted within a few days.
Outside big events, smaller scale or ongoing promotions can help draw attention to specific animals. Before the Super Bowl, Nnadi sponsored an adoption for every Chiefs win all season, usually for dogs who had been in the shelter a longer than average amount of time or those with special needs. All 15 dogs who were part of the promotion were adopted, says Fugate.
At HRA, the Scherzers embrace a unique part of the pitcher's appearance and sponsor adoption fees for any dog who, like Scherzer himself, has heterochromia (two different colored eyes), says Messina.
Sometimes roles are reversed, and shelters can show support for their sports partners—and promote adoptions at the same time. When the Nationals made their ultimately victorious World Series run in 2019, shelter staff named adoptable dogs after players in the team's starting lineup, promoting it as the "starting line-pup." Pitcher Stephen Strasburg took note and decided to sponsor the adoption fee for the dog named after him, which meant pup Stevie was almost immediately adopted, says Messina.
"We've been able to use our own creativity to make sure that our partners know just how much we appreciate them but also to keep promoting our mission," says Messina.
Organizations can also take part in halftime shows to promote their work in cute, crowd-pleasing ways.
Getting into the game
Of course, the competitions themselves are the most important part of sports. By partnering with sports teams, shelters can get involved with the games, spread their message to a wider audience and have fun, too.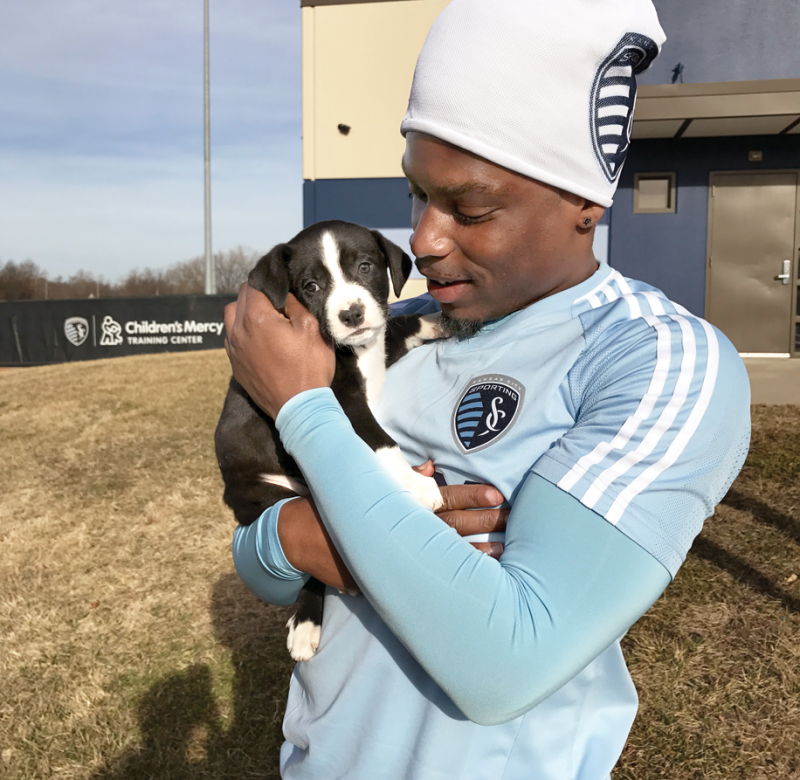 HRA's Pups in the Park events with the Nationals allow baseball-loving dog owners to attend the game with their pups in an outfield reserved section. All proceeds from the dog ticket sales are donated to HRA, the team's fan base learns about the shelter, and existing supporters experience an enjoyable activity with their dogs, says Messina.
Organizations can also take part in halftime shows to promote their work in cute, crowd-pleasing ways. In January, AHS had the chance to do adoptable puppy "races" during a halftime show for the NBA's Phoenix Suns, which got national coverage on sports networks, says Nelson.
AHS has also been involved in its local Women's National Basketball Association team's fundraising efforts. In the 2019 season, the group was chosen for the Phoenix Mercury's yearly "Brittney Blocks" promotion. For every shot that center Brittney Griner blocked, security products manufacturer ABUS, which has offices in Phoenix, donated $50 to the shelter.
AHS staff attended an on-court presentation at a game, and Griner—who's hard to miss at 6 feet 9—visited the shelter for a photo and video shoot, says Page Englert, AHS institutional giving manager.
Another effort that raises both funds and awareness for shelters is selling calendars featuring photos of players with adoptable animals. HRA's yearly calendar with the Nationals is a hit, and when Scherzer and his wife did a calendar-signing event one year at the team store, hundreds of people attended, says Messina.
Keeping up the winning streak
When shelters partner with sports teams and athletes, it elevates the profile of the organization in the community and can inspire others, athletes or not, to get involved.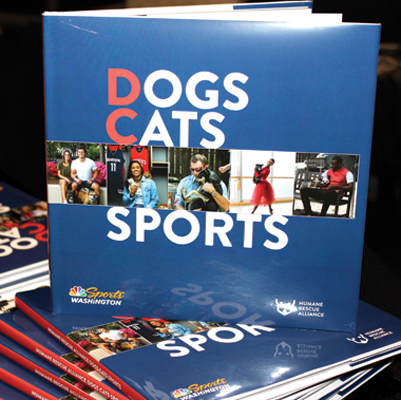 After the Nnadi adoption promotion, a regular volunteer at KC Pet Project raised money to sponsor cat adoptions. Three players from baseball's Royals reached out to KC Pet Project wanting to do something similar, says Fugate.
In situations like this, it's important to think of individualized ways for athletes to get involved, says Fugate. "We're trying to have a variety of initiatives for each player, and that makes it more special to them."
When considering whether to work with teams or players, Messina recommends that you "look for people who really love what you're doing, because that's really what makes our partnership so successful."
To know if someone is a good fit, shelter staff should spend time doing research and talking with the players or their representatives about their goals for the collaboration, and they should be transparent about their own, says Nelson.
Overall, it's hard to argue with the impact that the star power of an athlete or sports team can have for an organization. As Messina puts it: "We've got lots of fans, but the Nationals will always have more."