Mentored to be
Across the country, peer-to-peer shelter mentorship programs are improving care and saving lives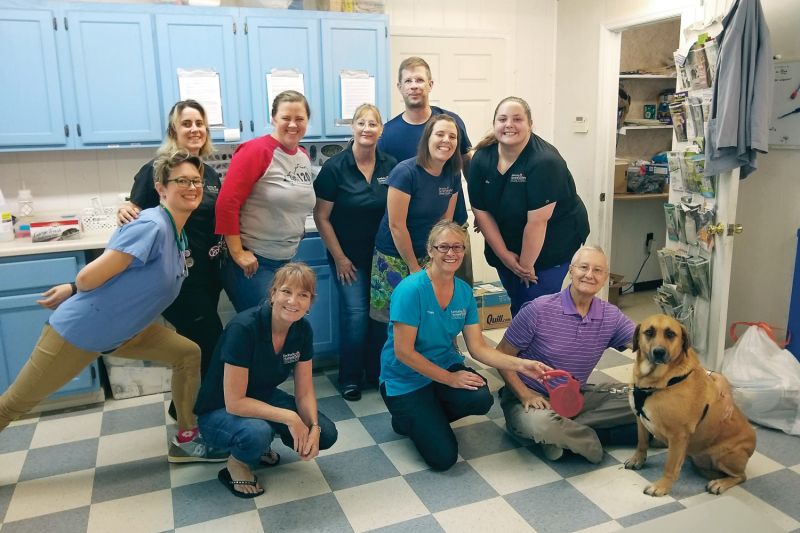 The day after Thanksgiving 2019, the Mayfield-Graves County Animal Shelter in Kentucky put out a call on Facebook for volunteers to help walk dogs, clean cages and more, because a last-minute situation meant it was going to be short-staffed. As then-board president Martha Thomas arrived at the shelter the next morning, she was amazed to see cars lined up and down the street—all belonging to volunteers eager to help.
About a month later, the shelter took in 40 animals from a hoarding case, and again, the community's response was "unbelievable," says Thomas. People provided foster homes to free up space in the shelter, donated money and filled the shelter with food and bedding.
"We've had good community support— we had just never had it like that," says Thomas.
That's because, thanks to the guidance of Louisville-based Kentucky Humane Society, the Mayfield-Graves shelter had started using social media to not only promote adoptable animals and share adoption stories, but also to ask the community for help, resulting in an outpouring of support in times of need. It was just one way Kentucky Humane guided the shelter as part of its Love 120 program, which is currently focused on increasing lifesaving outcomes in Mayfield-Graves and two other shelters in the state.
Kentucky Humane isn't the only shelter providing support and guidance to another shelter. Mentorship programs are a growing trend in the animal sheltering field, as organizations that have succeeded in achieving lifesaving outcomes help other shelters address their unique challenges. The Love 120 program, which aims to reach all 120 counties in Kentucky within 10 years, is one example of this, as is the Shelter Ally Project, a Humane Society of the United States program that connects shelters across the country to mentor organizations. Every mentor-mentee relationship is different, but all have the common goal of saving more adoptable animals while building lasting relationships along the way.
Mentorship makes sense because the animal sheltering field has made such huge strides in the last decade, and there's now so much expertise to share, says Kimberley Alboum*, former HSUS shelter outreach and policy engagement director.
"Nobody knows what it's like to run an animal shelter except for somebody who has run an animal shelter," she says. "The best resource for helping a shelter in need is another shelter."
"The best resource for helping a shelter in need is another shelter."

—Kimberley Alboum
Making a mentorship connection
There are no rules for effective mentorship, says Alboum. It can be a long-term partnership with frequent check-ins, or it can be a one-off experience: a shelter that excels in a certain area, such as grant writing or social media promotions, training another shelter in that area. A mentee shelter can be a facility that's still struggling with basic standards of animal care, or one that already has fairly good results but wants to advance best practices.
For long-term partnerships, a successful mentor-mentee relationship means pairing up "personalities, expertise and experience," says Alboum.
Although the mentor and mentee shelters will often be in the same state, it's not a requirement for a good match. Take Michigan Humane Society, based in the greater Detroit area, and Montgomery County Animal Shelter in Conroe, Texas. They were connected through the HSUS Shelter Ally Project, which not only uses its network of partner shelters to make mentorship matches, but also covers travel costs so that mentors can visit mentees to better learn about their situation.
In Montgomery County's case, the open-admission municipal shelter wanted to address its high intake rate. Staff were looking to transport more animals out of the shelter, but were also interested in other lifesaving ideas and opportunities. Michigan Humane was not only growing its transport program as a destination shelter, but looking to help source shelters address challenges to reduce their need for future transports, says veterinarian Kelley Meyers, Michigan Humane's chief medical officer.
At one time, Michigan Humane also experienced overpopulation but had success in reducing intake. It also has staff who are knowledgeable about disease management—a challenge in Texas, which has waves of distemper and parvo and a high number of unvaccinated animals. With these parallels in mind, Michigan Humane and Montgomery County kicked off their partnership in summer 2019.
Kentucky Humane Society also wanted to tackle the root problems in source communities that create the need for transport. For its Love 120 program, it picked three shelters out of a number of organizations it was already pulling animals from, after interviewing shelter and community leaders to decide which groups it could help most effectively and which groups most needed help, says Kentucky Humane president and CEO Lori Redmon.
Redmon describes Love 120 as an urban-to-rural support program with a mentorship component. (All the partner shelters are in rural areas and have limited resources.) At the end of 2018, the shelter received a $1.2 million grant from WaterShed Animal Fund to start a three-year pilot program. After three years, Kentucky Humane hopes that the partner shelters will be able to not only continue their lifesaving advances on their own, but provide mentorship to surrounding shelters. Kentucky Humane will then pick new shelters to work with, starting the process again, until the program has reached every part of the state.
Setting goals and expectations
Once organizations are partnered for mentorship, the next step is to identify goals and decide how to achieve them. Kentucky Humane and its partner shelters started off with planning meetings to create first-year goals and action plans. In each community, Kentucky Humane set goals to provide a certain number of spay/neuter surgeries and wellness services, and also increased the number of animals it would transport out of each community. The rest of the goals were tailored to each shelter.
"It's all based on what they need, as opposed to a cookie-cutter model saying, 'This is what you have to have,'" says Redmon.
Kat Rooks, the shelter's Kentucky Initiatives director who was hired to work full time on the Love 120 program, explains: "Quite frankly, if it was as easy as saying, 'This is a best practice, go do it,' everyone would already be doing it."
Mayfield-Graves sought to build community support through social media and, among other goals, increase its live-release rate for cats from 19% to 50%. One way to achieve this was to increase adoptions. Kentucky Humane worked with the shelter to reduce adoption fees from $110 to $35, addressing various barriers along the way, like the financial impact and concerns about trusting adopters, says Rooks. In six months, cat adoptions increased by an incredible 473%.
Although the shelter will still likely see an influx of cats in warmer months, Thomas says she's optimistic that staff will be able to successfully get more cats out of the shelter.
Kentucky Humane's Love 120 shelter support program aims to advance animal welfare in the state's 120 counties.
Another partner, Kentucky River Regional Animal Shelter in Perry County, has an annual intake of about 6,000 and only three full-time and two part-time staff members. The focus for the first year was improving quality of care by making facility improvements (like investing in stainless steel cages) and by finding time efficiencies, like creating ways for shelter staff to fill water bowls without having to open cages, says Rooks.
At the third partner facility, Breckinridge County Animal Shelter, a big focus has been on data. Keeping better data has been a goal in all the communities, but Kentucky Humane staff worked intensively with Breckinridge to implement PetPoint and train staff in best practices for the program.
In about 10 months, Kentucky Humane also funded or provided 747 low-cost spay/neuter surgeries and wellness services to 884 clients in the three communities, which was more than double its original goal numbers. In two communities, the group got local veterinarians involved, which will make the programs more sustainable long term.
While working toward these goals and many more, Kentucky Humane has addressed unexpected, sometimes urgent, challenges in the mentee shelters—like working with the county to replace a faulty HVAC system. In year two of the program, Kentucky Humane will work toward new goals at these shelters, from increasing adoptions to launching new fundraising efforts.
"So much of [year one] has been about learning, and understanding the need, and building relationships and getting the framework in place," says Rooks. "I'm really excited for pushing forward with some of our plans for the future."
'Communication, collaboration and change' in Texas
All mentor-mentee relationships are different. While Kentucky Humane generally has a more hands-on role with its partner shelters, in the case of Michigan Humane Society and Montgomery County Animal Shelter, Michigan Humane provides more general guidance and support.
Its role is similar to that of a consultant, says Meyers. The two shelters set goals together—ideally checking in once a month—but Montgomery County implements them. The mentorship program is not necessarily about Michigan Humane telling Montgomery County things it doesn't already know, but is about holding the groups accountable to those goals since both are busy with their daily work.
"The mentorship program is just making sure that we are touching base on a very consistent basis, [that] we've set some goals that we're trying to accomplish and then we're checking back on those goals to make sure we're making progress," says Meyers.
After three Michigan Humane staff members, including Meyers, visited the Montgomery County shelter, they identified three focus areas that Montgomery County had already been working on: capacity for care, transport and community support.
Montgomery County, which took in more than 16,000 animals last year, doesn't have the capacity to care for all the animals coming through its doors, says Mark Wysocki, the shelter's assistant director.
"Though we are mentoring and helping to support the shelter, we're also learning ... and building relationships for our organization."

—Dr. Kelley Meyers, Michigan Humane Society
To meet ideal capacity, the groups determined that based on average intake, about 50 animals need to leave the shelter each week, whether through transport, foster homes or adoption. Thanks to transport and a mega-adoption event, the Montgomery County shelter's dog population decreased from nearly 400 dogs in October 2019 to 237 by the end of the year. Its shelter cat population decreased from 350 in June 2019 to 75 by the end of December, after the shelter worked to increase adoptions and get more cats into foster homes.
The groups also discussed wellness and vaccination events as a way of building community support and engagement, which the Montgomery County shelter was already looking to start. In November, Montgomery County began offering twice-weekly wellness clinics at the shelter.
Both groups agree that for a relationship like this, it's important to have honest and productive discussions.
"You need to be open to communication, collaboration and change," says Wysocki.
While the focus of mentorship programs is on improving the status quo at the mentee shelter, the benefits aren't one-sided. Michigan Humane staff have gotten ideas for their shelter by seeing the Montgomery County doggy playgroup enrichment program in action.
"Though we are mentoring and helping to support the shelter, we're also learning, and making relationships and building relationships for our organization," says Meyers. Besides the relationship the two partner shelters have developed with each other, both now have a relationship with Nashville Humane Association. Well over 1,000 miles separate Michigan Humane and Texas' Montgomery County, so using connections made through the Shelter Ally Project, the two shelters were able to partner with the Tennessee shelter. Now Nashville Humane is a waystation for animals on the way from Texas to Michigan. Some stay in Nashville and others continue on to Michigan, which lets Montgomery County get even more animals out.
This has sparked a larger conversation at Michigan Humane about the benefits of using more central states as waystations in transports from south to north, says Meyers.
The development of the transport program demonstrates how mentorships can evolve, as well as what they are all about in the first place: shelters, both mentors and mentees, making connections to achieve the common goal of saving lives.
*Kim Alboum was the HSUS shelter outreach and policy engagement director at the time this article was published.