Noses in, noses out
National database aims to track animals entering and leaving shelters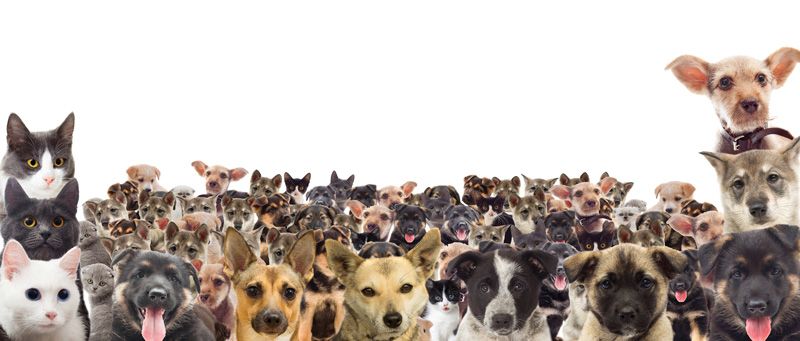 When the executive director of Taysia Blue Rescue for Siberian huskies and Alaskan malamutes looks for data from similar animal welfare organizations in her Omaha, Neb., area, she doesn't have much luck.
Jackie Roach, a self-proclaimed "data junkie," says information for her region seems pretty sparse. Ideally, she'd find more detailed information about intakes—like the age, behavior and health of animals coming in—but she'd be happy just finding out the basic intake, adoption, return and euthanasia numbers.
It's unfortunate, Roach says, because being able to communicate those numbers to the community would help local organizations increase live-release rates and improve the chances that every adoptable animal finds a home.
Standardized and transparent data-reporting practices once seemed a long way off, but Roach is excited to see how a new national database of animal shelter statistics could change that. Shelter Animals Count, a collaboration by national and local animal welfare organizations, aims to provide a better understanding of the scope of the problems the industry is tackling, to help develop better strategies to assist homeless animals.
"We have tried at many different points in the history of animal sheltering and our national movement to gather data," says Jodi Lytle Buckman, chair of the board of directors for Shelter Animals Count and senior director of community outreach at the ASPCA. "I think it's an embarrassment that we haven't been able to speak with confidence to the scope and the scale of the work that we do."
Collecting data is a complex process, especially for shelters—not only are shelter staff extremely busy, but some shelters worry that data could be misrepresented to make their organization look bad. For a long time, a lack of standard practices and agreement on definitions (like what to classify as an "adoption return" versus an "owner surrender," or what to categorize as "owner-intended euthanasia") has undermined efforts to compile data nationally.
Agreement on standard definitions can be difficult because categories that seem straightforward on paper can get complicated when put into real-life situations. For example, if an animal comes back to a shelter after 10 happy years in a home, is that really a "return"? Shelter Animals Count officials discussed and agreed on the definitions of each basic data point they're asking organizations to track.
In the first four months after the database launched in November 2015, more than 800 groups signed up to participate, and the number continues to rise. Shelter Animals Count will focus on recruiting more organizations in the 50 most populous counties and metropolitan areas in the country. Where there are more people, there are generally more pets, and focusing on counties allows for comparison with county-level human census data, says Buckman. But the end goal is to have 100-percent participation, not only by the nation's estimated 3,500 brick-and-mortar shelters and 10,000 dog and cat rescues, but any group that adopts out cats and dogs, transports them or runs a spay/neuter program.
After groups sign up, they'll use a basic data matrix to report the minimum information Shelter Animals Count decided should be tracked monthly—beginning and ending animal count, type of live intake (like stray or owner relinquishment), species, age and outcome type (like adoption or euthanasia). The database will allow them to pull a report from the information they've entered, but Shelter Animals Count will not provide any in-depth analysis of the data. It simply makes the information available to researchers and local organizations to do their own studies. Tools in the database allow groups to compare their numbers to those of similar organizations and also see how animal data relates to community data, like population, education and poverty levels.
Overall, the database aims to create an industry standard of transparency and routine data reporting, so that organizations will prioritize quality data collection as much as other responsibilities, says Buckman.
All of the numbers will be public, and organizations can choose to opt out of their data being identifiable, but the project encourages transparency. Buckman wants shelters to look beyond their fears of the handful of critics who may put a negative spin on the data, "and instead consider, 'What is an organization's responsibility to the community that they serve?' Whether they are a government organization or a private, nonprofit, charitably funded organization, we're accountable to the public, and it's absolutely crucial that we share data and be transparent."
Collaboration is a key aspect of Shelter Animals Count, which was launched after four years of planning and boosted by grants from national partners, including The HSUS.
"What is so exciting about Shelter Animals Count is all the different players in the field—representing national groups, representing local shelters, representing animal control, representing shelter vets—all of them are at the table and have been integral in collaborating to make this happen," says Betsy McFarland, former vice president of companion animals at The HSUS and board member of Shelter Animals Count.
Buckman hopes that "just a little bit of this collaborative fire we've had at the board level that has really driven the creation and the launch of this database is going to fall onto local organizations who say, 'It's the right thing to do, because it's important for us to understand the national picture, and we're a part of making that happen.'"
At one participating shelter, the Auburn Valley Humane Society in Washington state, executive director Phil Morgan spouts off data: Average length of stay is seven to eight days for cats, and less than six days for dogs; the live-release rate is 97.3 percent. He's looking forward to comparing those numbers to other shelters', especially once everyone is collecting and reporting data in the same way—using the same language, he says.
"If somebody's doing something better, we'd like to know the secret," he says. "But when you're sharing in different languages, it doesn't really help."
Across the country, in Vienna, Ga., Velvet Layfield is the sole animal control officer in a city of fewer than 5,000 people. She signed up to contribute to the database so she can show, with data as evidence, that even though she doesn't have a huge organization behind her, her department's role is vital.
"Getting the numbers out there lets … other governmental entities know that there is a need for animal control, for what we do, and we're not the little cartoon character running around with a net chasing animals," she says. "We are protecting animals, and we are protecting people."
Eventually, Shelter Animals Count hopes to provide for sharing more specific data, as long as groups continue to contribute their numbers monthly and work together.
"The end goal here is saying, 'What gets measured gets managed,'" says McFarland. "If we don't know more about the nature of animals entering shelters—why they are entering shelters and why they are or are not leaving alive—how can we expect to solve the problem?"