Exhibit information
Animal Care Expo 2023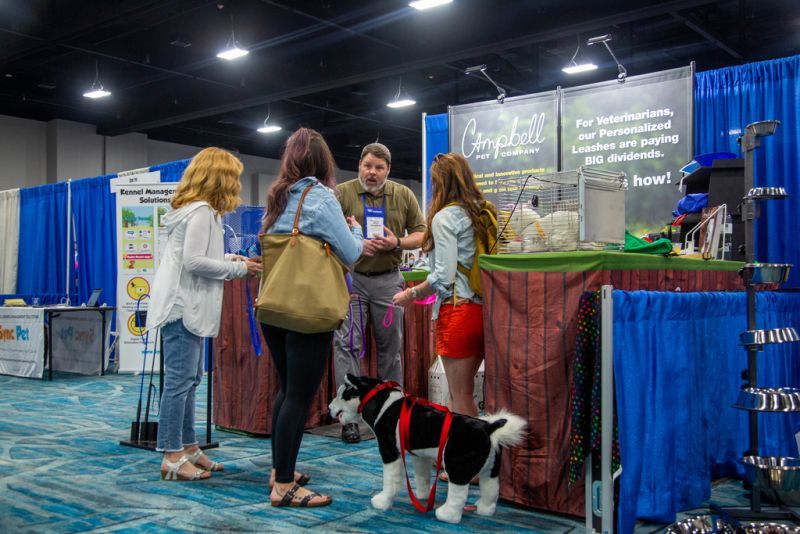 Why exhibit at Animal Care Expo?
Access
More than 2,500 humane professionals attended in 2022! Complimentary pre- and post-show lists of opt-in attendees are given to all exhibitors. The list includes those who opted-in to be on the distribution list.
Awareness
Ensure that your company name and products are remembered by humane professionals. According to post-show metrics, 87% of Expo attendees recommend or make the decision for purchases for their facility. 74% plan to make a purchase from our exhibitors and sponsors because of attending Expo.
Education
Exhibitors are full conference attendees. Exhibitors receive additional opportunities to interact with conference attendees through vendor access to ALL educational sessions.
Insight
Learn what new issues the industry experts are facing in the field of animal care. Discover their concerns and how you can help to resolve their problems.
Practical demonstrations
Give your clients and potential customers hands-on access to your current and new products and services.
Exhibit hall schedule
Subject to change
Monday
8:00 a.m. – 4:00 p.m. Exhibitor Move-In
5:00 p.m. – 8:00 p.m. Exhibit Hall Open - Welcome Social - Dinner
Tuesday
11:30 a.m. – 2:00 p.m. Exhibit Hall Open – Lunch
4:45 p.m. – 6:30 p.m. Exhibit Hall Open – Happy Hour w/ drink tickets
Wednesday
11:00 a.m. – 1:00 p.m. Exhibit Hall Open – Lunch
1:00 p.m. – 8:00 p.m. Exhibit Dismantle
What is included with your booth
Exclusive exhibit hall hours (no competing educational sessions or receptions)
Two (2) complimentary full conference registrations per 10'x10' booth (includes access to all educational sessions, meals served in the exhibit hall, and the Expo party)
Additional registrations at a discounted exhibitor rate of $195
One (1) complimentary booth identification sign with your company name and booth number
One (1) complimentary post-show attendee list of opt-in attendees for a one-time use
Eight foot (8') high background drape and 36-inch-high side rails
Listing in the exhibitor directory on the Expo app
NOTE: Furnishings, tables, chairs, carpet, electricity, and internet are NOT included in the booth space rental fee. You will receive an exhibitor service kit with information on how to order these items.
Booth fees
All booths are standard 10 x 10 units or multiple thereof
End-cap booths (a 10' x 20' booth open to 3 sides) are not allowed
$1,895 per 10'x10'
Non-profit organization rate per 10'x10' is $895
Corner premium fee is $200 per corner